GrabInvest's AutoInvest feels a bit like saving in your piggy bank, dollar by dollar. While it may be helpful for those looking for an easy way to microinvest, AutoInvest is a poor long-term solution.
Pros
Low investment capital needed (starts at $1)
Low risk
Helps build a habit of investing each time you spend
No lock-in period
Cons
Low returns at 1.18% p.a.
Returns and capital not guaranteed
No option for larger investment amounts
Relatively high management fees
Most of us understand the value of investing. Even if we're not working towards a big-ticket item such as retirement or home ownership, investing helps us beat inflation or grow our rainy day funds.
Yet most of us don't invest because we've never gotten around to building the habit.
That's where GrabInvest hopes to bridge the gap with AutoInvest — their low-risk micro-investing platform. The idea is that you invest a small amount every time you spend.
But with so many other fuss-free, low-risk platforms like robo-advisors and regular savings plans already in the market, is AutoInvest something you should consider? We review GrabInvest for you:
What is AutoInvest by GrabInvest?
In theory, AutoInvest integrates micro-investing into users' everyday lives. Each time you order GrabFood, buy from GrabMart, book a ride, or pay merchants through GrabPay, you'll automatically invest a small amount.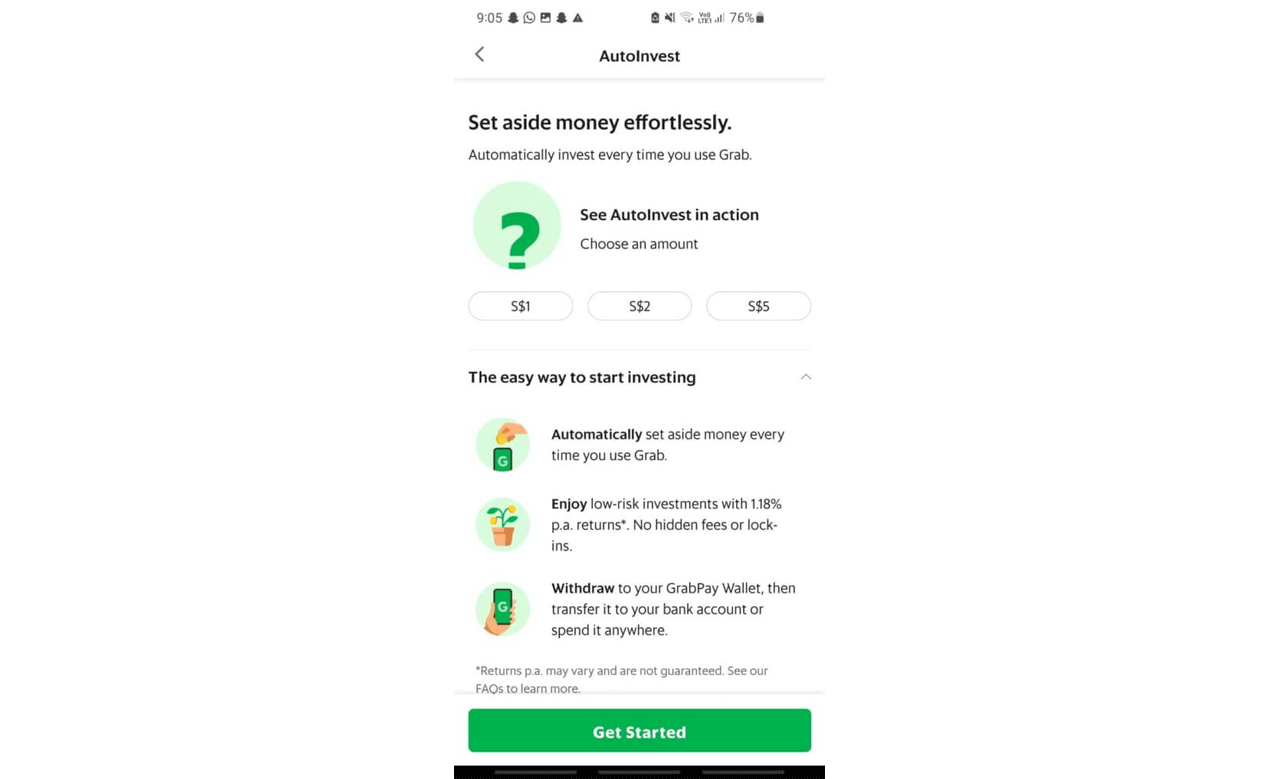 How Does It Work?
You can choose how much you want to invest per Grab transaction: $1, $2, or $5. There's no option for larger amounts, and you cannot top it up.
GrabInvest advertises an estimated 1.18% in annual returns. You can cash this out to your GrabPay wallet (which you can then withdraw to your bank account). There's no lock-in period, but neither are there guaranteed returns.
GrabInvest is currently only available to Singaporeans, PRs, and work pass holders. US citizens, tax residents, and green card holders are not eligible.
Here's an example of how much you can expect to earn with GrabInvest:
9am: You take a Grab ride from Tampines to Tanjong Pagar. Your Grab ride costs $17 and you chose an AutoInvest amount of $1. Total = $18 in a single transaction.
12pm: You order GrabFood delivery to your office. Your GrabFood order costs $16 and AutoInvest invests $1 again. Total = $17 in a single transaction.
In a single day, you invested $2 just from riding Grab to work and ordering your lunch — no other steps required. If you keep this up every day for a year, you might have $730 invested.
After one year: You'll get an estimated 1.18% in returns after taking out $3.29 (0.45% in fees), which is about S$8.61.*
* Note: This is a very simplified scenario. Since your returns and capital are not guaranteed and there's also compounding to consider, your actual returns may be very different — or you could lose your capital entirely.
What Does AutoInvest Invest In?
AutoInvest invests your money in asset classes like short-term fixed-income funds and money market funds. Such funds are considered relatively low-risk investments. Don't expect high-risk growth stocks like Apple, Amazon and Tesla.  
Also, AutoInvest only invests in funds that are managed by established asset managers like Fullerton Fund Management and UOB Asset Management. 
How Does GrabInvest Compare With Other Low-Risk Automated Platforms?
Let's look at similar offerings from competitors:
| | GrabInvest | Endowus Cash Smart | StashAway Simple | Syfe Cash+ |
| --- | --- | --- | --- | --- |
| Minimum Investment | $1 (basically none) | $1,000 | None | None |
| Fees | 0.45% p.a. | 0.2 – 0.34% p.a. | 0.172% p.a. | 0.29% p.a. |
| Net Projected Returns | Up to 1.18% p.a* | 0.7 – 2.2% p.a.* | 1.0% p.a.* | 1.2% p.a.* |
| Source of Funding | Cash | Cash, SRS | Cash, SRS | Cash |
| Lock-in Period | None | None | None | None |
| How Funds are Held | Held in trusts in an omnibus custody account | Held in trusts under client's own name | Held in trusts in an omnibus custody account | Held in trusts in an omnibus custody account |
* Not guaranteed.
GrabInvest Has the Highest Fees
Fee-wise, GrabInvest is the highest of the four. Their 0.45% fee includes the 0.20% they receive from the fund managers.
In contrast, Endowus, StashAway, and Syfe all give users rebates on the fees they receive from fund managers.
GrabInvest Has Average Projected Returns
GrabInvest's projected returns are on par with what the others offer, especially given that you can withdraw your funds at any time.
Endowus offers a higher range, but that also comes with a longer time horizon — their highest-yield cash management account is best for those with mid-term cash needs.
GrabInvest Only Accepts Cash from Credit/Debit Cards or GrabPay
With GrabInvest, you're restricted to just cash (and a very limited amount of cash at that, since you can only put in $5 maximum with any transaction).
Endowus and StashAway are clear winners here since you can invest SRS funds on top of cash.
GrabInvest Puts Your Funds in Omnibus Custody Accounts
Having your funds in an omnibus custody account means it's mixed with funds from many different users. This makes it hard for custodian banks to determine who's the legal owner of your assets — and who gets to determine what to do with them if the investing platform fails.
The saving grace here is that GrabInvest has a CMS license from MAS, so they likely have passable record-keeping practices. If they do fail, you'll probably get your money back eventually…though maybe not under the best conditions.
Endowus is the only one that holds assets in custody accounts under your own name — meaning from the custodian's point of view, you are the legal owner of your assets.
Bottom Line: Who Should Use AutoInvest?
GrabInvest is alright for beginners who have never invested before. It allows you to dip your toes into the world of investing and start cultivating the habit without huge risks.
But if you're even remotely serious about growing your money, AutoInvest is not the place for you. At best, you'll earn enough to buy yourself a meal at the food court — but at worst, you'll pay high fees for low (or negative) returns when your money could have been better invested elsewhere.