Gone are the days when you needed a lot of capital to start investing.
With all the low-commission platforms out there, newbie investors can build their portfolios with as little as $50 to $100 a month.
Regular Savings Plans (RSPs) are a great beginner-friendly way to do this. Today, we'll go over:
Read also: How to Start Investing as a Student [Step-by-Step Guide]
So… What are Regular Savings Plans (RSP)?
Like the name suggests, a Regular Savings Plan means you're depositing fixed amounts into an investment account on a regular basis — usually monthly.
This money then goes into buying the different assets you've chosen, hence the alternative name "monthly investment plans."
Depending on the RSP, you can put in as little as $50 a month and let it slowly accumulate.
Why are RSPs Great for Beginners?
Buying low and selling high sounds easy enough. Truth is though, even the most seasoned investors miss the mark when determining the right investments. 
That's why investing via a Regular Savings Plan comes with these benefits:
1. Doesn't require an extensive understanding of the markets.
You don't need to be an investment guru to manage RSPs. It's enough to pick one based on the fees or go with the most attractive promotion currently available. We'll also provide a few recommendations on how each RSP stands out later on. 
2. Allows you to start small.
You can start investing with $50 or $100 a month, which is great for beginners looking to test the waters before committing further. Like we mentioned in our how-to guide for students wanting to invest, the earlier you start, the more you can take advantage of compounding.
3. Easy setup and low maintenance.
You can set up a direct transfer to automate the monthly deposits to your RSP account. Since you're buying into the market at fixed intervals, you'll be riding the market's upward trajectory to grow your portfolio. 
4. Provides high flexibility and liquidity.
You can change the investment amount or stop the RSP any time you want. This gives you more flexibility than a fixed deposit, which usually has a lock-in period of at least a year. The liquidity of RSPs also makes them easy to sell and convert into cash whenever you need it. 
5. Prevents emotions from hindering your investing process.
Even though we all know the adage to "buy low and sell high," one of the most common ways investors lose money is by doing the opposite. When prices are rising, FOMO runs rampant; when the market starts dropping, people panic and sell. Using an RSP prevents this emotionality from locking in your losses and enables you to invest with discipline.
What are the Downsides to RSPs?
RSPs may seem too good to be true for new investors, but here are a few caveats: 
1. RSPs are not risk-free.
Every investment comes with its own set of risks and RSPs are no exception. Although you've eliminated the risk of market timing, there are other inherent risks to buying equities.
For example, if you invest in a country and/or sector that does badly for the next 10 years, you'll still face losses whether you have an RSP or bought the stocks through a brokerage. This is slightly mitigated by the fact that most RSPs invest in ETFs (which provide automatic diversification), but it's still important to do your research.
2. Fees are sometimes higher.
If you know you're only going to invest small amounts, then this might not matter much. But generally, you save on fees the more you invest. StashAway, for example, charges just 0.2% if you have more than $1,000,000 with their robo-advisor (compared to 0.82% for DBS or 0.88% for OCBC's RSPs).
3. Requires a minimum monthly investment.
RSPs have a minimum monthly investment of $50, which could be either a good or bad thing. The good thing is that if $50 is all you can afford every month, you can get started quickly here. However, for students with no fixed income, $50 may sometimes be difficult to fork out. In that case, robo-advisors with no minimum investment requirements would be a better fit.
How to Get Started Investing with Regular Savings Plans
There aren't a lot of requirements for anyone to start investing with a RSP. All you have to do is prepare the minimum RSP amount you want to invest. Afterwards, ensure that the same amount is consistently transferred to your RSP account on time.
There's also no minimum participation or lock-in period for an RSP. You can terminate the RSP anytime you want with no cancellation fees. Alternatively, your RSP will be automatically terminated after 3 consecutive failed RSP deductions (inadequate funds in your RSP account).
Best Regular Savings Plan in Singapore 
There are tons of RSPs in the local market to choose from. Here's an overview of our top five picks:
| | | | | | |
| --- | --- | --- | --- | --- | --- |
| Financial Institute | DBS Bank | FSMOne | OCBC Bank | PhillipCapital | Saxo Markets |
| RSP name | Invest Saver | Regular Savings Plan | Blue Chip Investment Plan | POEMS Share Builders Plan | Saxo Regular Savings Plan |
| Fees | 0.5% – 0.82% | 0.08% or min $1 (whichever is higher) | 0.88% for investors below 30 years old | $6 (for 2 or fewer counters), $10 (for 3 or more counters) | 0.25 – 0.75% p.a., plus ETF charge of 0.23% |
| Minimum investment amount | $100/month | $50/month  | $100/month | $100/month | Minimum initial investment of $2,000 with subsequent contributions of $100/month |
| Investment Selection | 4 ETFs (list) | 66 ETFs, 1,548 unit trusts (list) | 6 ETFs, 15 blue chip share counters (list) | 49 counters (list) | 4 different investment portfolios managed by experts (list) |
Next, we'll break down what each platform offers and the type of investor profile they're suited to: 
Cheapest RSP: FSMOne Regular Savings Plan
For a beginner with minimal capital, FSMOne's RSP is the most cost-effective option with a large selection of ETFs to choose from. It's also good for those on a tight budget since it doesn't require a principal investment amount.
Best Managed RSP Portfolio: Saxo Regular Savings Plan
If you want experts managing your portfolio, Saxo is the best way to proceed. Together with investment firms Blackrock and Lion Global, Saxo offers investors a range of Regular Savings Plans to best suit your investment timeframe, targeted returns, and risk appetite: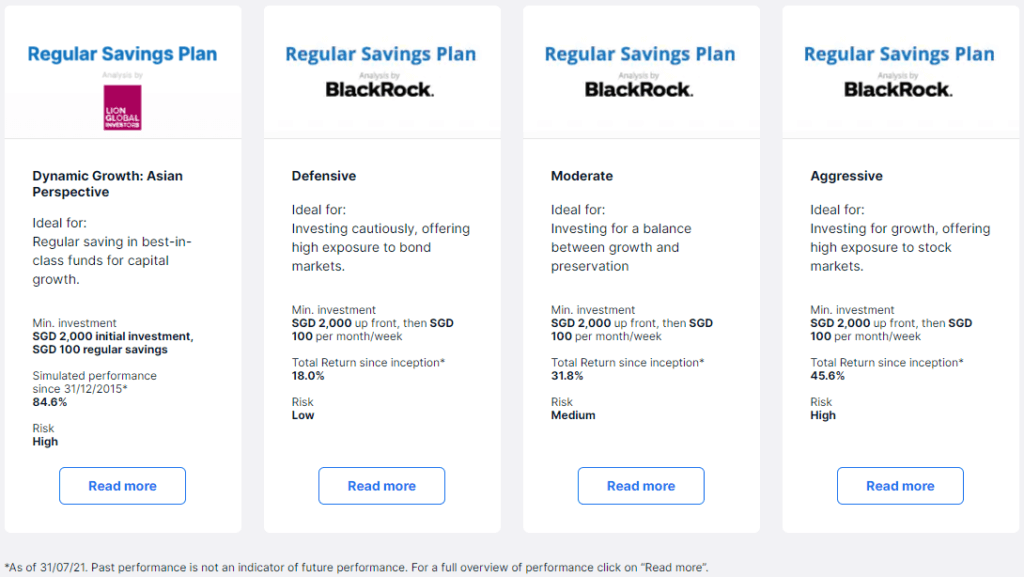 Even though they require a minimum initial investment of S$2,000, there's no custody, entry and exit, and platform fees. Plus, the subsequent investment of at least $100/month is still cheaper than the managed portfolios offered by competitors.
Best RSP Promotion: DBS Invest Saver
DBS Invest-Saver is currently offering up to S$125 cashback on transaction charges, which is the most competitive promotion on the market. This makes it especially attractive for those who have an existing DBS Multiplier Account.
Read also: Current vs Savings Account in Singapore: What's the Difference?
Even though it offers only 4 ETFs, the DBS Invest-Saver account is available to anyone above the age of 18. It's also convenient since all your dividends can be credited directly into your existing DBS/POSB account. 
RSP with Quick Setup: OCBC Blue Chip Investment Plan
Similar to the DBS Invest-Saver, OCBC's Blue Chip Investment Plan is another convenient option if you prefer to stay within your bank's ecosystem. You can sign up for an account once you turn 18 or open a joint account with your parents or guardian if you're under 18.
A point to note is that your age plays a huge role in the fees you'll be paying per transaction. For investors below 30, fees start at 0.88% per transaction. For investors above 30, you pay a fee of 0.3% or $5 per counter, whichever is higher.
RSP with the Largest Variety of Share Counters: PhillipCapital POEMS Share Builder Plan
The POEMS Share Builder Plan boasts a larger selection of investments compared to RSPs from DBS or OCBC.
The one downside is that you can't get proceeds deposited directly into your bank account. Instead, you'll need to open a separate Philip Investment Account. To compensate, POEMS allows you to reinvest your dividends — great for younger investors who may not need the dividend income just yet.
Another downside is the transaction fees:
$6 for one or two counters
$10 when you transact with more than 3 counters. 
This makes POEMS the most expensive RSP on our list and is only recommended for investors who can make larger monthly deposits.