Editor's Note: Updated 4 Aug 2022 to reflect that DBS has revised the interest rates on its Multiplier Account, making the max Effective Interest Rate 3%.
Savings and current accounts are among the most common types of bank accounts in Singapore. It's easy to regard these as the same, but they're actually designed for different purposes.
Using DBS as an example, here's a quick comparison table on the differences: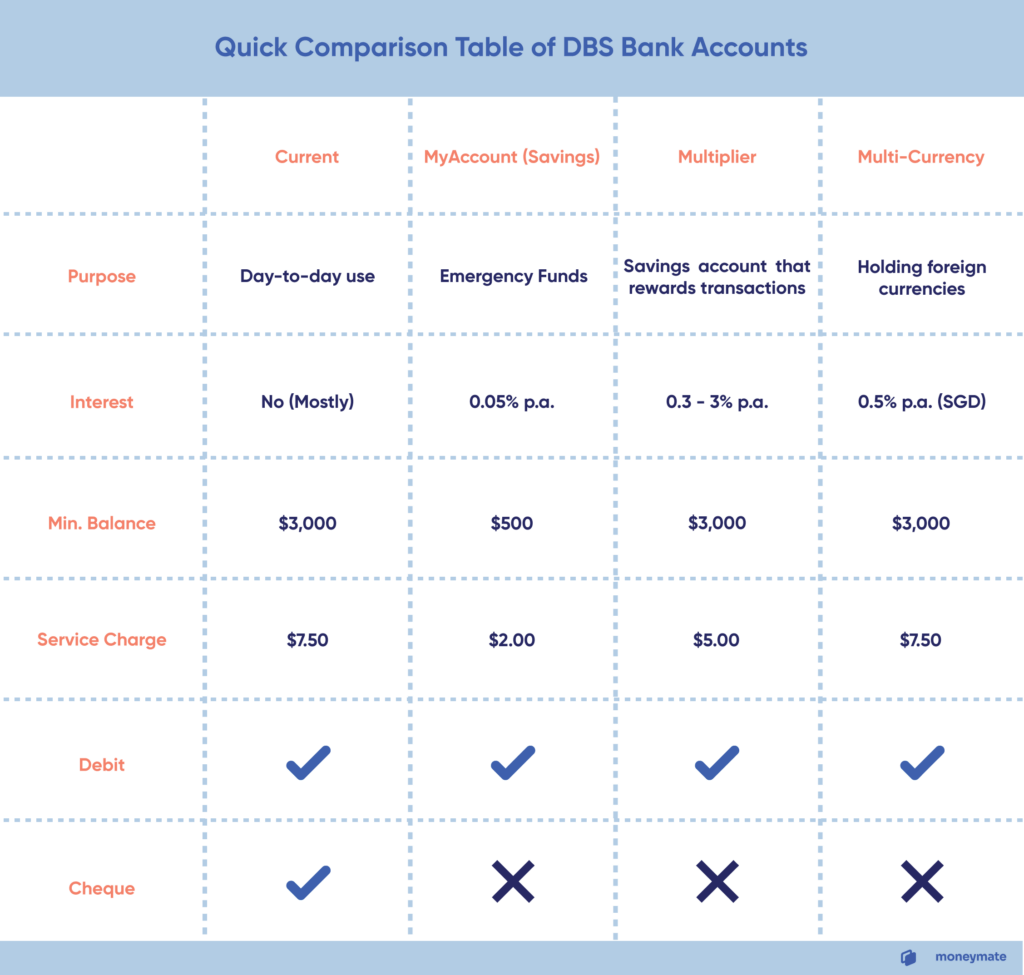 * Note: As of the time of writing, DBS has phased out its Current Accounts and is ushering people toward their multi-currency accounts instead.
1. Current Account
Many of Singapore's local banks still offer a range of current accounts. These are mainly for your day-to-day transactions — taking out cash from an ATM, buying groceries, or paying your utility bill for example.
Current accounts aren't meant to store big sums of money for long periods. That's why they typically come with very low (or no) interest, with no penalties for withdrawing cash whenever you need it. They also come with a chequebook, which most other accounts don't offer.
With a current account, you can make payments using a linked debit card, use online banking, perform money transfers to other accounts, and more. Some of them also have overdraft facilities and additional phone banking support, which can be useful for businesses, sole proprietors, or freelancers.
Keep in mind that you'll usually need a minimum balance of $2000 – $3000 to avoid paying service charges. For example, the OCBC and UOB current accounts charge a fee of $7.50 if your average daily balance for the month is below S$3,000.
Benefits of a Current Account:
Convenient mode of payment for everyday use
Access to online banking, debit cards, cheques, or ATMs
No limits on the number of transactions
Suitable for businesses
2. Savings Account
The average Singaporean earns around $4,500 per month (before CPF deductions) and saves about 20% of that. That 20% should ideally be put into a savings account, which gets a higher interest rate compared to current accounts.
Like the name implies, a savings account is for your savings. You can still tap on the funds if needed, but it's best if you leave the money in the account. DBS, for example, will give you less interest for the month if you make a withdrawal from your MySavings Account.
Savings accounts usually don't have an initial deposit or monthly account fees. But savings accounts do have a minimum balance requirement of $1,000 or $3,000 depending on your bank and account. If your balance dips below this, you'll be charged either a $2 or $5 fee.
Savings accounts in Singapore can sound a little complicated at first. They tend to have different interest rates depending on your income and the number of monthly transactions you make. These rates usually also only apply to the first S$50,000 or so of your savings — you won't get more interest for saving more, so it's best to channel those funds elsewhere.
Savings accounts have an interest rate from 0.05% p.a. However, many accounts (known as Multiplier accounts) have bonus tiers that can easily earn you 1-2% interest rates. We'll explain more later!
Benefits of a Savings Account:
Keeping money that you use once in a while but may need on short notice
Holding your emergency funds
A convenient mode of payment
Access to online banking, debit cards, or ATMs
Read also: Best High-Interest Savings Accounts for Singapore
3. Bonus: Multiplier Account
A multiplier account is a savings account and more. You get a base interest amount, plus bonus interest when you fulfil specific additional requirements — for example, buying insurance, paying off your mortgage, or spending using your credit card.
Multiplier accounts like the DBS Multiplier and OCBC 360 Account reward consumers for crediting their salary into the account and engaging with bank products like credit cards, insurance, and investments. You get even more bonus interest when you hit a minimum threshold for transaction sizes, depending on the bank. 
Benefits of a Multiplier Account:
More interest (up to 3% p.a. Effective Interest Rate) when you transact in all the categories
No penalties for withdrawing or spending
Transactions are automatically detected across all bank accounts, so you don't need to spend solely from the Multiplier account
4. Bonus: Multi-Currency account
Many bank accounts in Singapore only hold Singapore dollars, so any foreign currency you get is automatically converted into SGD. Multi-currency accounts are the one exception. This is a plus if you often travel, shop internationally, or move money in foreign currencies.
For example, the DBS Multi-Currency Account (MCA) can hold up to 12 foreign currencies, including the Euro, Hong Kong Dollar, Thai Baht, and US Dollar. 
Benefits of a Multi-Currency Account:
Don't lose money to foreign exchange fees
Good for business owners or individuals with holdings in different countries
Easy access to funds when you travel
Some banks offer interest on holdings in certain foreign currencies
Can convert funds when exchange rates are favourable, then store it until you need it
Read also: Best Multi-Currency Accounts for Singapore
How Do I Choose the Best Account for Me?
Thinking about how and when you're using your funds is the first step. But don't feel limited to choosing only one — most Singapore banks make it easy for you to open multiple accounts for different purposes.
Other things to think about include the monthly fees, minimum balance requirements, customer service, debit/credit cards, cheque book options, and transaction fees. Singapore's financial markets offer a variety of current and savings accounts to suit most needs.
Read also: Best Savings Accounts for Students