Endowus is one of the many robo-advisors in the market set up to help investors reach their financial goals. It uses evidence-based investing for asset allocations to maximise your returns at the lowest cost possible.
Looks good at first glance, doesn't it?
But is Endowus really worth considering? And how does it fare compared to other robo-advisors?
If you want to find out a little more about Endowus, read on as we cover:
Read also: StashAway Review: Low-Effort, Beginner-Friendly Investing?
What is Endowus?
Based in Singapore, Endowus is a fintech company that uses empirical data to help investors access time-tested, diversified strategies for the best returns.
Unlike traditional fund managers, Endowus doesn't manage your money directly — their work is more in "vetting" the fund managers that they build your portfolio on. This saves you from having to comb through the entire investment universe for the highest quality funds to put your money in.
Endowus also holds a Capital Markets Services (CMS) Licence from the Monetary Authority of Singapore and is an Exempt Financial Adviser under the Financial Advisors Act (Chapter 110) of Singapore. (This just means that as with any other licensed platform in Singapore, Endowus is safe to invest with.)
Read also: Best Investment Apps for Singapore
How Endowus Works
To start investing with Endowus, there are a few key things to note:
At least 21 years old
Must NOT be a US citizen, US Green Card holder, US tax resident, or an individual residing in the US
Minimum initial investment of S$1,000
Your funds are held in UOB Kay Hian under your name, so you'll get it back no matter what happens to Endowus
Getting Started
To get started with Endowus, you'll fill out your investment goals, risk tolerance, and timeline. From there, the Endowus system will tailor a portfolio after generating thousands of simulations on how the portfolio can achieve your desired targets.
Once that's settled, Endowus takes on the task of monitoring your investments 24/7 to ensure the portfolio is on track. Whenever you withdraw or deposit funds, Endowus will rebalance your portfolio. If there's no cash flow, they'll rebalance by selling overweight funds and buying underweight ones.
Portfolio Monitoring and Rebalancing
Endowus is strict about what should be included in a portfolio, inserting only the best-in-class funds for the specified risk tolerance. You'll find the most updated lists of the underlying funds on their website.
But wait — since they've listed all the fund names, why not simply purchase the funds directly and cut out Endowus as the middleman, you may wonder?
You could, but Endowus's value-add is in:
Their continual research and updates on the highest-quality funds that can be included in their investors' portfolios
Their automatic rebalancing of your portfolio
Their lower costs and status as an independent financial advisor (they're not incentivised to push certain products, and they don't charge trailer fees or sales commissions)
And given that you can also invest your CPF and SRS funds with Endowus, it's basically a set-and-forget type of investment vehicle for the busy working professional.
Pros and Cons
For a fair evaluation, here's a quick look at the pros and cons of Endowus:
Pros
CPF top-ups and contributions to SRS are tax-deductible, which you can then invest with Endowus
Flexibility to invest based on Endowus recommendations or customise a portfolio according to your goals
Portfolios aligned to your goals, timeline, and risk appetite
Access global markets with funds that are usually only available to institutional investors
Cash management service allows you to earn up to 2% interest p.a. with no lock-in period and no hidden fees
Cons
Requires a minimum initial investment of S$1,000
Investment products are limited to mutual funds
Must be at least 21 years old
Endowus Chargeable Fees and Rates
Endowus promises maximum returns with lower costs with:
No sales fees or transaction fees
100% rebates on any trailer fees it receives
No redemption charges
No lock-in period or penalties
However, Endowus users still need to look out for the All-In Access Fee, which is a per annum fee based on the value of assets they hold in the account.
Endowus Products & Fees
Funds
General Investing
Fund Smart
Cash Smart
Cash
0.6% (Up to $200,000)
0.5% (S$200,001 – 1,000,000)
0.35% (S$1,000,001 – 5,000,000)
0.25% (S$5,000,001+)
0.3%
0.05%
CPF
0.4%
0.3%
–
SRS
0.4%
0.3%
0.05%
Accurate as of 17 Nov 2021
You'll pay these Access Fees quarterly, based on the daily average total assets under advice (AUA) for the period of the fee.
Endowus vs Other Robo-Advisors
Endowus, StashAway, and Syfe are popular robo-advisors in the local market.  Even though they specialise in different financial products, their target markets are very similar. Here's an overview of the three:
| | Endowus | StashAway | Syfe |
| --- | --- | --- | --- |
| Min. Investment | $1,000 | None (except for Income Portfolio) | None |
| Asset Types | Mutual Funds, Unit Trusts | ETFs | REITs, ETFs, Equities |
| Cash Account Returns | Up to 2% p.a. | 1.2% p.a. | 1.5% p.a. |
And here are how their fees compare: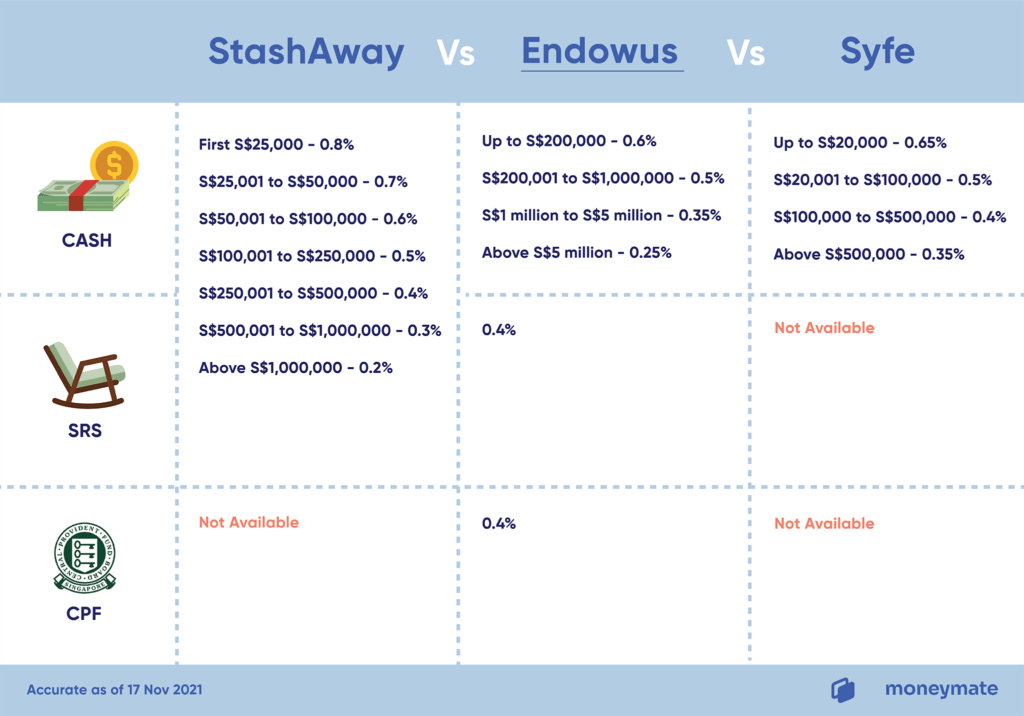 Endowus vs StashAway
Both robo-advisors offer cash and SRS investment options, but  Endowus has the added option of investing CPF monies. Since we're likely to have a sizable chunk of money in CPF after working for a few years, Endowus is more attractive in this aspect.
Cost-wise, Endowus has an upper hand since its management fee is lower generally. You'll really only feel the benefits of StashAway's fees after the S$250,000 mark — the difference can be 0.1-0.2% per year, which is a cool $1,600 difference with a hypothetical $800,000 portfolio.
On the other hand, StashAway (full review) has a lower entry barrier since there's no minimum investment required.  This can be enticing for young investors who do not have much to start their investment journey with. 
Endowus vs Syfe
Overall, Syfe (full review) has several advantages over Endowus.
Firstly, it offers a bigger range of products (REITs, ETFs, and equities) that may appeal to investors who want more diversification.
With a portfolio of between $20,000 – $500,000, it also offers the lowest fees amongst the three robo-advisors.
To top it off, Syfe has no minimum investment requirement.
While Endowus does provide a way for investors to use their CPF and SRS funds for investment (Syfe doesn't), this option alone may not be the dealmaker.  Unless an investor is only interested in trading mutual funds, Syfe remains a viable option.
Bottom Line: Endowus is Best For…
Investors who want a hassle-free way to gain access to best-in-class mutual funds around the world
Investors who want a high-yield cash management account
Investors who want to maximise their CPF and SRS funds
Beginners who want to trade only mutual funds
On the other hand, Endowus is not a good fit for:
Investors who want to explore an assortment of investment products like equities, bonds, and REITs
Investors with very limited funds (less than S$1,000) to start their investment journey