Webull shines with its "true zero commission" offer when trading in HK and the US. But with just two markets and only a mobile app, the brokerage is still a work in progress.
Pros
Zero commission fees
Zero platform fees
No minimum deposit
Lots of promotional offers
Cons
Access to only US and HK markets
Available on mobile app only
No crypto trading
No mutual funds, futures, or forex trading
Current promotion:
Fund S$300 & get US$58-580 worth of free rewards.
Click to apply
.
There's a new broker in town. One of the most popular brokers in the US, Webull is finally joining the growing market of online investment brokerages in Singapore.
Webull shines with its broad range of free services, including no account minimums and commission-free trading of stocks and ETFs.
But with so many new brokers entering Singapore's online brokerage scene, let's take a look at what Webull brings to the table and how it compares to the rest.
Today, we'll cover:
What is Webull?
Owned by Fumi Technology, Webull is a US fintech company backed by Xiaomi and other private equity investors in China. They're headquartered in New York. After their initial launch in the United States in 2018, they entered Hong Kong at the end of 2020 and grew their user base rapidly.
As of 2021, they were the second most popular trading app in the world with 2.7 million monthly active users.
Webull arrived on Singaporean shores in 2021, though back then they were only listed on the Singapore Exchange. In May 2022, they officially began extending their services to the local market.
How Webull Works
Webull allows you to:
Access the US and HK markets with "true zero commission"
Trade stocks, options, ADRs, and ETFs
Get real-time quotes
Trade extended hours
Purchase fractional shares
The true zero commission when trading in the US market is Webull's primary selling point. That means they don't charge any commissions, platform fees, membership fees, or currency exchange fees. This doesn't extend to any fees the regulatory platforms charge though (more on this later).
Other than that, Webull is also one of the few brokers in Singapore that allows you to buy fractional shares – meaning you can own Tesla stocks even if you don't have US$807 to spare (as of 27 July 2022). 
Opening An Account
First thing you need to know: Webull doesn't currently have a desktop app. Even though they have a sign-up link at the top right corner of their website, using this link won't take you very far.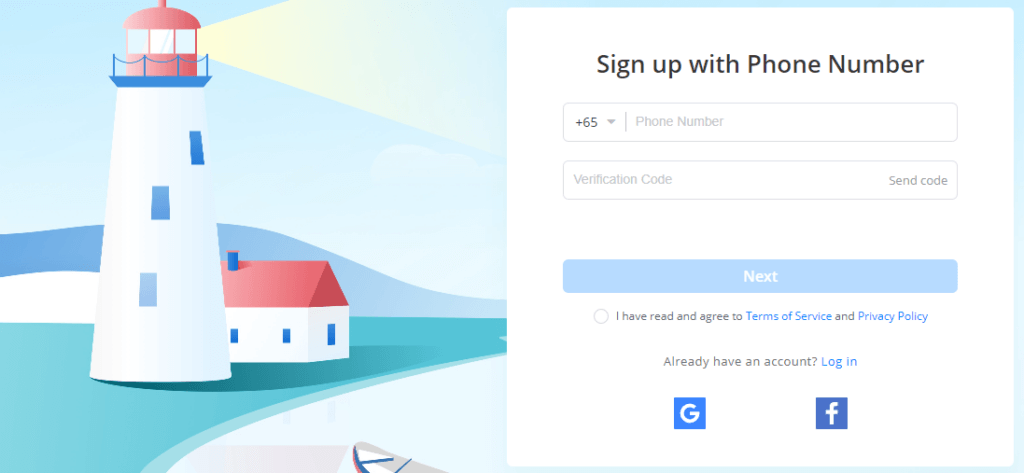 When we tried to sign up via the website, there wasn't a dashboard or member's corner to peruse even after we'd created an account.
You're better off going straight to their mobile app instead, where the registration process is more straightforward via Singpass MyInfo: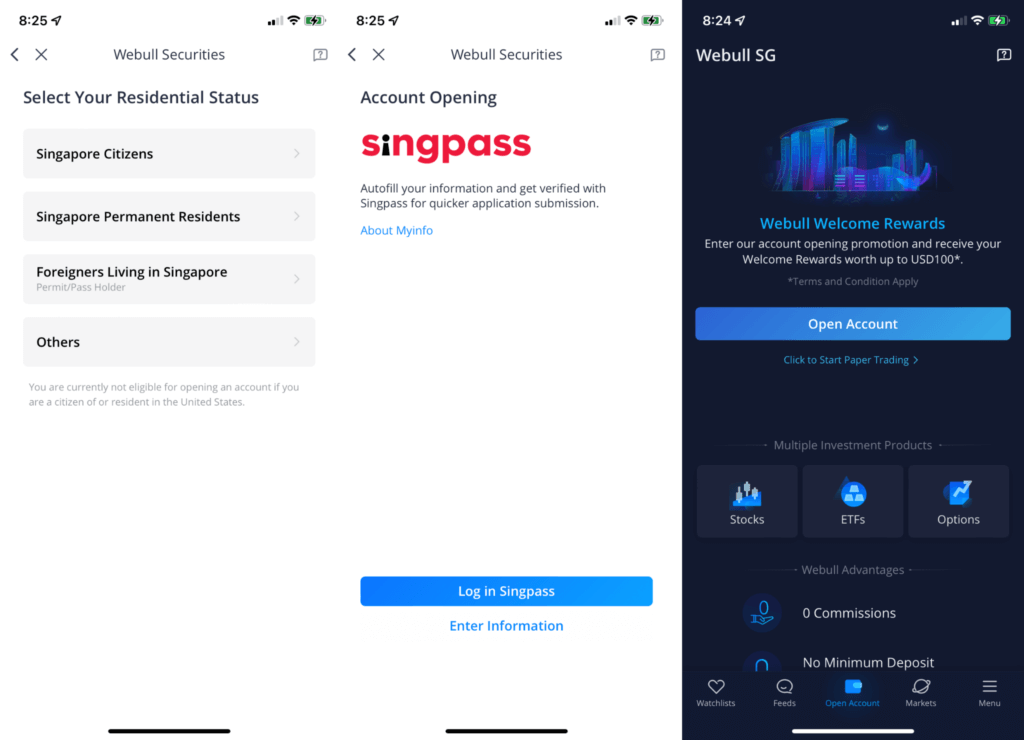 But if you don't have Singpass MyInfo, you can still complete the in-app application manually.
Either way, the overall sign-up process is fast and you can expect your account to be ready within a day.
Funding Requirements and Process
Webull has no minimum or maximum deposit amount, so it's excellent for those just looking to test the waters.
Funding the account is straightforward. You can deposit funds via electronic Direct Debit Authorisation (eDDA), Fast and Secure Transfers (FAST), and Telegraphic Transfer (TT).
As of July 2022, these are the banks Webull supports for deposits:
Bank of China
DBS
ICBC
Maybank
OCBC
Standard Chartered
UOB
Heads up that deposits must come from your own individual bank account, not a joint account. The name linked to the bank account and Webull account must be the same for all deposits and withdrawals. Webull does not support third-party bank accounts or payment platforms. (Source: Webull Help Center)
Also, you'll need to convert your Singapore Dollars (SGD) to United States Dollars (USD) or Hong Kong Dollars (HKD) before you trade in the US or HK markets. You can do this in the Webull app itself. The exchange rates update every 15 minutes and you don't have to pay any currency exchange or conversion fees. 
Less Favourable Currency Exchange Rate
While Webull charges zero currency exchange fees, its FX rates aren't as great as other low-cost brokerages like Interactive Brokers. Granted, Interactive Brokers charges a S$2 FX fee, so for smaller amounts it might cost about the same. 
The less favourable exchange rates may not be a dealbreaker for investors who only trade in small amounts, since you'll also be saving on the trading fees. Still, if you frequently make high volume trades, the difference in exchange rates can impact your return on investment.
How Does Webull Protect Investors?
Webull is a young company that has just entered the local market. Though they're licensed and regulated in HK, the US, and Singapore, the lack of a track record does leave investors wondering how safe the platform is.
There's no definitive answer to this, but what may offer a little reassurance is that your US assets and funds are protected by SIPC. This is a non-profit entity dedicated to covering US investor funds. (Note that the protection doesn't extend to the HK stocks you buy on Webull, so there's a risk there.)
User Assets: Omnibus or Personal Custodian Account?
Webull holds the assets or monies you deposit with them in a custodian account. It's unclear if this is an omnibus (i.e. shared with other users) or personal custodian account under your own name.
But judging by the fact that you can purchase fractional shares, it's likely an omnibus custodian account. The risk here is that if Webull goes bust, the custodian bank may liquidate the assets as soon as possible to return the money to users – often in a market downturn.
If it's a personal custodian account, you have more control over how and when to liquidate those assets, so you don't have to sell at a loss. To date, only two platforms that we know of use personal custodian accounts rather than omnibus accounts: AutoWealth and Endowus.
So Is Webull Safe?
In our opinion, though it's new in Singapore, Webull is as safe as the other low-cost China brokers that have emerged in recent years, like Tiger Brokers and Moomoo.
Read also: Moomoo vs Tiger Brokers: Which is the Better Broker?
Webull Fees and Commissions
Truth be told, Webull isn't the only name offering zero commissions for US stock trading. There's TD Ameritrade for one, and Moomoo has also recently taken to cutting their commission and platform fees for one year.
And regardless of the broker you use, you still need to pay the exchange and regulatory fees (though these are minimal).
More details on Webull's fees below:
US Markets
Rates (Source)
Charged by
Commission
0
Webull
Platform
0
Webull
Transaction Fee (Sell Orders only)
USD $0.0000229 * Total Trade Amount (Min. USD 0.01)
US Securities and Exchange Commission (SEC)
Trading Activity Fee (Sell Orders Only)

Stocks and ETFs: USD $0.00013 * Total Trade Volume (Min. USD $0.01, Max. USD $6.49 per Trade)
Options: USD $0.00218 * No. of Contracts (Min. USD $0.01)

US Financial Industry Regulatory Authority (FINRA)
Options Regulatory Fee
Options: USD $0.02915 * No. of Contracts
Options Exchanges
Clearing Fee
Options: USD $0.02 * No. of Contracts (Max. USD 55 per Trade)
Options Clearing Corporation (OCC)
American Depositary Receipt (ADR) Custody Fee
USD $0.01 – 0.03/Share
US Depository Trust Company (DTC)
Note that a 7% Goods and Services Tax (GST) will apply on all the above fees and charges as levied by the Singapore Government.
HK Markets
| | Rates | Charged by |
| --- | --- | --- |
| Commission | 0 | Webull |
| Platform | 0 | Webull |
| FRC Levy | 0.00015% | HK Financial Reporting Council (FRC) |
| Stamp Duty | 0.13% (Min. HKD 1; Rounded up to the nearest dollar)Exempted: ETFs | HKSAR Government |
| Transaction Levy | 0.0027% (Min. HKD 0.01) | HK Securities and Futures Commission (SFC) |
| Settlement Fee | 0.002% (Min. HKD 2, Max. HKD $100) | HK Securities Clearing Company Limited (HKSCC) |
| Trading Fee | 0.005% (Min. HKD 0.01) | Stock Exchange of Hong Kong (SEHK) |
| Trading Tariff | HKD 0.50/Transaction | Stock Exchange of Hong Kong (SEHK) |
At the bottom of their pricing page for HK stocks, Webull is quick to add the disclaimer that "the promotional rate of 0 is valid till updated." Apparently, their main selling point of true zero commissions may not last forever.
For now though, their strategy seems to be to compete on low costs while generating revenue from other back-end sources, like Payment for Order Flow, Stock Loan, interest on free credit balances, and margin interest.
Webull vs Moomoo, Tiger Brokers, and TD Ameritrade
How does Webull's (lack of) fees compare to those of competitors like Tiger Brokers, moomoo, and TD Ameritrade?
Fee Comparison
Market
Webull
Tiger Brokers
moomoo
TD Ameritrade
US
No commission or platform fees for stocks, ETFs, and options
USD0.005 / share
No commission or platform fees for stocks and ETFs for one year (USD0.99 / order thereafter)
No commission or platform fees for US-listed stocks, ETFs, and options*
Hong Kong
No commission or platform fees for stocks and ETFs

Commission of 0.03% * Trade Value (min HKD7 per order)
Platform fee of 0.03% * Trade Value (min HKD8 per order)

Commission of 0.03% * Trade Value (min HKD3 per order)
Platform fee of HKD15 per order

N/A
Singapore
N/A

Commission of 0.03% * Trade Value (min SGD0.99 per order)
Platform fees of 0.03% * Trade Value, min SGD1 per order

Commission of 0.03% * Trade Value (min SGD0.99 per order)
Platform fees of 0.03% * Trade Value, min SGD0.99 per order

N/A
* TD Ameritrade's commission-free offer only applies to US-listed stocks, ETFs, and options. Online trades of over-the-counter (OTC) stocks will incur a US$7.44 commission fee.
From this snapshot, it seems Webull wins hands down. Even though moomoo is currently offering commission-free trades for US stocks and ETFs, the promotion doesn't apply to options. Further, Webull extends the zero-commission offer to HK stocks and ETFs as well.
That said, TD Ameritrade still holds an appeal if you're looking to learn about trading. Webull simply can't compare to TD Ameritrade when it comes to powerful charting tools and a whole archive full of resources.
The only con is that TD Ameritrade only allows you to trade US assets – not HK or Singapore. Then again, you can trade futures and forex with TD Ameritrade, whereas you can't with Webull.
What Markets and Asset Types Can You Trade?
Brokers
Markets Available
Webull
United States, Hong Kong
Asset Types: Stocks, ETFs, and Options
Tiger Brokers
10 markets across the US, HK, Singapore, China, Australia
Asset Type: Stocks, ETFs, options, warrants, CBBCs, REITs, futures, and funds
moomoo
United States, Hong Kong, Singapore, China
Asset Type: Stocks, ETFs and REITs, Futures, ADRs, and Options.
TD Ameritrade Singapore
United States
Asset Types: Stocks, ETFs, options, futures, forex
Interactive Brokers
Over 135 markets in 33 countries
Asset Type: stocks, options, futures, currencies, bonds, and funds
In short: If you're looking for access to a wide range of markets and asset types, Webull isn't for you.
It's possible that this limitation is a temporary one, since Webull US offers a more comprehensive range of financial products. Perhaps Webull will allow Singaporean users to diversify their investments in future.
But for now, if you're a serious investor in Singapore, you will at some point want access to the London and Singapore markets. One option is to complement your setup with another platform like Interactive Brokers to access the additional markets.
Webull Downsides
1. No desktop app
Webull doesn't have a desktop app or web interface right now, so you're limited to your mobile device. This may be a problem for those who prefer charting or doing technical analysis on their desktop browsers.
2. Possibly Subpar Customer Service
Webull offers email assistance and has a 24/7 chat available on its mobile app. Globally, Webull's customer service is known to be subpar. How it fares for Singapore users remains to be seen.
Whom is Webull best for?
Frequent traders of the US and HK markets will benefit most from Webull for now. With the growing number of brokers in Singapore, newcomer brokers are expected to bring in bigger and better offerings.
Webull has an attractive zero-commission offer and fractional share trading, but the brokerage is still a work in progress with its limited market access.
Plus, Webull is still a young company with no track record in Singapore, so it remains to be seen how investors take to the newest brokerage in town.