Backed by Chinese tech giant Tencent, Moomoo makes trading accessible with a gamified, easy-to-use interface. Still, customer support is somewhat lacking and the desktop app could use a lot of improvement.
Pros
Social networking aspect allows you to connect with other traders
Fun, easy-to-use interface
No currency exchange fees
Loads of welcome gifts and incentives
Cons
Desktop app is cluttered and sometimes buggy
Applicable fees displayed next day instead of immediately
Limited markets and asset types available
Margin trading interest rates are high
Moomoo was the talk of town when it launched in Singapore back in March 2021. Everyone was raving about the free Apple stocks you could get with a minimum deposit of S$2,700.  
We know you have tons of questions on Moomoo: who are they? How reliable is the platform? Are the free stocks legit? What fees do we need to pay when trading on Moomoo? 
To satisfy your curiosity, we've also hopped on the Moomoo bandwagon and explored the platform. Now that the hype has died down a little, it's time for us to embark on a full review of the trading platform and answer all your questions.
We'll cover:
What is Moomoo?
Moomoo is a relatively new low-cost broker that's a subsidiary of China's Futu Holdings. The parent company, Futu, is backed by Chinese tech giant Tencent Holdings. They mostly serve clients in the U.S. and China.
Think of Moomoo like Robinhood in the US: it makes investing accessible to beginners by offering low-cost trades and an easy-to-use interface. Other low-cost brokers in Singapore include Tiger Brokers and Interactive Brokers.
Read also: How to Start Investing as a Student [Step-by-Step Guide]
Moomoo also has various interchangeable names: moomoo or Futu SG in Singapore, and FUTU Bull (niuniu) in Hong Kong — both under Futu Holdings.
How Safe and Reliable is Moomoo?
Like any other brokerage in Singapore, Moomoo is MAS-regulated. This takes a lot of risk off the table — you can rest assured you aren't leaving your money with a dodgy dealer. Your U.S. stock purchases are also covered by the Securities Investor Protection Corporation (SIPC) to the tune of $500,000.
That said, you should know that Moomoo operates with a custodian model: meaning any shares you buy are held in a custodian account instead of your CDP account. The custodian account is still tagged to your name though, so your assets will return to you in the (unlikely) event that Moomoo goes bust.
Custodian accounts are normal for brokerages where you can buy overseas stocks since CDP only applies to Singapore stocks. The only way around this is to open a depository account in the country you want to buy stocks in — but this may be challenging for the average trader.
How Easy Is It to Sign Up?
Moomoo makes it very accessible: anyone above the age of 18 can open a margin trading account. However, for certain margin facilities such as margin financing, there are other criteria that apply.
According to Futu SG's internal risk management guidelines, only account holders aged between 21 and 64 are allowed to access margin financing. Even then, you'll still need to prove that you're employed.
For Singaporeans and PRs
If you're a Singaporean citizen or PR, signing up is as easy as a click of a button using SingPass MyInfo. Then, just verify your email, complete the (short) online application form, sign the risk disclosure, and you're good to go!
For Foreigners
Foreigners will find it slightly more difficult to open an account, though it's still quick. You'll need to upload documents such as your passport photo page and proof of address. The proof of address shouldn't be more than three months old and can be documents like:
Telephone/internet bill
Bank/insurance/broker statement
Latest correspondence from any Singaporean government agency
Ease of Funding
You get two options when funding your SGD account: bank transfer or Direct Debit Authorization (DDA). If you plan on investing a fixed amount each month, DDA is more convenient. Both ways are simple and fast though.
1. Bank Transfer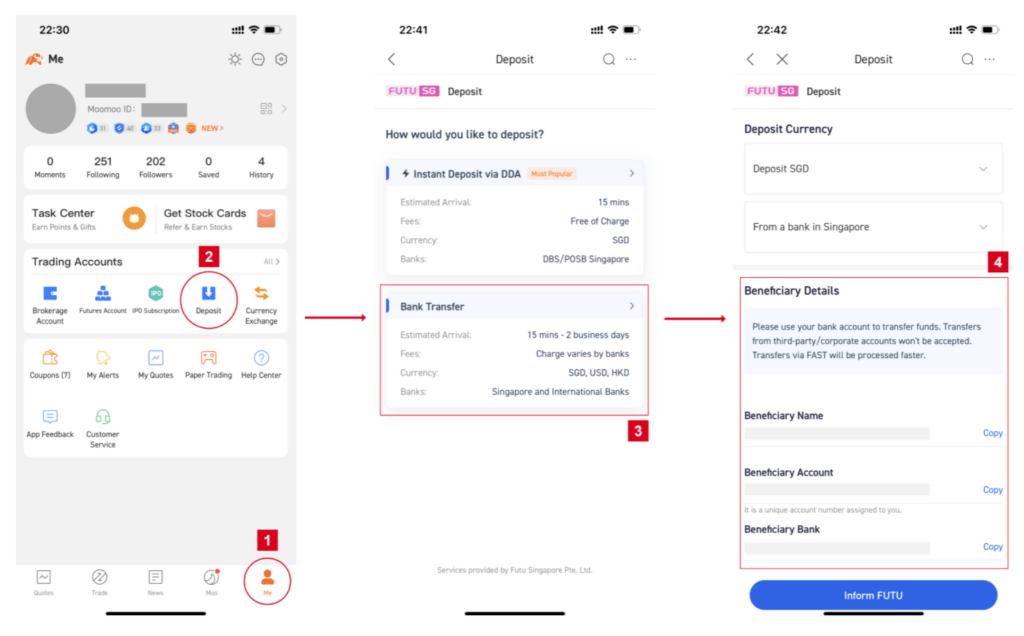 To fund your Moomoo account, just obtain your unique beneficiary account details (as shown above) and make the bank transfer. A good practice is to enter your Moomoo account into the Comments field to prevent delays. 
Funds transferred from Singapore bank accounts take approximately 1-3 business days to clear. Funds transferred from overseas bank accounts take approximately 3-5 business days. You'll receive an email and app notification once your deposit is available. 
2. Direct Debit Authorization (DDA)
DDA is only available through DBS/POSB bank accounts, and it'll require you to link your bank account via the app. After the successful setup, you can go to the Deposit page to initiate a deposit and check on its progress via the Funds Record page. You'll also receive notifications and emails about the progress of your deposit.
If you need any help with either of these processes, Moomoo's Help Center is very informative with screenshots to guide you through.
Moomoo's Product Offerings, Fees, Commissions and Account Minimums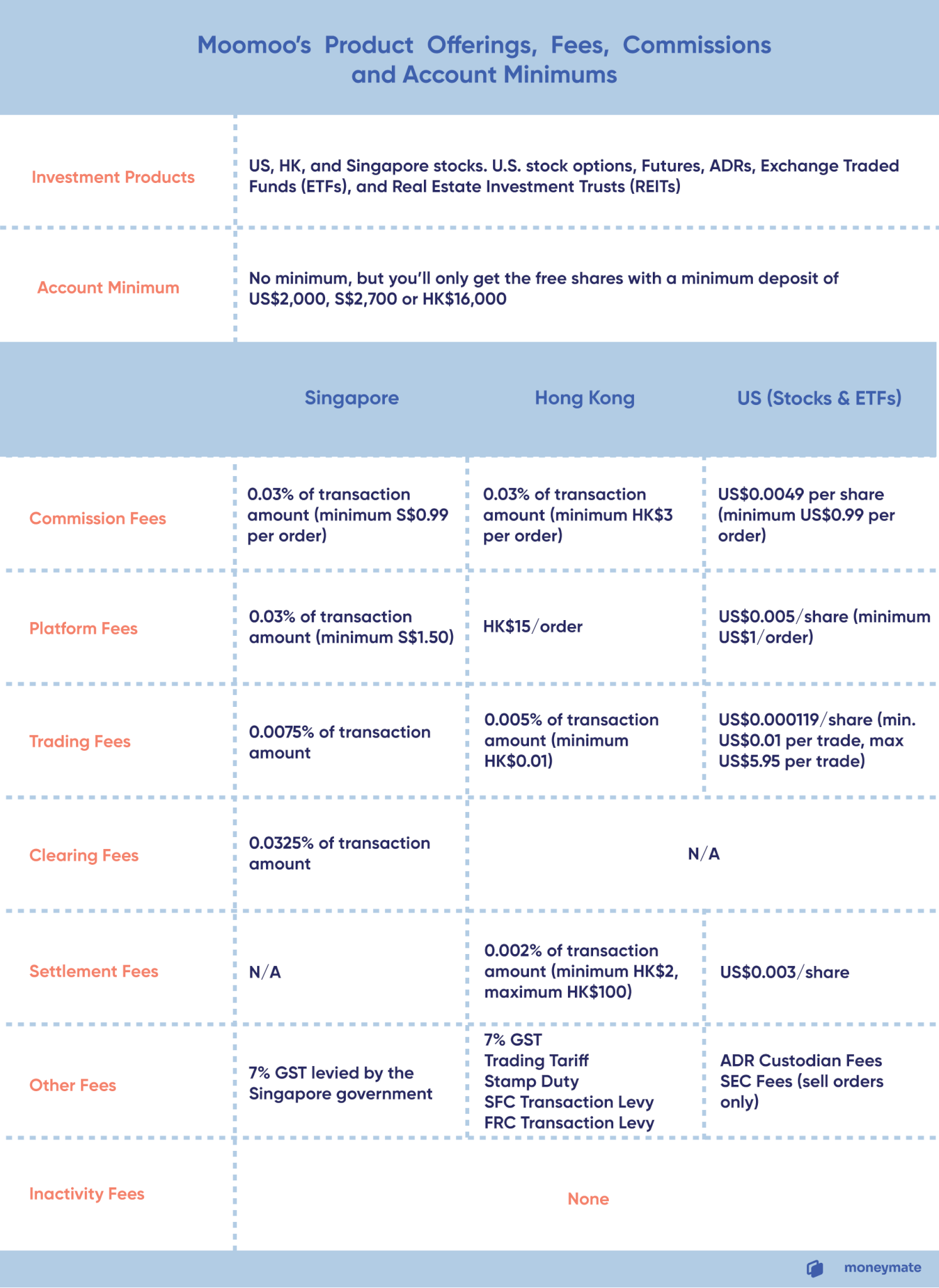 Access to Real-time Data
Moomoo grants you access to real-time data based on your level. The higher your level, the more benefits you receive. At the lowest level, you'll get data that's delayed by 15 minutes. As you level up, the lag time decreases.
The lag time is mostly important for those doing day trading. If you prefer a low-effort dollar-cost averaging strategy where you buy stocks or ETFs at regular intervals, it won't affect you much.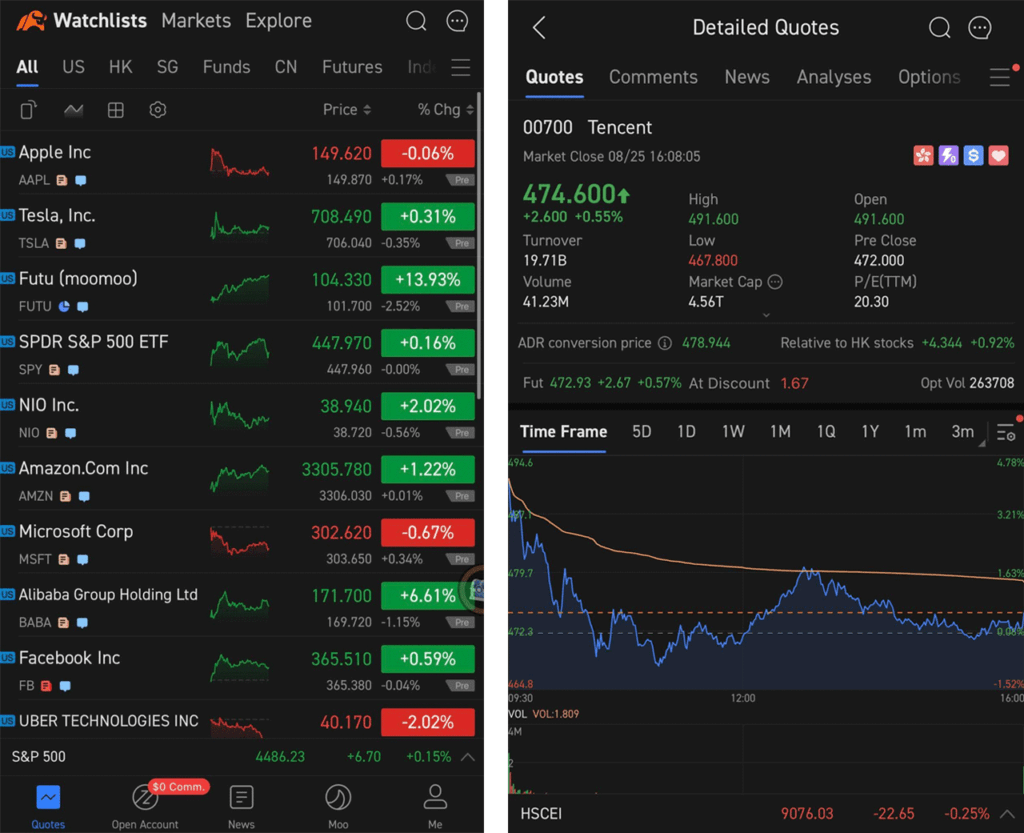 Above, you'll see what the trading interface looks like. Real-time data is available for each market and the various asset types you're looking to trade. Individual asset data is also readily available and updated (as seen from the Tencent display).
Overall, this trading interface is simple to navigate while still offering a wealth of data. We'd say it's more accessible to beginner traders compared to the sometimes overwhelming UI from Interactive Brokers.
Learning Resources Available on Moomoo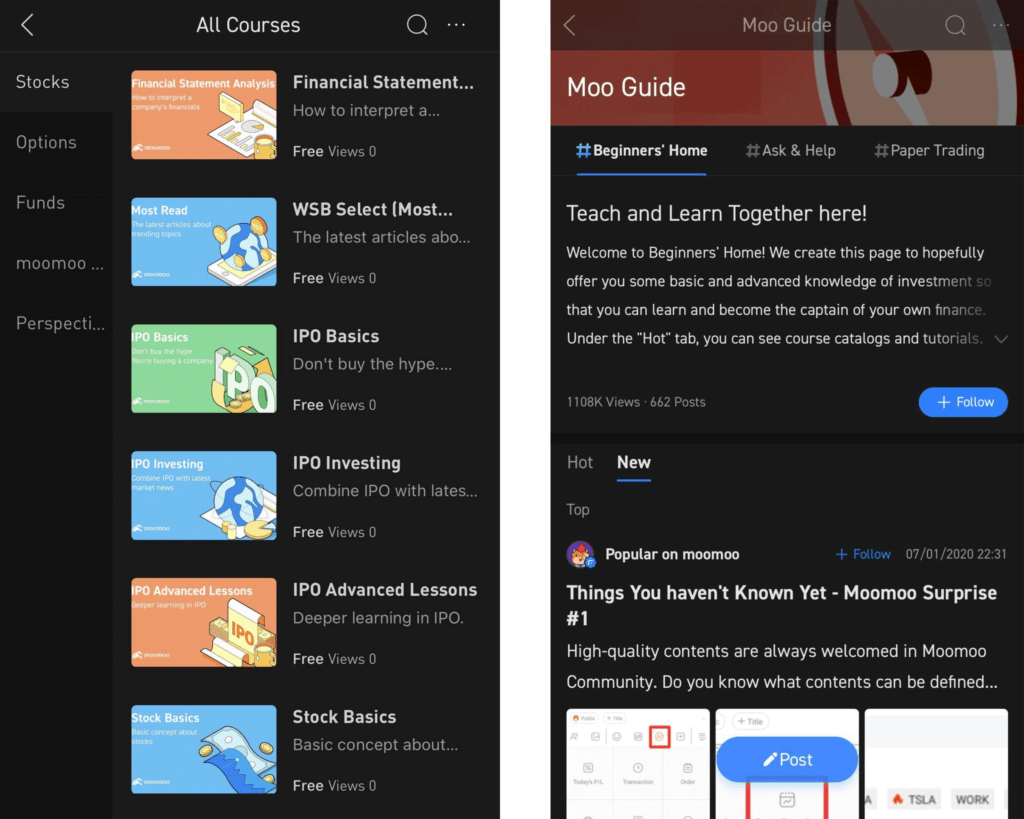 Another thing we liked about Moomoo is that it has tons of resources for beginners. There are blog posts to explain each asset type, how to read the charts, show you around the interface, and more. If reading isn't your thing, there are also tutorial videos, courses, and forums where you can ask questions.
Moomoo also stands out from other low-cost brokers like Tiger and IBKR through its social networking function. You can follow others and post on your own feed just like with any other social media platform. With over 15 million users worldwide, you get to share and discuss your trading insights with like-minded investors.
The Moomoo App User Experience
Overall, we find the Moomoo interface easy to navigate. When you open the app, you'll see the live trades with items organized into lists. All the data and charts are neatly sectioned.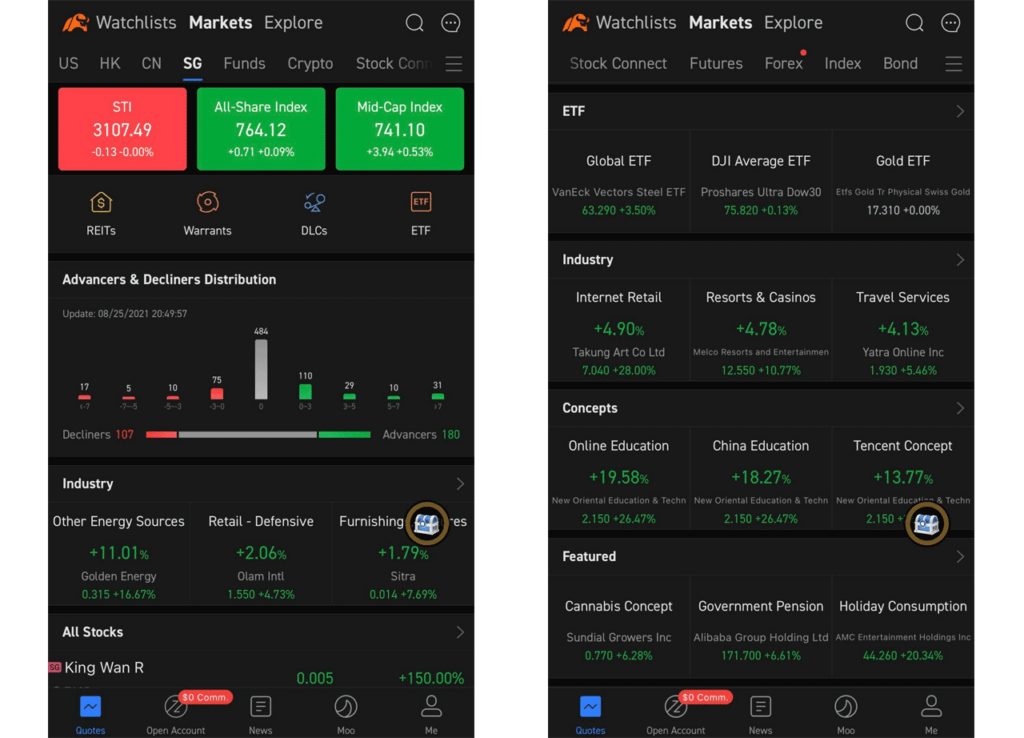 The search function is handily located at the top, so it's easy to look up stock tickers you want.
You can also access the financial data of each company you're considering via the app — so there's no need to head to a separate website.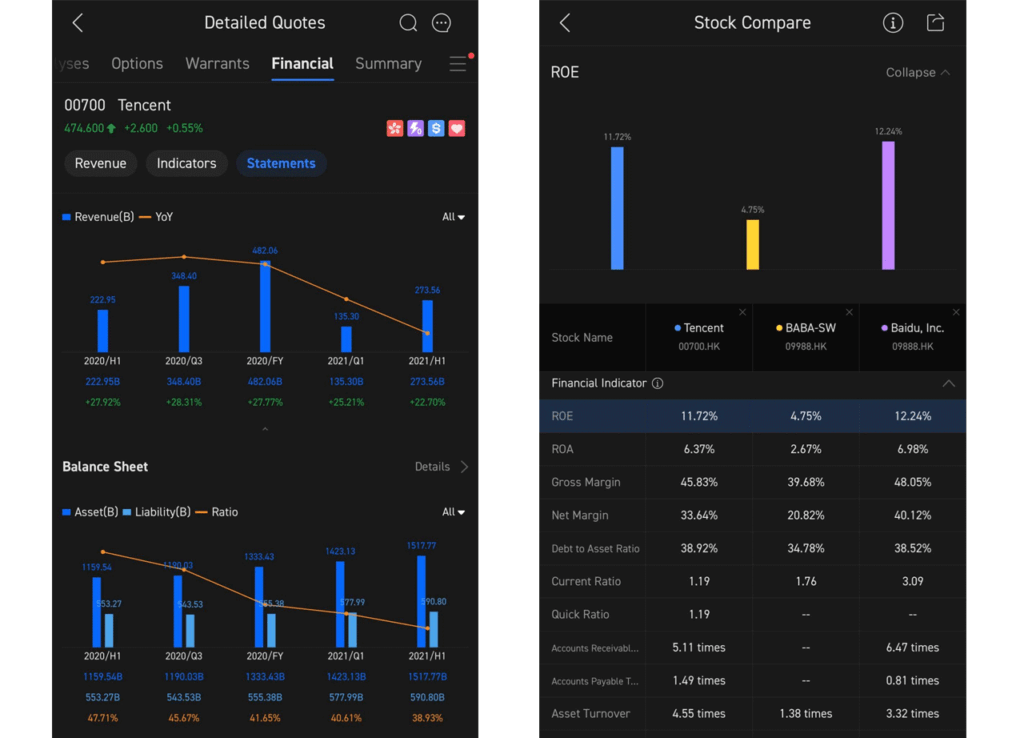 Under the Markets tab, each sub-section provides users with an overview of the country's current outlook for each industry. You can also get an overview of the top-performing stocks, funds, and so on — convenient for investors who don't have time to do an in-depth market analysis.
Purchasing or selling stocks is also intuitive. The higher your level on Moomoo, the greater your access to information. For example, level 2 users get access to real-time bids, which will enable you to execute trades more accurately.
In short: Moomoo is a great all-in-one platform for investors who want to trade and keep up with the latest financial news. Even as a new user who has not watched any tutorials, it was still easy to navigate the app on top of the myriad of resources available. 
What Others Are Saying About Moomoo:
User interface is easy to navigate: It was more seamless with a better layout and design compared to the Tiger Brokers UI. The account opening process is quick and easy. Depositing and withdrawing funds is also intuitive and easy to carry out. 
Competitive commissions: Low fees and attractive freebies (free shares with minimum deposit). Bonus is that there are no currency exchange fees, unlike legacy brokers like DBS Vickers.
Being in a community is fun: Moomoo gamifies certain aspects of investing. There's also the social media aspect allowing you to follow and learn from others, making the investing journey more enjoyable.
Customer service could be much better: Only email or chat is available. Moomoo does not provide a phone hotline or any live chat services. Sometimes, contact information (e.g. email address) is inconsistent.
Mobile app runs better than desktop app: The desktop app is buggy, cluttered, and difficult to execute orders for day trades. The mobile app interface runs better and smoother.
Can be a little overwhelming for beginners: There's too much going on at times and the interface can get messy. There are also many things to explore, which could overwhelm those new to investing.
Current Promotions
Moomoo changes their promotional offers every few months. Currently, they offer:
1. A Welcome Bundle
Included in the pack is:
1x free Apple share (~S$240 value). You'll need to deposit at least S$2,700, US$2,000, or HK$16,000 to get it.
S$40 cashback
180 days of commission-free trades for the SG, US, and HK markets
Free real-time quotes for SG, US, and China A-share markets
Be sure to read up on the terms and conditions before diving in.
2. Referral Bonus
Invite a friend to join you on Moomoo and get a S$100 stock cash coupon when they deposit S$2,700.
Whom is Moomoo Best For?
All in all, Moomoo is a very competitive low-cost broker for local users.
However, we feel Moomoo is most suitable for:
Investors who have at least S$2,700 minimum starting capital
Local investors looking for a low-cost platform to trade US and HK stocks
Personal finance influencers who want to trade while engaging with a community
But with the ease of signing up, it's not a bad idea to have access to multiple brokers just in case one goes down. If you ultimately decide that Moomoo is not for you, you can always sell off your free shares, earn some spare cash, and close the account. Not a bad deal, isn't it?