2021 has been an amazing year for the Singapore property market.
Even with the declining GDP and return to Phase 2 (Heightened Alert), neither the private property nor HDB resale market showed signs of slowing. In fact, both price indices had positive growth for five consecutive quarters.
Let's dig into the property price trends in Singapore and why the pandemic seems to have spurred tremendous growth. We'll cover:
Read also: Buying vs Renting in Singapore: Which is Better for You?
How Have Property Prices Changed Since 2019?
For starters, let's take a look at the Property Price Indices for both private properties and HDB resale flats. This measures the change in average prices homebuyers paid for residential properties in Singapore: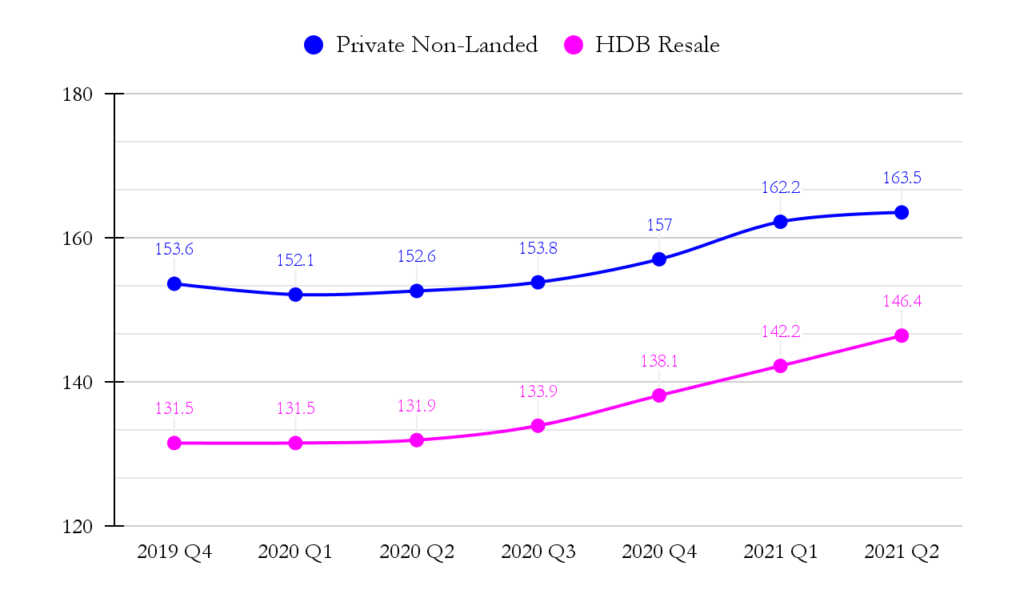 It's true that with the low interest rates now, it's one of the best times to get a housing loan. But what's motivating buyers and sellers at this point goes beyond low interest rates.
There are five main factors driving up prices and demand:
The changing perception of home ownership amidst the Covid-19 pandemic
Positive sentiment towards Singapore and its governing bodies
Fewer new condo launches and more HDB upgraders
The threat of new cooling measures
Low mortgage interest rates
We'll elaborate on these in the sections below.
What's Driving Up Prices and Demand?
While some of the telltale signs have evolved out of the pandemic, other factors have been in the works for some time.  Let's take a closer look at the reasons triggering the upward trend in property prices:
1. The Changing Perception of Home Ownership
Homes in or close to the CBD used to see the most price growth. I mean, nobody wants to live in Sembawang and have to travel 1.5 hours by MRT to their workplace every day.
But given that the pandemic forced many of us into WFH (and sometimes HBL) as the default, there's been a greater focus on larger living spaces and better mental health.
Buyers are now looking more favourably at properties in the Rest of Central Region (RCR) and the Outside Central Region (OCR) as they tend to be more spacious and well-ventilated than homes nearer to downtown Singapore.
This is evident in the trending home prices for various regions:
Property prices in the RCR have grown for two consecutive quarters since the end of 2020. It's now 9.6% above its 2013 peak.
OCR property prices saw a 1.9% increase in Q2 2021. It's also 10.6% above its 2013 peak. 
The Core Central Region (CCR) prices have weakened significantly, from 3.2% to 3.8% growth in Q3 and Q4 2020 to merely 0.5% to 1.1% in Q1 and Q2 this year.
Source: Colliers
2. Positive Sentiment Towards Singapore and its Governing Bodies
Singapore has always had a good reputation internationally. And while there were hiccups along the way, the island-state handled the pandemic much better than many other developed countries.
So much so, in fact, that while the rest of the world was going through upheaval  — HK protests and the US-China trade war to name just two — Singapore became increasingly appealing to both domestic and foreign investors.
Combined with its favourable tax laws, the tiny red dot is attracting lots of capital inflow. It's now the fourth largest recipient of foreign investment in the world.
And considering that countries like New Zealand and Canada are experiencing property price growth despite the pandemic, it's easy to understand why Singapore entices stronger investors.
3. Fewer New Condo Launches and More HDB Upgraders
Less supply and strong demand can drive prices up. This could be what's happening in Singapore's resale market right now.  Compared to 2020 when there were 28 new condo launches, 2021 only has around 20.
Buyers who can't find a new unit may turn to the resale market or readily available units. And with the threat of new cooling measures looming, the higher number of buyers seeking larger homes has triggered a price hike.
Adding to the demand pool is a large number of HDB upgraders with flats reaching the Minimum Occupancy Period (MOP) in 2020 and 2021. Nearly 50,000 HDB flats will reach their MOP during this period.
These upgraders are less price-sensitive because they would've sold their flats with a generous profit and their priority would be to acquire bigger units or upgrade to private condos that can be their dream homes.
4. The Threat of New Cooling Measures 
The market has been speculating that there will soon be new cooling measures to keep property prices from rising too quickly. This last happened in 2018, when prices rose sharply along with transaction volumes.
If the government does release a new round of cooling measures, they will likely target individuals or couples who own multiple homes. These buyers will have to pay a higher Additional Buyer's Stamp Duty (ABSD).
That's another reason for buyers to hurry.
At this point, the government has said that the local property market isn't overheated enough to impose more restrictions. We think this is because they have their hands full with battling the pandemic — there's no guarantee that they'll maintain this stance if housing prices continue to rise faster than GDP.
5. Low Mortgage Interest Rates
Last but not least, low interest rates are encouraging buyers to enter the market, even though market experts think their influence is moderate.
Most people buy homes because of the attractiveness of the property (whether price, quality, location, or yield) and market sentiment. Purchasers have to be gainfully employed to afford the financing. The slight difference in interest rates may not be the key motivator to initiate a purchase.
How Have Private Property Prices Changed by Region?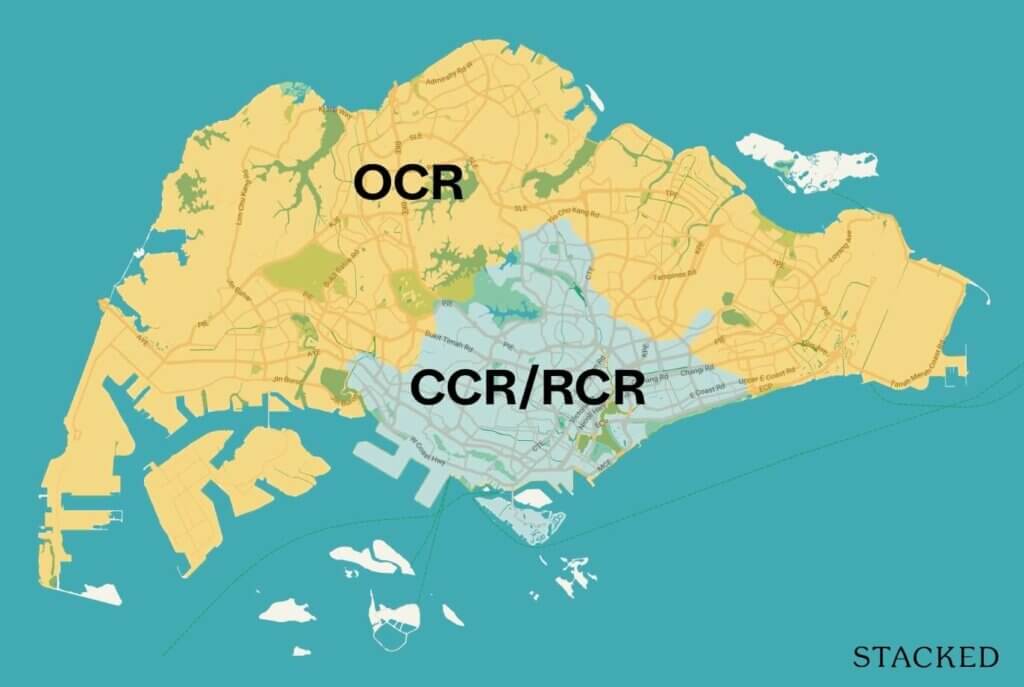 Prices in the OCR and RCR Are Overtaking Those in the CCR
There are a few causes for this trend:
Buyers are more willing to look at housing in suburban areas because WFH arrangements mean there's less need to stay closer to their workplaces
Buyers value more space over the prestige of staying near the city and are willing to pay more for it
There have been fewer foreigners purchasing luxury homes in the CCR since the pandemic
Prices in RCR Are Up Nearly 10% Since 2013
Properties in the RCR have always been in demand, but there's been a significant increase in the first two quarters of 2021. As it is, RCR has seen a 9.6% price increase above its peak in Q2 2013. With more upgraders entering the market, it's showing no sign of slowing down. Unless there are major cooling measures, this region is likely to experience vibrant buying and selling activities for some time.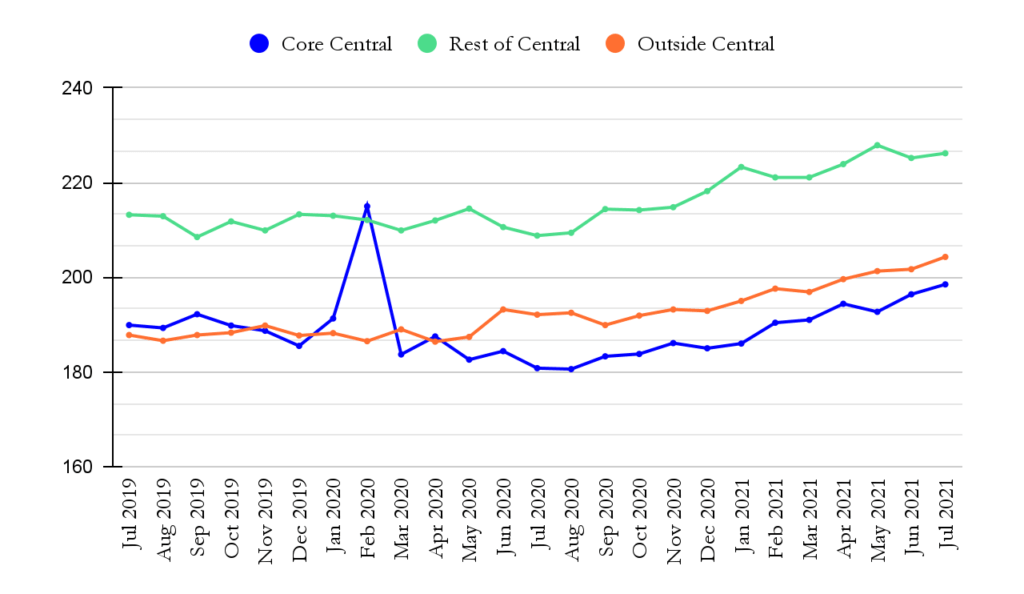 How Have HDB Resale Prices Changed?
HDB resale prices have been propelling upwards for five quarters with no sign of coming down anytime soon.
According to market watchers, this is because of the BTO delays — first-time homebuyers are shifting their attention to the resale market instead.
The trend is likely to persist with strong demand and short supply.  Furthermore, savvy sellers are increasing their asking prices and are less willing to budge because of the favourable market conditions.
Increase in Million-Dollar Flats
The increasing number of million-dollar flats is also another factor driving the HDB Resale Price Index up. In the first half of 2021, there were as many as 106 flats sold at more than a million dollars. That's a 341.7% increase from the same period the previous year.
This is an unprecedented phenomenon and it's hard to predict if this growth will continue in the long run. After all, HDB flats are meant as subsidised public housing: if their prices become unaffordable for low and mid-income earners, the governing bodies will most likely impose curbs to prevent price escalation. 
Where Are the Cheapest and Most Expensive HDB Resale Flats Now?
As of Q2 2021, these were the median resale prices:
| Town | 3-Room | 4-Room | 5-Room | Executive Apartment |
| --- | --- | --- | --- | --- |
| Ang Mo Kio | $322,000 | $438,000 | $600,000 |   |
| Bedok | $310,000 | $430,000 | $609,500 | $777,800 |
| Bishan |   | $545,000 | $760,000 |   |
| Bukit Batok | $313,000 | $417,500 | $591,500 | $681,500 |
| Bukit Merah | $357,000 | $760,000 | $816,000 |   |
| Bukit Panjang | $328,000 | $450,000 | $530,000 | $687,500 |
| Central |   | $941,000 |   |   |
| Choa Chu Kang | $360,000 | $460,000 | $537,000 | $600,000 |
| Clemento | $340,000 | $695,000 | $690,000 |   |
| Geylang | $307,000 | $565,000 | $688,000 |   |
| Hougang | $320,000 | $435,500 | $573,500 | $740,000 |
| Jurong East | $328,500 | $429,000 | $528,000 | $760,000 |
| Jurong West | $298,000 | $418,000 | $501,900 | $590,000 |
| Kallang / Whampoa | $320,000 | $685,000 | $780,000 |   |
| Marine Parade |   |   | $796,000 |   |
| Pasir Ris |   | $459,000 | $542,000 | $688,400 |
| Punggol | $393,000 | $488,000 | $585,000 |   |
| Queenstown | $358,000 | $800,000 | $932,500 |   |
| Sembawang |   | $410,000 | $470,900 |   |
| Seng Kang | $372,000 | $465,000 | $515,900 | $598,000 |
| Serangoon |   | $465,000 | $612,900 | $875,500 |
| Tampines | $353,000 | $466,000 | $580,000 | $726,500 |
| Toa Payoh | $280,000 | $655,000 | $760,400 |   |
| Woodlands | $295,000 | $406,000 | $485,000 | $645,000 |
| Yishun | $325,000 | $426,500 | $542,500 | $630,000 |
Source: HDB
Most Expensive HDB Resale Estate
From the table above, you'll notice that these have the highest median resale prices:
Three-Room HDB Flat
Punggol                 S$393,000
Seng Kang             S$372,000
Choa Chu Kang     S$360,000
Four-Room HDB Flat
Central                   S$941,000
Queenstown           S$800,000
Bukit Merah          S$760,000
Five-Room HDB Flat
Queentown            S$932,500
Bukit Merah          S$816,000
Marine Parade       S$796,000
Executive Apartment
Serangoon             S$875,500
Bedok                    S$777,800
Hougang                S$740,000
Cheapest HDB Resale Estate
And if you're in the market for an inexpensive flat, you might consider these areas:
Three-Room HDB Flat
Toa Payoh             S$280,000
Woodlands            S$295,000
Jurong West          S$298,000
Four-Room HDB Flat
Woodlands             S$406,000
Sembawang           S$410,000
Jurong West          S$418,000
Five-Room HDB Flat
Sembawang           S$470,900
Woodlands            S$485,000
Jurong West          S$501,900
Executive Apartment
Jurong West           S$590,000
Seng Kang             S$598,000
Choa Chu Kang     S$600,000