Finding a place to call home is a mammoth task. Turn to any home listings and you'll be overwhelmed by all the options out there.
And if your budget allows you to afford condominiums, things get even trickier. Both executive condominiums and private condominiums have their financial perks and pitfalls. 
We navigate the financial differences involved in buying, selling and investing in ECs vs condos. We'll lay out the various options for you (with example scenarios!) so you can decide what's best to call home.
Read also: Buying vs Renting in Singapore: Which is Better for You?
What is an Executive Condominium (EC)? 
An executive condominium is a public-private hybrid. They offer the comfort of a private condominium at a government-subsidised rate.
They're a lucrative option for the Singaporean sandwich class, who earn too much to qualify for an HDB but not enough for a private condominium. 
Private developers build and manage executive condominiums on land that is subsidised by the government. So at first glance, executive condominiums look similar to private condominiums with similar facilities.
Private Condominiums 
With private condominiums, parts of the development are owned by different parties. The common facilities within the condominium — like the garden, lobby and gym — are shared by all the unit owners.
Compared to ECs, private condominiums are usually built using better quality materials. A private condominium at a similar location typically costs 10-20% more than an executive condominium.
For example, a 915-square-foot EC in Tampines was sold for $1,083,000 in May 2021. A similarly-sized private condo in the same area was sold for $1,306,000 during the same month.

ECs vs Private Condominiums: An Overview
Here we've broken down the main differences between getting and financing an EC vs private condo:
Executive Condominiums
Private Condominiums
Eligibility
New launch: Only Singaporeans.
From 6-10th year: Citizens and PRs.
After 10th year: Everyone qualifies (including foreigners).
No eligibility restrictions. Foreigners can also qualify.
Income
Monthly household income ≤ $16,000
No maximum income ceiling
Property ownership
Can't have owned other local or overseas properties in the last 30 months.
Must not have bought more than one other HDB, DBSS, or EC flat previously.
No restrictions
Price
Typically from just under $1 million, depending on the size and location. Costs 10% to 20% less than private condos.
Upwards of $1 million
Grants
Up to $30,000

None
Loan
No HDB loans. Only loans from banks or other financial institutions.
Bank loans: Borrow up to 75% of the property value or purchase price, whichever is lower.

Both Mortgage Servicing Ratio (MSR) and Total Debt Servicing Ratio (TDSR) apply. (Prevent buyers from taking on too much financial risk.) The MSR cap is 30% of borrower's gross monthly income.
Bank loans only. Total Debt Servicing Ratio (TDSR) applies.

TDSR limits monthly loan payments to 60% of a borrower's total gross income. Any existing debt (e.g. car loans) reduces the amount buyers can borrow.
Initial cash outlay
ECs under construction: 5% of the purchase price to secure booking. Another 15% (in cash/CPF) within 9 weeks of the date of Option to Purchase.
Resale ECs: Minimum 25% down payment. First 5% in cash. Remaining 20% in cash/CPF.
New launch condos: 5% of purchase price as the booking fee + exercise of option. Another 15% in cash/CPF within 8 weeks of exercising the Option to Purchase.
Resale condos: Same as resale ECs.
Payment Schemes
Deferred Payment Scheme still available for some new ECs. After the 20% down payment, you can defer payments until receiving a Temporary Occupation Permit (TOP).
Resale ECs: Make the 25% down payment and begin monthly loan repayments right away.
Resale condos: Make the 25% down payment and begin monthly loan repayments right away.
Progressive Payment Scheme (PPS) for both ECs and private condos under construction: Pay in instalments when the construction reaches particular milestones, like the laying of the foundation and finishing of the superstructure.
Occupancy restrictions
Cannot rent out the whole unit, but you can rent out individual rooms if you notify HDB
None
Minimum Occupancy Period (MOP)
Cannot rent or sell their unit before the end of a 5-year MOP
None (but wait at least 3 years to avoid paying Seller Stamp Duty)
Lease
99 years only
99-year, 999-year or even freehold
Capital Appreciation
Become private properties after 10 years, giving them a good boost in capital appreciation
No decaying lease life for freeholds, making them a good long-term investment
Location
Usually built in more remote areas to keep costs down. Often no MRT stations nearby. Buyers are also assumed to be less reliant on public transport
Much greater range of locations available
Launch Frequency
Only about 1 to 2 launches per year. So far, about 700 units were launched in Q1 2021
Over 20 launches per year. 3,716 uncompleted launches for sale in Q1 2021 (Source: URA)
1. Buying Eligibility and Restrictions 
Private condos don't have any eligibility restrictions, but you'll need to meet the following criteria to qualify for an executive condominium:
Monthly household income below $16,000 
Age 21 (or 35 under the Joint Singles Scheme)
First applicant must be a Singaporean Citizen; the other must either be a Citizen or PR 
Must not have owned other properties, either local or overseas, within the last 30 months
Must not have bought more than one other HDB, DBSS or EC flat previously

You'll also need to qualify under one of the following schemes:
Public Scheme: Apply with your family. For example, with your spouse (and children, if any), your parents (and siblings, if any), or only with your children if you are widowed or divorced.
Fiance scheme: Apply with your fiancé.
Orphan scheme: You and your siblings are orphans and single
Joint Singles Scheme: Both applicants are unmarried or divorced Singapore Citizens at least 35 years old
Because of HDB's criteria, buying an EC is more restrictive than getting a private condo. That's why ECs are also relatively cheaper.
2. Grant Availability
As ECs start as public housing under HDB, you can apply for CPF housing grants. Buyers of private condos don't get access to these grants.

First-time SC applicants applying as a couple can get between $10,000 to $30,000 worth of CPF housing grants if their combined incomes are $12,000 and below.

There are two main branches of CPF Housing Grants available for executive condominium purchases: the Family Grant and Half-Housing Grant.  We'll lay out the details below.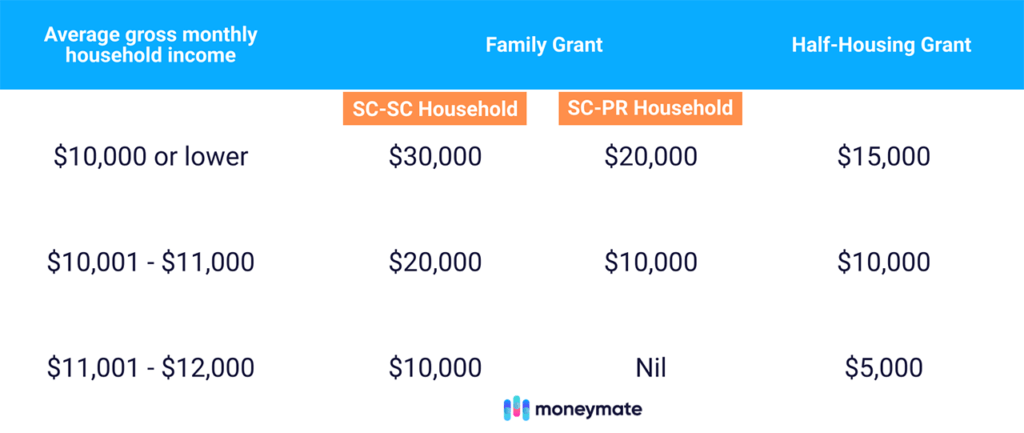 Example 1: Citizen + Citizen
Two Singaporean citizens have a monthly household income of $10,000. Since they've never taken any subsidies before, they'll qualify for a $30,000 Family Grant.
Example 2:  Citizen + Permanent Resident
A Singapore citizen marries a Singapore Permanent Resident. Their average monthly income is $10,500. As first-time homebuyers, they'll qualify for a Family Grant of $10,000.
Example 3: One partner has used a grant before
A Singapore citizen takes a CPF housing grant under the Singles scheme. He later gets married and applies to buy an EC with his wife. With their average monthly household income of $10,000, they qualify for a $15,000 grant.
Example 4: One partner owns properties overseas
Even if the partner isn't staying in the foreign property, he or she will not be able to apply for an EC.
Example 5: If your monthly household income is above $12,000
You will not qualify for any housing grants, but you can still apply for an EC provided your household income is below $16,000.
Given the housing grants available, it may make sense for first-time homebuyers to opt for an EC before they make their way into the private housing market. 
Even though ECs are priced cheaper with the help of grants, they're usually resold for around the same price as condominiums after the 5 and 10-year mark. This makes them a lucrative investment.
3. Rental Restrictions
ECs have a Minimum Occupancy Period (MOP) of 5 years, meaning that you can't rent out the whole unit during this time. However, you can still rent out specific bedrooms within your EC.
Private condos have no such restriction: you can rent out the entire place anytime. This is important if you're more focused on the property as an investment rather than for your own occupation.
4. Capital Appreciation
In general, ECs get substantive capital appreciation because they're bought at subsidised rates and eventually convert into private properties. You do have to wait 10 years before this happens though — so be sure your finances can handle the wait.
Check out this table on the returns after the 5-year MOP and 10-year privatisation stages: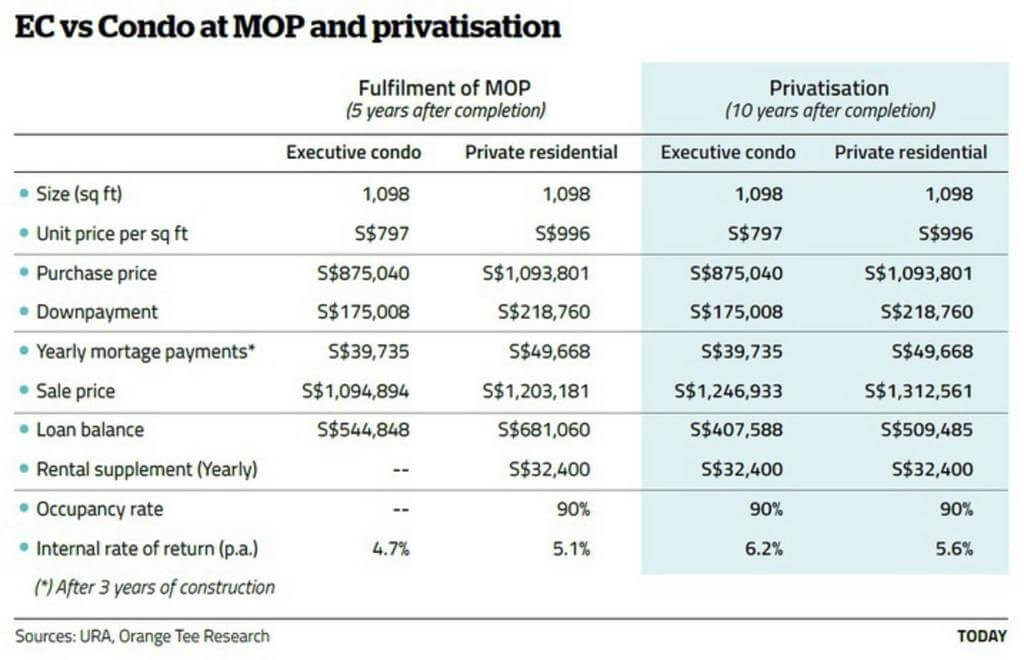 While buyers can't make a quick buck by buying and quickly selling ECs, they can still take advantage of the long-term property appreciation. With the public-to-private transition after 10 years, executive condominiums see more capital appreciation than private condos.
How Do You Decide?
Both ECs and private condos expect good capital appreciation. ECs come with a long wait before that happens, but make up for it with lower initial prices and government grants.
On the other hand, ECs have a max lease of 99 years. For those looking to pass on their properties to their future generations, this is a big drawback. Private condos with 999-year or freehold tenures win out in this area.
Bear in mind that private condo prices have also been rising over the last year. In the first quarter of 2021, they became 2.5% more costly. Rents also grew by 2.4% over the same period. The rising prices have been pushing more people to buy so they can enter the market before prices go up further.
The decision between ECs and private condos boils down to whether you see it as an investment — and if so, with what timeframe — or a home to live in. ECs make sense for first-time buyers who want a comfortable lifestyle while being cautious of the finances. But if budget is not an issue, private condominiums may be a better choice.
Read also: Property Price Trends 2021: What's Up With Singapore's Market?