Topics like the "future of remote work" are sometimes hard to talk about with younger adults. If you have decades ahead of you in the workforce, it's hard to see why you should care.
I mean, you should be able to adapt to whatever comes your way, right?
Thing is, sometimes it takes years to be ready for the upcoming changes. That's why it's important to think about these things in advance — so that even if it's just a few bricks, you can start laying the groundwork.
After all, you don't want to be caught off guard and build a career in a sunset industry…and then find your expertise isn't transferable when you want a different job later on.
That's why we'll talk about where the world is headed today — and where Singapore stands in the midst of all that.
The Global Shift to Remote Work
In the US, about 20 million workers have moved — many out of major cities. Stanford economist Nicholas Bloom estimates that 42% of the US labour force now works from home full-time.
In downtown Sydney, the CBD is now a ghost town with the recent surge of infections and subsequent lockdown.
Meanwhile in Singapore, the pandemic has sped up URA's plan to convert CBD office buildings to mixed-use developments. Office workers are making moves of their own: rather than paying a premium for homes close to the core central region, they're buying larger homes that are farther away but can accommodate multiple home offices.
With this trend all over the world, companies are rethinking their plans for large, centralised office spaces. This may mark a permanent change. Instead of being an extra perk for valued employees, flexible working arrangements will be the norm for certain sectors.
Read also: 54 Work From Home Statistics You Should Know
Changes in Labour Demand
Not all industries will see this change, though. It's mainly employees in knowledge-based fields that can work remotely without taking a hit to productivity.
Those in management, insurance, finance, and professional services, for example, fit in the knowledge-based work category. But those in fields like construction, manufacturing, and food services are unlikely to be able to work remotely.
Which Industries Will Thrive in the New WFH Normal?
Down the road, jobs in fields with high levels of physical proximity will probably see more permanent moves to flexible work arrangements. Companies are also likely to pivot their business models to better accommodate homebound consumers:
Telemedicine use has grown 6,000% in the last year
Retail has shifted online as more consumers discover the convenience of online shopping and delivery services
Banking and post offices are going digital, with logistics and IT partners seeing a boom in business
Even the fitness industry is seeing a shift, with more shifting to on-demand personalised training programmes and apps that gamify workouts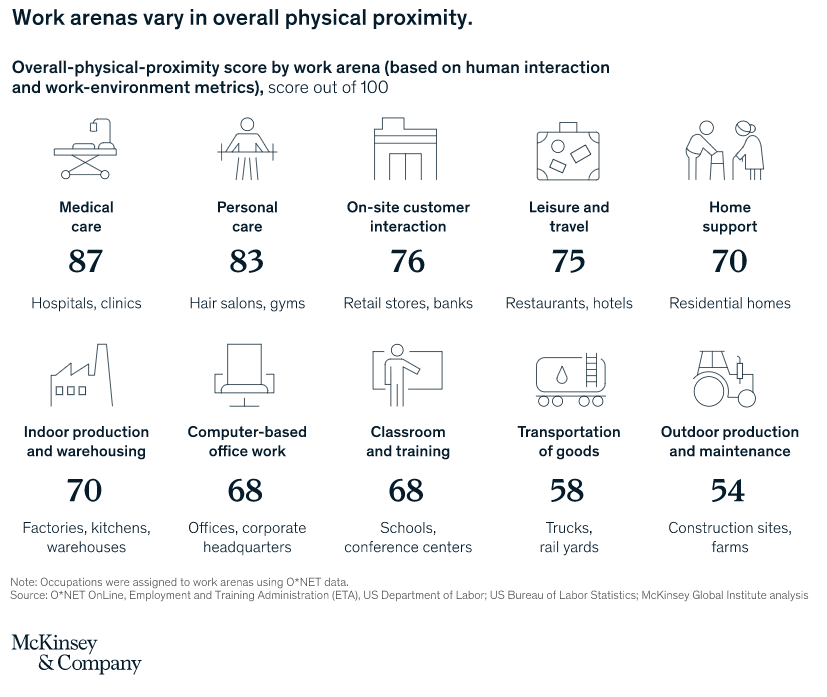 Postings for work-from-home jobs have also grown quite a bit. Between 2019 and 2020, the number of fully remote jobs on FlexJobs rose 76%, while partially remote positions rose 20%. In Singapore, 35% of the job vacancies last year were for remote work.
Read also: 9 Part-Time Jobs You Can Do From Home in Singapore
That's good news for those annoyed with employers forcing them to go back to the office. If you want to continue working from home, your chances of getting a new remote job have never been better.
Which Industries Will Be Negatively Affected by WFH Trends?
With the shift to remote work, business travel is down worldwide. That means knock-on effects for those working in hospitality, airports, transportation, and other tourism-related fields.
But by far the largest negative impact is on workers in food services, sales, customer service, and less-skilled office roles. While there's been a surge in warehousing and delivery service jobs, the growth pales in comparison to the loss of lower-wage jobs. Workers in these hard-hit fields will need to upskill or reskill to survive in the new digital economy.
Those working with machinery or in outdoor production and maintenance — like farming or construction — probably won't see the same shift to WFH. 
What may change instead is a global adoption of Industry 4.0, which has proven to be a boon to companies bouncing back from a crisis (ahem, pandemic). And given the disrupted supply chains worldwide, there may also be a shift to source labour and materials domestically instead.
What About The Future of Remote Work in Singapore?
Singapore's status as a trade hub with limited land means certain industries are dominant. These include professional services and specialised manufacturing — industries that either value in-person interactions or require handling machinery in person.
These are the same industries more likely to be resistant to permanent work-from-home arrangements. 
Not to mention the fact that SMEs employ about 65% of Singapore's workforce — a culture where it's common for employees to handle more than what's strictly in their job scope. An administrator might also have to oversee facilities management, for example. These types of roles make it difficult for employers to accommodate those wanting to work remotely.
Cultural Barriers to Flexible Working Arrangements
Singapore also sometimes has an old-school culture when it comes to management. Even when jobs can be done remotely without any loss to productivity, managers are at a loss as to how to manage their staff remotely — which is why many companies have been fined for violating WFH protocols.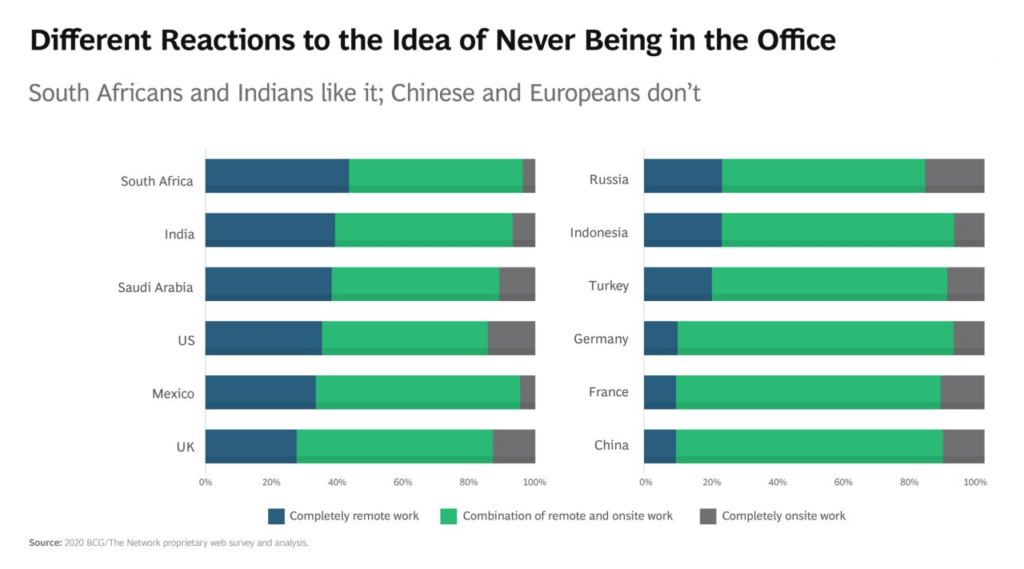 That said, this may hurt their talent pipeline down the road as more and more of the younger generation gain experience (and success) working from home.
To younger employees, it will feel restrictive to have to be in the office five days a week. In sectors where talent is scarce — like tech and STEM — employers will feel the crunch. To stay competitive, employers need to offer flexible work arrangements or find themselves unable to recruit good talents.
Trends in Favour of More Flexible Work Arrangements in Singapore
Even with the barriers though, we think it's likely that the number of remote working positions in Singapore will grow.
For one thing, Singapore is preparing for the possibility that COVID-19 might never go away.
Social distancing will be part of good etiquette (along with the usual unfortunate public shaming that comes with breaking it). Companies will stay on WFH arrangements as the norm. Many are reconsidering their leases for the first time.
And even if companies insist on employees returning to the office, they'll have to put in place safe distancing measures, proper ventilation, and rigorous hygiene standards. This means extra costs for employers, which will act as a deterrent for businesses already tight on cashflow.
What Can You Do to Prepare?
If you work in a field with high levels of physical proximity, consider the digitisation trends that are transforming the industry. Start picking up some of the skills that would enable you to take advantage of these trends, either as an entrepreneur or a job candidate.
You might even consider picking up a WFH side job or new remote working role to polish these skills.
Want a projection as to which companies will offer remote working arrangements at least part of the time? Look to the companies doing so now. The percentages of people who worked from home during the pandemic tells you about the fields that might be the same after, according to one study.