Renting or leasing a car in Singapore is a great alternative to purchasing your own car.
There's no burden of ownership, for one. You don't have to deal with depreciation and skyrocketing COE prices.
You also get much more flexibility, since you can simply return the car if you don't need it for an extended period of time.
Today, we'll cover:
the average cost of car rentals (daily and monthly rates)
the cheapest car rentals requiring no deposit
best car rental services for P-plate drivers
best long-term and luxury car rentals in Singapore
and what you should know before renting cars in Singapore
Let's dig in.
Read also: Car Sharing Operators in Singapore: Which is Best?
Average Price Range for Car Rentals in Singapore
We looked through over a dozen car rental services in Singapore and found that for short-term rentals of a basic passenger sedan, you can expect to pay anywhere from $46 to $130.
Going to a local car rental service is typically cheaper than using an international brand like Budget or Avis.
Here's a quick chart to give you an idea of the cost per day: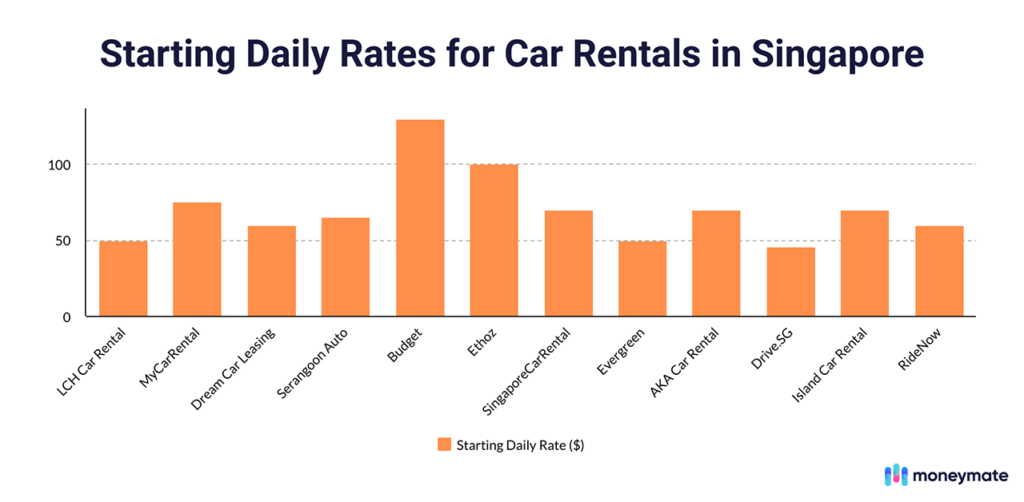 And car aficionados rejoice — it's also possible to rent luxury or sports vehicles. You'll pay significantly more (expect at least $200-$300 a day), but it sounds pretty sweet to have a Maserati as your wedding car.
Longer-term rentals get a discount, but it's still rare to find a monthly car rental for under $1,000: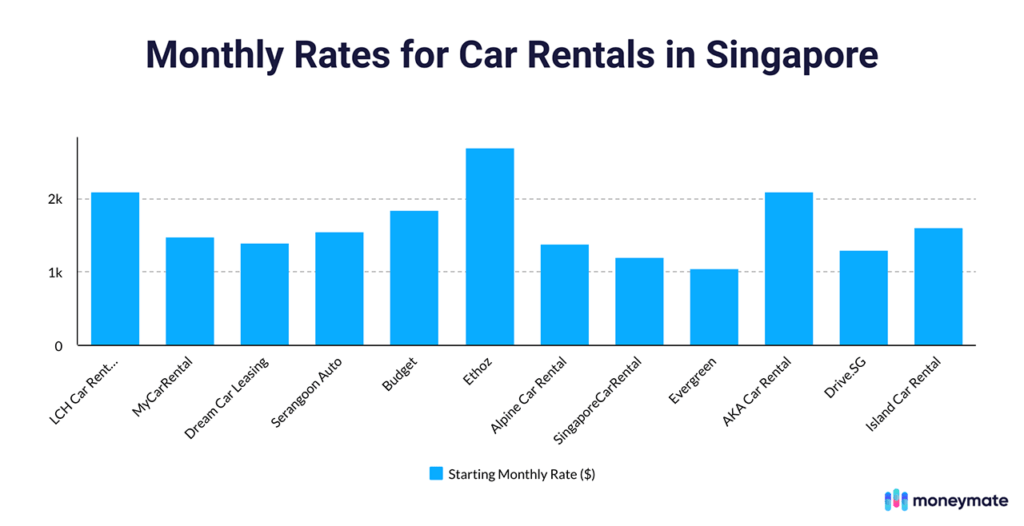 Evergreen comes close at a $1,050 starting monthly rate though.
In the next few sections, we'll highlight a few car rental services and what they're great for.
Cheapest Car Rentals in Singapore with No Deposit
Most car rental services require a deposit of anywhere between $100 to $1,000. You'll get it back upon the safe return of the car, but it's still a good chunk of change to pay out at the beginning.
Here are a few affordable ones that don't need a deposit:
| | Door-to-Door Delivery? | Daily Rate | Eligibility | Can Be Driven to Malaysia? |
| --- | --- | --- | --- | --- |
| Dream Car Leasing | | $60 – $130 | 18 years old with valid driver's license | Yes, with additional surcharge |
| Alpine Car Rental | Yes | $90 – $250 | 23 years old with two years' driving experience | Yes, with additional surcharge |
| AKA Car Rental | | $90 – $120 | 18 years old with valid driver's license | No |
Best Car Rentals in Singapore for P-Plate Drivers
Looking around for a rental car for your driver-in-training? Here are three rental services that allow P-plate drivers:
| | Daily Rate | Deposit | Insurance |
| --- | --- | --- | --- |
| AKA Car Rental | $90 – $120 | N/A | $15,000 accident insurance excess |
| Island Car Rental | $70 – $200 | $200 – $300 | $10,000 accident insurance excess |
| RideNow Car Rental | $60 – $180 | $100 – $500 | $3,000 accident insurance excess |
In case you're wondering, accident insurance excess refers to the maximum amount you'll pay out of pocket if you get into a collision. Anything beyond this amount and the insurance company will cover it.
That means that even though AKA Car Rental doesn't charge a deposit, you may end up paying a small fortune if your learner driver happens to crash.
Best Long-Term Car Rentals Singapore
Long-term car rentals are popular with Singapore residents, expats, and corporate clients. We've detailed a few of the best options below given the level of service they offer:
| | Monthly Rate | Cars Available | Servicing & Repairs | Chauffeur Available? |
| --- | --- | --- | --- | --- |
| MyCarRental | $1,480 – $3,500 | Wide Range | Full Service | Yes |
| Ace Drive | $1,299 – $2,777 | Wide Range | Full Service | Yes |
| Alpine Car Rental | $1,388 – $1,988 | Wide Range | Maintenance | Yes |
| Evergreen Rent A Car | $1,050 – $2,300 | Wide Range | Maintenance & Grooming | No |
Best Luxury Car Rentals in Singapore
Maybe you're looking to take your significant other on a fancy night out. Or maybe you want to try out your dream sports car and get that checked off your bucket list.
Here are a few rental services that will allow you to do just that:
| | Daily Rate | Cars Available |
| --- | --- | --- |
| Ace Drive | $48 – $138 | Audi, BMW, Citroen, Maserati, Mercedes-Benz, Porsche |
| LCH Car Rental | $50 – $99 | Audi, BMW, Mercedes-Benz |
| Ethoz | $100 – $260 | Mercedes-Benz, BMW |
| BizLink Rent-A-Car | $70 – $180 | BMW, Audi, Mercedes-Benz |
What to Know When Renting a Car in Singapore
Car rental agreements can be bothersome since each one has different terms and conditions. Miss the fine print and you may be liable for several unexpected charges.
Here are a few standard things you should know upfront to avoid paying far more than you expected to:
1. Only named drivers can receive and drive the car.
This is for insurance purposes. That means you can't rent a car and then let your spouse drive it around unless he/she was named on the rental contract.
2. As a driver, you'll usually need to be at least 22 years old.
You'll also need to have at least two years of driving experience (or have had your driving license for two years, rather).
There are exceptions though: certain companies (named above) will rent cars to 18-year olds or P-plate drivers. They'll even provide the provisional driver sticker for your convenience. 
3. Check what your rental insurance covers.
Make sure your coverage is adequate for why you're renting the car.
Some car rental services will only cover injury to third parties and to their car. If for example, you drive the car to Malaysia, the insurance won't cover damages to your rented vehicle there. The renter insurance may also have a very high "accident excess," which means they're passing on most of the liability to you.
4. You'll pay more to rent cars over the weekend.
Certain drivers rent cars for the weekend, as it's much cheaper than buying a car and then getting an off-peak license. Still, weekend rates tend to be higher than weekday rates unless you happen to find a sweet promo offer.
5. Check the timing by which you have to return the car.
Car rental companies typically have set timings and locations for car returns. If you don't make it by that hour, you may have to pay late fees or the rental for the next day.
6. You'll bear the cost of petrol, ERP, parking, and traffic fines on your own.
This is standard even if you're renting a car in a different country, but we thought we'd mention it just to be thorough.
You'll also have to return the car with a full tank of petrol in most cases. If you don't, you may have to pay a penalty on top of the price of the fuel. (The penalty differs from company to company — some will charge $10, some will charge $50.)
Read also: When's the Best Time to Buy a Car? [COE Price History]