Are you feeling sluggish at work? You may not be the only one.
We've all experienced a work slump from time to time, where our every day feels like a rinse and repeat of the last. But when you add two years of COVID-19 into the mix, chances are that we're facing a long wave of workplace blues while coping with the accompanying stress of living through a global pandemic.
Two years in, feeling happy at work may seem like a tall order for many. Read on to find out what the statistics say about happiness at work in Singapore since the pandemic began.
Unprecedented Stress Levels Around the World
With Covid-19 upturning life as we knew it, it's not just our physical health that's at risk. Employees around the world are feeling unprecedented levels of stress and anxiety. Statistics show that the global prevalence of anxiety and depression increased by a whopping 25% during the first year of the pandemic. (WHO)
The same data suggests that one of the stress factors was linked to constraints on people's ability to work. (WHO)
Three in 10 Singaporeans (32%) worried about not having enough finances during the COVID-19 pandemic. (Institute of Policy Studies) 
Workplace Unhappiness in Singapore During COVID-19
A 2021 study on the impact of COVID-19 found Singapore to have the unhappiest workforce (versus Malaysia, New Zealand, and Australia). 48% of Singapore's employees stated they were unhappy in their workplaces. (Employment Hero)
Singapore shares with Britain the dubious honour of having the most miserable workers. (Employment Hero)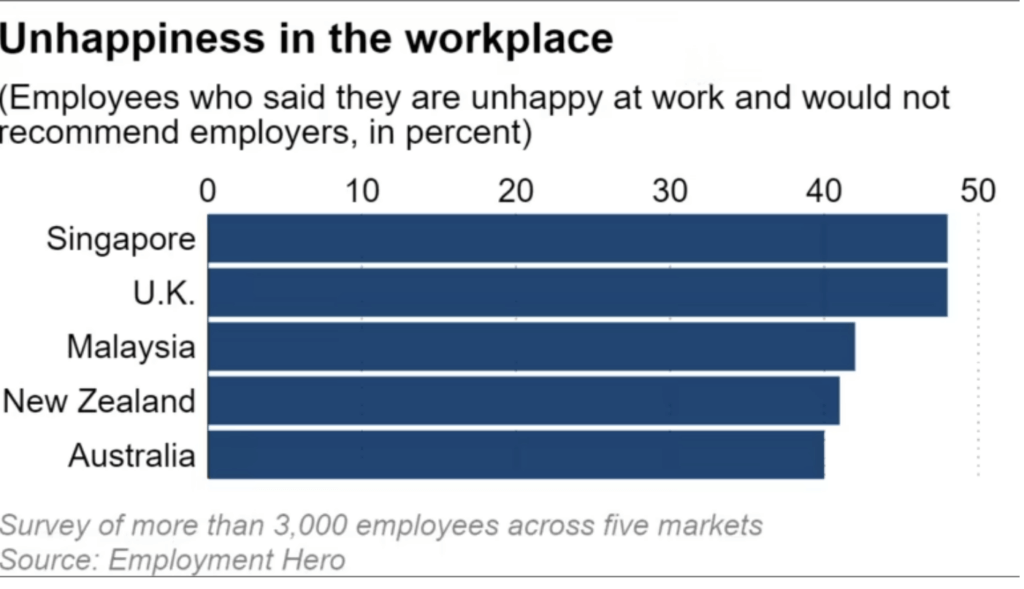 On the bright side, the same study revealed that Singaporean employers showed the highest concern for workers' mental health. 68% of the employers said they supported measuring employees' mental health.
Then again, only 41% of workers agreed that their employers were supportive. (Employment Hero)
One of the reasons could be that working from home has created an 'always on' mindset for employees. As the boundaries between personal and professional lives blur, many now work beyond pre-pandemic office hours. 70% of Singaporeans aged 18-44 years old said they felt more stressed since the pandemic and wanted to improve their work-life balance. (Ranstad)
Read also: 54 Work from Home Statistics You Should Know
Remote work is also causing burnout because of longer hours in front of the computer, heavier workloads, endless conference calls, and a myriad of other new responsibilities as the daily norm.
A 2021 Microsoft survey found that 54% of workers in Singapore feel overworked and 39% feel exhausted, suggesting that high productivity may not mean a healthy workforce. (Microsoft Work Trend Index)
The Great Resignation…But Not Quite
Then there are pockets of data showing that all this stress leads to Singaporeans quitting their jobs. For example, about 1,500 healthcare workers resigned in the first half of 2021, compared to 2,000 annually before the pandemic. (CNA)
Another study by a recruitment agency found that 24% of the Singapore respondents planned to quit their jobs within the first half of 2022. (Indeed) 
It also found that almost half of Singapore employees (49%) were unsure if they would stay in their present positions for the next six months. (Indeed)
The reason? Many employees who resigned during this period felt undervalued or underappreciated and left to find more meaningful and purposeful work. (CNA)
It's no surprise that people are quitting when only one out of 10 companies in Singapore provided an extremely good employee experience last year. The other 90% felt there was room for improvement in areas such as transparent communication from leadership, professional development, and work processes. (NUS)
Sectors comprising largely professionals, managers, executives, and technicians (PMETs) have been hardest hit. These include financial services, professional services, and health & social services. Resignation rates among PMETs were at or above pre-covid periods in 4Q 2021. (Ministry of Manpower Labour Market Report)
Still, Singapore's unemployment rate remained low (2.3% overall), likely owing to fears of financial insecurity and an uncertain economic climate.
Can Workplace Flexibility Contribute to Happiness?
Singapore went through its extended Circuit Breaker in May 2020, where 6 out of 10 Singapore workers reported working from home. By March 2021, close to 7 out of 10 reported working mainly at the office.
Singaporeans prefer hybrid-work arrangements. One study shows that among those who were already working from the office most of the time, 54% agreed that working from the office should be made the new norm. (Institute of Policy Studies)
At the same time, among workers who were mostly working from home, 44% still said that working from the office should be the norm. These results may point to the idea that Singapore workers will be happier with a hybrid working arrangement.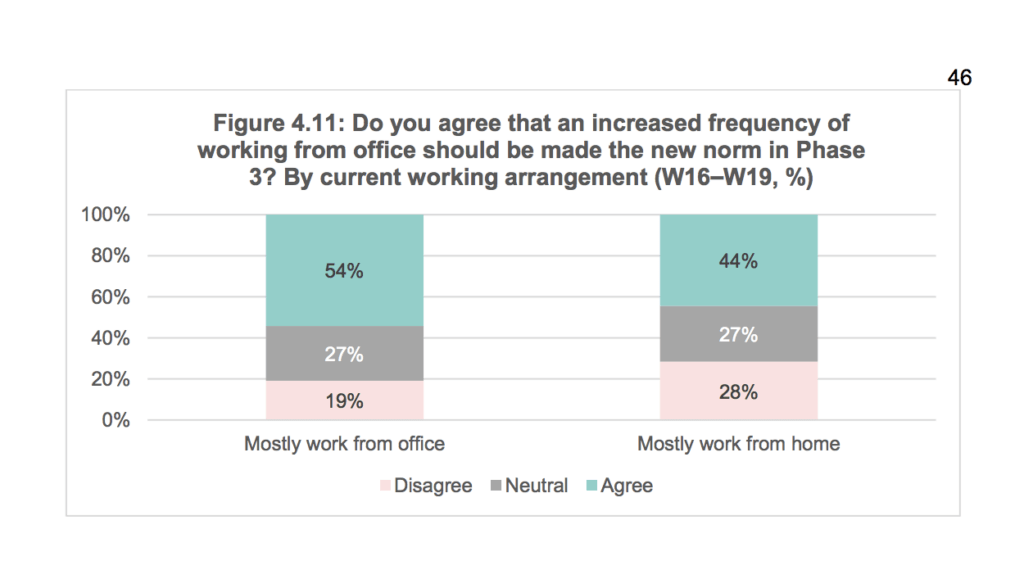 Around 40% of Singapore workers said they were afraid of catching COVID-19 as they returned to their workplaces more regularly. (Institute of Policy Studies)
Globally, workers who are happy with their organisation's work flexibility options are 2.6 times more likely to be happy working there and 2.1 times more likely to recommend others to work there, according to a global survey by LinkedIn. (LinkedIn)
Being able to choose WFH or having the option to choose working hours lets employees reduce interruptions and increase productivity on projects that require their full concentration. A study found that a Chinese company saw a 13% increase in productivity for workers allowed to work remotely during a nine-month work-from-home experiment. (CNA)
When given a choice, 41% of workers in Singapore would rather continue working remotely than receive a bigger bonus. (Randstad)
According to Randstad, this is most likely because of various benefits workers got while working remotely, such as saving time and money from having to commute to work and also having more personal time and productivity.
Hybrid remote work will continue with 20% to 25% of workers from advanced economies working from home for three to five days per week. This means that companies that use this opportunity to reimagine WFH policies will be better able to attract talent. (NUS)
Read also: What's the Future of Remote Work in Singapore?
The good news is that remote work seems to be in the cards for Singapore's future. Almost half (45%) of Singapore companies plan to reinvent flexibility, followed by building a learning ecosystem (44%) and upskilling or reskilling their talents (41%). (Mercer 2020 Global Talent Trends Study)
Read also: What's the Future of Remote Work in Singapore?
What Age Groups Were Happiest or Unhappiest?
According to an April 2022 study, respondents aged between 18 and 44 felt unhappiest because of the pandemic. 7 in 10 respondents from this group felt more stressed and want better work-life balance. (Randstad)
In contrast, only 48% of respondents aged between 55 and 67 felt more stressed, the lowest among any age group. (Randstad)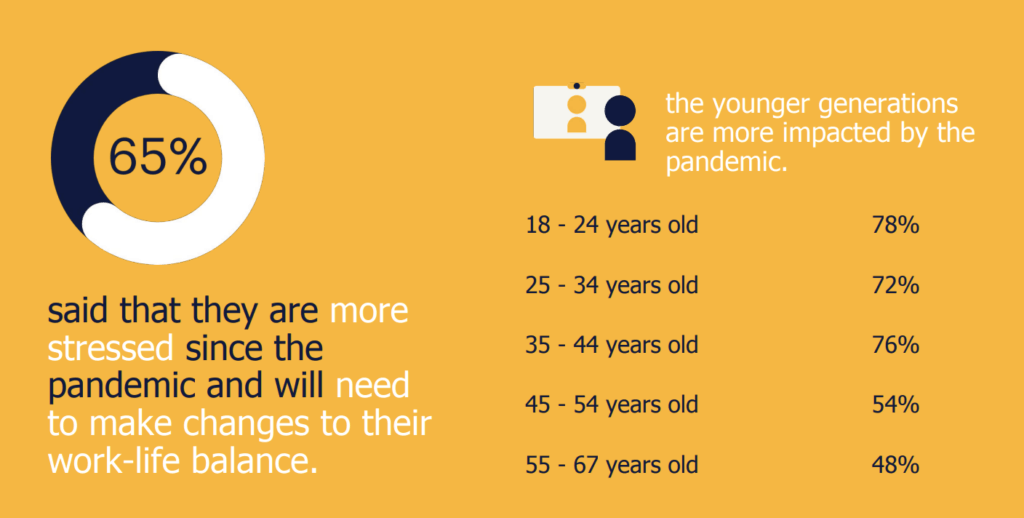 How Did Work-Life Balance Change During the Pandemic?
Three in five Singaporeans have reassessed their work-life balance during the pandemic. Mental health and work-life balance are now a massive priority for employees in Singapore, with people rethinking their career purpose amidst an evolving working world. (Randstad)
Those who stayed with their companies over the past two years are now ready to move on, according to the same study. Close to 9 in 10 respondents shared that the pandemic has made them want more flexibility with work. (Randstad)
60% of Singapore employees have considerably reassessed how work fits into their personal schedule in the past 18 months. On top of that, 3 out of 10 have already changed jobs between March and September 2021, while 25% were on the lookout for a new job. (Randstad)
Driven by the need for work-life balance, the top 5 considerations driving Singaporeans' work choices today include the need to have a job with manageable stress levels. (Randstad)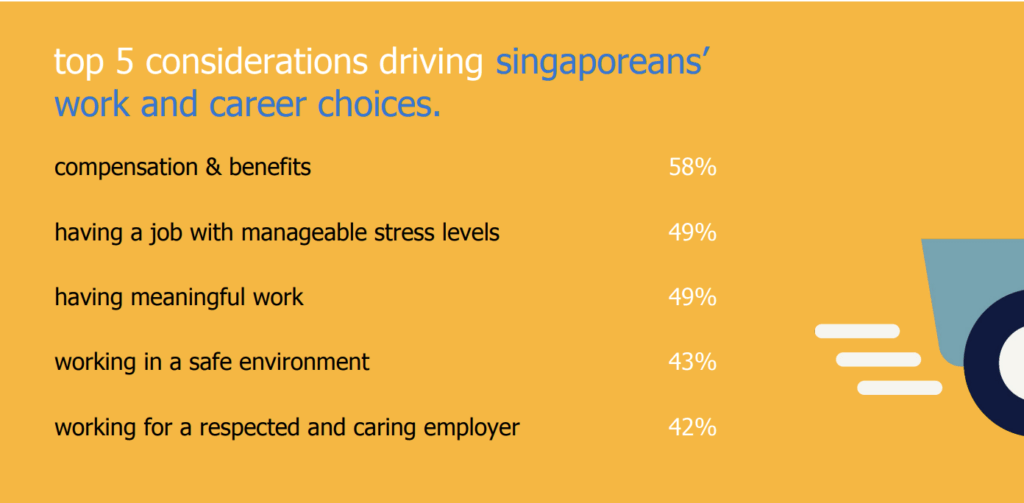 The Way We Think About Our Careers Is Changing
More people are considering alternatives to the traditional full-time career. Since the start of COVID-19, many have turned to the gig economy to boost their income. The number of self-employed rose from 13.5% of resident workers in 2019 to 14.7%  in 2020 at the start of the pandemic.It finally stabilised at 13.6% in 2021 as job opportunities grew amidst the economic recovery. (BT)
Read also: Fresh Grads – What to Know About the Gig Economy in Singapore
During lockdown in 2020, jobs and income were thrown into jeopardy. Two years later, many countries' job vacancies are at an all-time high. (Employment Hero).
A 2021 study found that close to 6 in 10 (59%) Singaporean employees planned to seek a new role within the next 12 months. (Employment Hero)
Globally, 43% of employees agree that COVID-19 has shrunk the importance they place on their careers. 25% don't agree that COVID-19 has decreased the importance they place on their careers. (Employment Hero)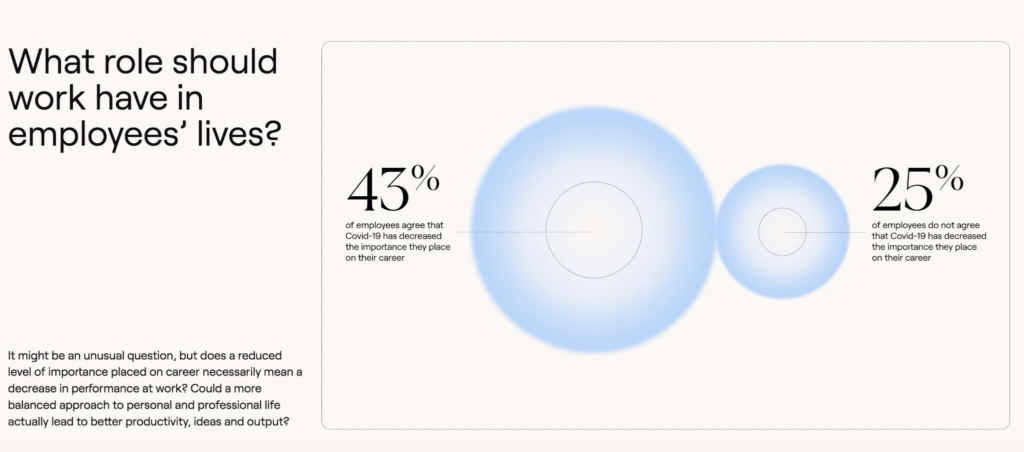 In Singapore, the statistics are more pronounced. 49% of employees locally agree that COVID-19 has decreased the importance they put on their careers, while only 18% do not agree that COVID-19 has reduced the importance they place on their careers. (Employment Hero)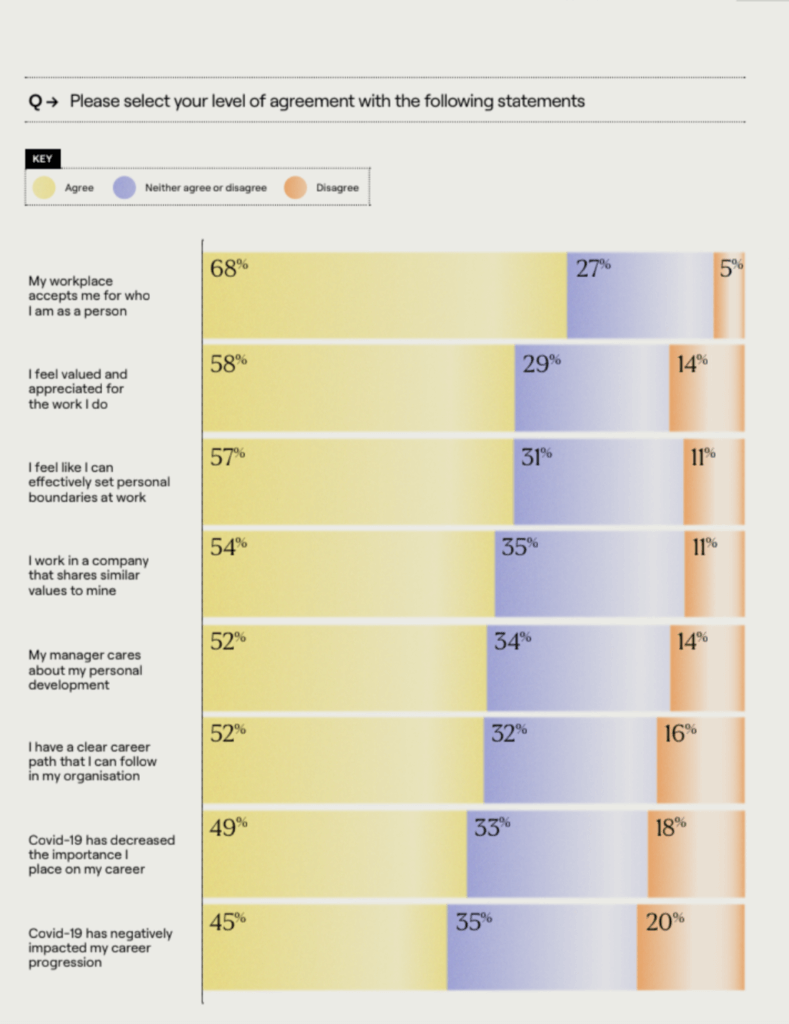 This then begs the question: if workers place less importance on their career, has there been a drop in performance at work? 
According to the same study, 65% of employees in Singapore believe that the work they do is still meaningful, despite placing less importance on it. (Employment Hero) This might mean that while the employee experience is meaningful, many workers are questioning the role of work in their lives.
Happy Workers Work Harder
There is no doubt that happy workers are more productive, according to research from the University of Warwick. There, economists ran experiments to test the idea that happy employees work harder. They discovered happiness made people around 12% more productive. (Warwick)
Psst, most importantly, happier workers earn more money. Also, the income-generating capacity of happier individuals is greater than sad individuals. (University of Western Sydney)