The GrabPay Card is a new way to earn more GrabRewards points, but it cannot replace credit cards or multi-currency accounts just yet.
Pros
Plugged into the Grab wallet ecosystem
Able to earn more rewards across wider range of merchants
Insurance for mobile phone and online purchases
Can be used anywhere that accepts Mastercard
Cons
Poor foreign conversion rates
Does not offer cashback
Only available for existing Grab users
Perks/vouchers are only available with selected merchants
From ordering breakfast to hitching a ride, Grab's wide range of services is part of daily life for most Singapore residents. And each year, the tech unicorn expands its offerings.
In its quest to become an all-in-one platform, Singapore-based Grab launched the GrabPay Card in 2019, an e-wallet that lets you transact with Mastercard merchants. This includes a digital card and an actual, physical card that you can use almost everywhere in Singapore.
But how does the GrabPay Card stack up against the many credit cards and multi-currency accounts in Singapore? Let's find out.
How Does the Grabpay Card Work?
The GrabPay Card is a prepaid Mastercard that draws funds from your GrabPay wallet balance. With it, you can spend at more than 50 million locations where Mastercard is accepted — online, in-store, and even overseas. 
Before this, Grab transactions were limited to either in-app purchases or physical locations where QR codes are accepted.
Now you can get ahold of a physical and digital GrabPay card that you can link to your phone. With each transaction, you'll also earn points for GrabRewards.
E-wallet functionality
You can also link the GrabPay card to Samsung Pay, then use that to pay at any contactless-enabled payment terminal.
Sadly though, GrabPay cannot be used with Apple Pay or Google Pay just yet. It's a major downside considering how many Apple and Android users there are in Singapore. 
Secure, numberless card
Grab boasts a numberless card feature with a smart card that hides your personal details. (Those details are stored in the mobile app instead.) This means there's less chance of your information being leaked to third parties. What's more, you can lock the card from within the GrabPay app if you notice any suspicious activity.
Where Is the GrabPay Card Accepted?
By partnering with Mastercard, GrabPay is now accepted almost everywhere. As long as a store accepts Mastercard payments, they'll accept the GrabPay Card. You simply have to swipe or sign it as you would with any other card.
What GrabRewards Can You Earn With the Grabpay Card?
GrabPay already has an extensive reward program called GrabRewards. With the GrabPay Card, you can earn points at more merchants in Singapore and beyond.
Depending on which Grab membership tier you're on, each GrabPay Card transaction allows you to earn 3 to 6 GrabRewards points per $1 spent.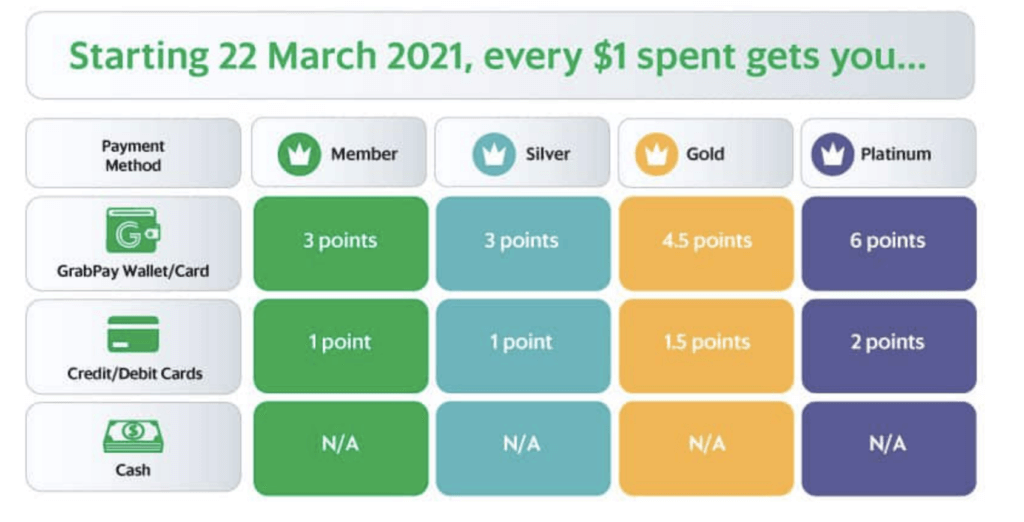 These points allow you to reap a range of rewards from the Grab platform, like dining vouchers and deals on Grab rides. You can also use the points to offset your deliveries and in-store payments.
Considering that most, if not all of us, already use Grab services to some degree, the GrabPay Card allows us to earn more points with its wider accessibility.
Your points also won't expire as long as you complete one cashless Grab transaction every six months — which isn't too hard to fulfil!
Cashback on GrabPay Card vs Other Credit Cards 
While GrabPay doesn't have a direct cashback system per se, earning points can still net you a few dollars off your online purchases at participating merchants.
It's just that compared to leading market credit cards, Grab's rebate rate is low.
For instance, earning 5,000 points can get you $10 off.
If you're a Platinum member, it takes about $830 in spending to earn that 5,000 points. This means that the "cashback" or voucher rate is 1.2% at best.
You could do so much better.
With the OCBC FRANK credit card, you get 6% cashback for online spending and mobile payments with a minimum spend of $600. The DBS Live Fresh card offers 5%, and the UOB Evol card has a generous cashback rate of up to 8% for online spending.
| | | | | |
| --- | --- | --- | --- | --- |
| Payment Option | GrabPay Card | OCBC FRANK | DBS Live Fresh  | UOB Evol |
| Cashback | 1.2% * | 6% | 5% | 8% |
* Grab does not offer direct cashback. Rate calculated via Grab cash voucher redemption.
Not to mention the fact that GrabRewards only allows you to use your points at selected merchants. With credit cards, there aren't as many restrictions on how you can use that cashback (it usually offsets your next monthly bill).
While credit cards come with annual fees, cashback caps, and other requirements, the rebate rates are still significantly higher than Grab's.
The main takeaway here is that Grab is not lucrative enough to be used primarily for cashback. Rather, it's a decent reward to redeem if you happen to chalk up enough points using the Grab products and services.
So should you just use credit cards instead?
It doesn't have to be an either/or thing. You can use both GrabPay and your existing credit cards to double dip on rewards — mostly by topping up your Grab balance with a credit card.
Keep in mind though that more and more banks are now excluding Grab top-ups from their list of cashback-eligible transactions. If you happen to hold one of these cards, the math doesn't favour GrabPay.
It's not all game over though!
When to use the GrabPay Card instead of a credit card
The GrabPay Card can still be useful at shops that accept GrabPay but not credit cards. For example, this could be when you buy food from a hawker who does not accept credit card payments. In that case, it makes more sense to pay with GrabPay instead of cash.
It seems it's a battle of fintech to see who can win over smaller merchants first.
Other GrabPay Card Perks
Because of its partnership with Mastercard, the GrabPay Card does offer a few other perks like:
Mobile Phone Protection
If you pay your handphone bill using the GrabPay Card, you'll get protection against accidental damage or theft for that month. The insurance is provided by AIG and issued by Grab.
Keep in mind that your coverage will only begin on the first day of the calendar month following the payment of the postpaid monthly bill or pre-paid top-up. And it specifically covers theft or damage: losing your phone or getting minor cosmetic scratches on it won't count. You can read the terms and conditions here. 
E-Commerce Protection
When you shop and pay online using your GrabPay Card, you also receive coverage against incomplete, non-delivery, or delivery of a malfunctioning or wrong item. This does not apply to goods like consumables or perishables, plant or animal life, cash and bullion.
Flight Delay Passes
For up to 2 flights per calendar year, you can get complimentary access to over 1,000 airport lounges spanning over 100 countries if your flights get delayed.
Using GrabPay Card for Public Transport
Beyond Grab rides, you can also use your GrabPay card or digital card for public transport – simply tap and go at MRT gantries or in buses.
If you're looking for cashback on public transport though, there are better cards — like the DBS Live Fresh Card (10% rebate).
Using the GrabPay Card Overseas
Just like in Singapore, you can pay for your purchase at any foreign merchant that accepts Mastercard.
Another perk of the card for travellers: GrabPay Card has a competitive foreign transaction fee of 2%. In comparison, banks usually charge 3.5% or more.
Just bear in mind that this still isn't as competitive as travel wallets like YouTrip, which doesn't charge any foreign transaction fees.
Then there's also the exchange rate. GrabPay Card's exchange rate is pegged to Mastercard's rate (slightly less favourable), whereas multi-currency accounts like YouTrip and Revolut use the more favourable interbank rate (a.k.a Google rate).
Here's a table comparing GrabPay Card, YouTrip, and Revolut for overseas purchases:
| | FX Fees | Exchange Rate | ATM Fees |
| --- | --- | --- | --- |
| GrabPay Card | 2% | Pegged to Mastercard | $5 per withdrawal |
| YouTrip | 0% | Interbank rates for 10 currencies, Mastercard rates for the rest | $5 per withdrawal |
| Revolut | 0% | Interbank rate with an additional 0.5% – 2% markup on weekends | Free up to $350 per month |
| Wise | 0.35% – 1% | Interbank rate | Two free withdrawals up to $350 a month |
Bottom line: The GrabPay Card is nowhere as good as multi-currency cards for overseas shopping. Though its foreign exchange fees are lower than banks, they're still not as great as YouTrip, Wise, or Revolut. Plus, GrabPay Card doesn't offer free overseas ATM withdrawals.
The only advantage GrabPay Card has is that you'll earn points. If your priority is to cut costs, you're better off not using the GrabPay Card abroad.
Whom Is the GrabPay Card Best For?
GrabPay Card is suitable for those who frequently use Grab services and already have credit and debit cards. It can also come in handy with merchants that accept GrabPay but not accept credit cards.
But if your main aim is cashback, it's still better to use a credit card tailored for your typical spending categories. And if you're travelling overseas, you'll spend less using a multi-currency account like YouTrip instead.
Overall, the GrabPay Card is not an account that we'll scramble to sign up for unless the point rewards system dramatically improves overnight.