Born out of an EZ-Link/Mastercard collaboration, YouTrip is an accessible multi-currency account for Singapore residents who love to travel for leisure. Its one downside is the limited number of currencies it fully supports.
Pros
No currency exchange markups
Can double up as a public transport card
Can transact in over 150 currencies
Easy registration via SingPass MyInfo
Cons
Account can only hold the 10 listed currencies
Can only bank transfer in the same 10 listed currencies
No free overseas ATM withdrawals
Annual transaction limit of S$30,000
Love to travel? YouTrip may eliminate the need to carry large wads of cash around.
YouTrip offers you a convenient multi-currency travel e-wallet and debit card. Make payments abroad, shop online, or withdraw cash from ATMs overseas — all through a single multi-currency account.
Of course, with competitors like Revolut and Wise out there, it's a good idea to compare the platforms before deciding if YouTrip is best for you. Read on because this article will cover:
What is YouTrip and How Does It Work?
Created in collaboration with EZ-Link and Mastercard, the YouTrip multi-currency travel wallet was first launched in 2018.
It aims to provide travellers, online shoppers, and students studying abroad with better exchange rates than what traditional banks offer. To that end, it allows free cross-border transactions in over 150 currencies and in-app exchanges of up to 10 currencies at the best FX rates.
The first question that many will ask is: is YouTrip safe to use? After all, you're relying on it to handle cash transactions — possibly even large ones.
Fortunately, YouTrip is a Principal Member of Mastercard and licensed by MAS. And with EZ-Link as one of its key partners, YouTrip is essentially backed by multiple government institutions.
YouTrip also has a highly secure bank-grade infrastructure in place, meaning your data is protected by multiple layers of encryption such as Transport Layer Security, Encrypted Token Access System, and SSL certificates.
How Does It Work?
Think of YouTrip like a debit Mastercard built into an app. You get an interface that allows you to manage all your foreign currencies and transactions on a single platform, but you also have a physical card that you can use if you wish.
Every user can have up to 10 selected currencies for in-app exchange. This allows you to easily monitor and lock down good rates whenever you anticipate having to transact in that foreign currency.
You can also use the debit card to pay for overseas transactions without the marked-up charges usually imposed by bank cards. If you're spending in a currency you don't hold in the account, it will use the prevailing wholesale exchange rate from Mastercard.
But how does YouTrip make money then? The card takes a small commission from merchants with each Mastercard transaction. That way, you won't incur any extra fees.
Applying for a YouTrip Account
Registering for a YouTrip account is free. You just need to download the app (available on both iOS and Android), then sign up with SingPass MyInfo to save time on filling in personal information.
Alternatively, you can manually submit pictures of the front and back of your identity card and a proof of address (for foreigners).
Once verified, you can expect to receive your YouTrip card by snail mail within eight business days. Follow the instructions on the app to activate the account and you'll be ready to use your account and Mastercard immediately. 
A word of caution: The registration process seems straightforward, but it's worth noting that the app seems to perform better on iOS than Android. According to the Google Play Store and App Store reviews, ratings are not only lower for the Android app, but there are also many user complaints ranging from sudden account inaccessibility to an inability to update the app.
Getting Started on the YouTrip App
There's no minimum balance to maintain your account, but you'll have to top up your account with S$1 to S$5,000 (maximum) before you can exchange different currencies. After you've done so,
Select the exchange button on the home screen,
Choose your desired currency pair to see the live exchange rate
Tap 'Next' and enter the amount you want to exchange
Tap 'Confirm' to get the foreign currency in your wallet 
Currently, the in-app exchange supports these 10 currencies:
Singapore Dollar
United States Dollar
Euro
Great British Pound
Japanese Yen
Hong Kong Dollar
Australian Dollar
New Zealand Dollar
Swiss Franc
Swedish Krona 
YouTrip Foreign Exchange Rates and Fees
YouTrip can offer better exchange rates because it uses mid-market rates — the wholesale rates typically used by banks and large corporations. They're closer to the real-time exchange rates that you see on Google search, XE.com, or Mastercard's calculator.
One big plus of YouTrip is that when you change to any of the 10 currencies available in-app, you lock in those exchange rates. They won't change even if you're only using the currency much later on.
The remaining 140+ currencies are a different story: the app will only display indicative rates for those. The exact rate will be confirmed when the merchant completes the transaction (usually 1-2 days after your purchase).
That said, even with the fluctuating rates, it usually isn't much of a concern for the average user. You're still enjoying wholesale rates at no extra cost — much better than what you'll get with a regular bank.
YouTrip Fees
Even though the cost of using YouTrip is minimal, there are still some basic fees to take note of:
Card replacement fee: S$10. You can request it via the YouTrip app.
Top-up fee: $1 if you use a Visa credit card. PayNow, Mastercard debit/credit, and Visa debit cards are still free though.
Overseas cash withdrawal fee: S$5 or equivalent for each ATM withdrawal. Note that foreign bank ATMs may impose extra charges.
Refund processing fee: S$10 admin fee to refund the remaining amount in your wallet if you close your YouTrip account.
YouTrip, EZlink, and Other Local Uses
Since YouTrip is coupled with a debit Mastercard, you can use it to pay any merchant that accepts Mastercard — whether locally or internationally. It even offers cashback with partner merchants and platforms like Klook, Lazada, Taobao, and Shopee.
You can also use the card to tap in and out of public transport in Singapore, though it's not technically an EZLink card: it's considered a prepaid Mastercard that you have to top up. Just note that the transport fare won't be immediately reflected in your account: it's accumulated as a lump sum either every five days or when the total fares exceed S$15.
From time to time, a S$0.10 fare will appear in the MRT/BUS Balance Check to ensure there are sufficient funds available before your rides. There will also be another S$0.10 authorisation when you link YouTrip with your SimplyGo.  These two charges aren't part of your fare and will be reversed within 7 to 30 days. 
YouTrip vs Revolut vs Wise
How does YouTrip compare with similar multi-currency wallets like Revolut and Wise?  Let's have a look: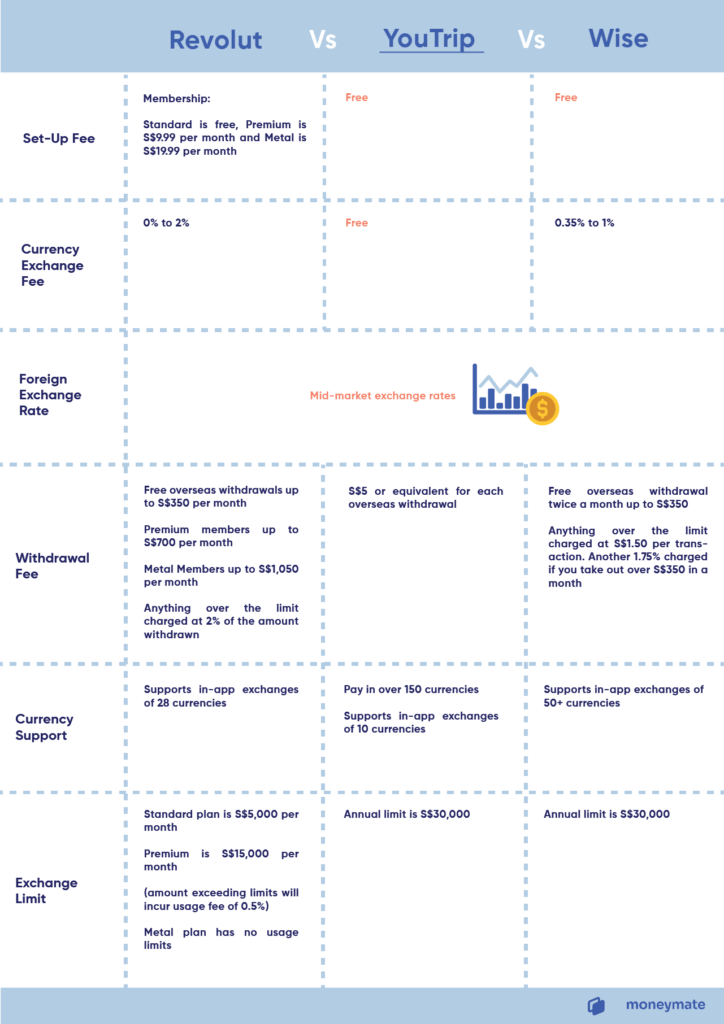 Compared with Revolut and Wise, YouTrip's free currency exchange has an edge over its competitors. YouTrip also stands out with no need for an annual subscription, unlike Revolut.
However, YouTrip does have a few downsides.
For example, it charges a flat S$5 fee for overseas ATM withdrawals while Revolut and Wise offer free withdrawals up to certain limits. This isn't cost-effective for travellers who prefer to use cash on their trips.
Also, YouTrip offers the least in-app currency exchanges, which may be inconvenient for travellers who travel extensively and require a wider range of foreign currencies at their fingertips.
Who Would Benefit from YouTrip Most?
On the whole, YouTrip is a convenient multi-currency account that offers savings to travellers and online shoppers. Its introduction of cashback on spending increases its versatility as a card that you can use locally and abroad.
Overall, YouTrip is a good option for:
Digitally-savvy shoppers who frequently buy from foreign merchants
Travelers who want the flexibility of a digital multi-currency account with low fees
Occasional travelers who prefer paying with a card instead of cash while overseas — and don't need an extensive range of foreign currencies
Read also: Best Multi-Currency Accounts for Singapore [2022 Overview]