Apple's extraordinary launch event on October 13 introduced the world to the iPhone 12. Better durability, super-fast performance, camera refinements, and the first Apple device to support 5G — this series gave consumers something to look forward to at the end of a trying year.
And look forward they did. If Apple's record $111.4 billion in sales are any indication, the market response to the iPhone 12 was overwhelmingly positive.
Half a year after the launch of the iPhone 12 series, we're wondering: where's the best place to get an iPhone 12 now?
We'll investigate:
The cost of each phone in the iPhone 12 lineup from e-tailers
The cost of phone bundles offered by various Singapore telcos
How these deals compare with buying a phone and getting a plan separately
Price Comparison for the iPhone 12 Lineup
Here's how much each phone in the series costs according to the official Apple store:
| | iPhone 12 mini | iPhone 12 | iPhone 12 Pro | iPhone 12 Pro Max |
| --- | --- | --- | --- | --- |
| Main Features | 5.4" ScreenUltrawide dual rear camera (2x Optical Zoom) | 6.1" ScreenUltrawide dual rear camera (2x Optical Zoom) | 6.1" ScreenUltrawide triple camera (4x Optical Zoom) | 6.7" ScreenUltrawide triple camera (5x Optical Zoom) |
| 64 GB | S$1,149 | S$1,299 | – | – |
| 128 GB | S$1,219 | S$1,369 | S$1,649 | S$1,799 |
| 256 GB | S$1,389 | S$1,539 | S$1,819 | S$1,969 |
| 512 GB | – | – | S$2,149 | S$2,299 |
And here's how much they cost from a few local e-tailers, as of April 2021. (Prices are subject to change depending on the sales going on.)
| | Shopee | Lazada | iShopChangi |
| --- | --- | --- | --- |
| iPhone 12 mini 64GB | From $840 | From $1,034 | From $1,073.83 |
| iPhone 12 Mini 128GB | From $999 | From $1,097 | From $1,139.25 |
| iPhone 12 Mini 256GB | From $1,289 | From $1,250 | From $1,298.13 |
| iPhone 12 64GB | From $1,105 | From $1,139 | From $1,214.02 |
| iPhone 12 128GB | From $1,225 | From $1,349 | From $1,279.44 |
| iPhone 12 256GB | From $1,378 | From $1,359 | From $1,438.32 |
| iPhone 12 Pro 128GB | From $1,485 | From $1,649 | From $1,514.12 |
| iPhone 12 Pro 256GB | From $1,635 | From $1,759 | From $1,700 |
| iPhone 12 Pro 512GB | From $2,119.99 | From $1,966.45 | From $2,008.41 |
| iPhone 12 Pro Max 128GB | From $1,579 | From $1,769 | From $1,681.31 |
| iPhone 12 Pro Max 256GB | From $1,699 | From $1,969 | From $1,840.19 |
| iPhone 12 Pro Max 512GB | From $1,959 | From $1,938.74 | From $2,148.60 |
You'll find that in general, purchasing a new iPhone 12 from an e-tailer will get you more discounts than buying from the Apple store. You can add AppleCare up to a year after you purchase your new phone, so no worries about missing out on the warranty.
But Here's a Snag…
Unlike its predecessors, none of the phones in the iPhone 12 series come with a charger and earphones. You'll only be given one USB-C to Lightning cable in the box.
Why? Apple claims that leaving these out will reduce the need to mine these materials, not to mention cut down on carbon emissions from transportation and processing.
Removing the charger and earphones also means they can use smaller, lighter packaging and therefore ship more iPhones at once — which also reduces carbon emissions.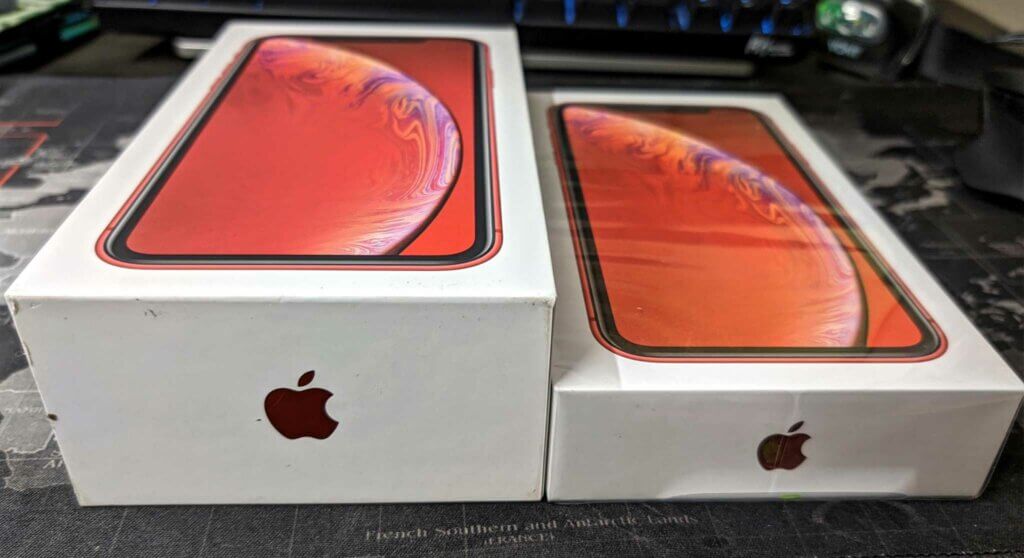 But considering the 64GB iPhone 12 costs $150 more than the $1,149 launch price of the iPhone 11, we suspect Apple's motivations are more profit-driven.
Now, you have to fork out an extra $29 for the Earpods and $29 for a 20W USB-C charger. On top of that, the new MagSafe charger will also set you back at least another $59 if you want wireless charging. That's another $117 in hidden costs that Apple just passed on to you, folks.
We'll leave it to you to decide whether the new iPhone is worth it.
Other Considerations 
It should give you some pause that the iPhone 12 is the most expensive model Apple has to date. Here are five tips before you head to the nearest store to make your purchase:
1. Ask yourself if you really have to buy the latest model.
A brand-new 64GB iPhone 11 from the Apple store costs $979 — $320 less than a 64GB iPhone 12. With most of us still on WFH arrangements and plugged into wifi, you may not need a faster mobile network right now. By the time society returns to the office (if at all), 5G phones could cost considerably less.
2. How much storage do you actually need?
As shown in the table above, the prices differ quite a bit between the 64GB and 256GB models. With cloud storage options getting cheaper, you may not need to pay that much up front.
3. Beware of contract bundles.
Getting a new phone through telco bundles is fine and all, but be careful about the plan you select. You don't want to pay for unnecessary add-ons, aye? In a later section, we'll discuss which telco offers the best 2-year contract deals for the new iPhone 12 and iPhone 12 Pro.
4. Wait for a big sale if you can.
With online shopping on the rise, most local e-tailers have a big sale almost every month now. April 4 (4.4) sales, May 5 (5.5), Singles Day (11.11), and so on — waiting to snag your iPhone on these occasions could knock hundreds of dollars off the total cost.
5. You might do better selling or trading in your old iPhone elsewhere.
The Apple store makes it easy for you to trade-in your old phone when you're buying a new one, but convenience comes at a price.
As an example, a 64GB iPhone 11 in good condition will fetch up to $640 at a handphone trade-in store, but only $300+ when traded in at the Apple store. You might even get a better price on Carousell if you're willing to negotiate.
A Comparison of iPhone 12 Telco Bundle Deals
In Singapore, a lot of us take advantage of the two-year contract plans offered by our preferred telcos. Every provider offers different combinations of data, talktime, SMSes, and upfront charges. For simplicity, we've kept the criteria for phone bundle deals to the following:
New iPhone 12 with 128GB storage
At least 20GB data as a base
Caller ID
At least 100 minutes in talktime
128GB iPhone 12 Telco Bundled Deals: Here's What You Can Get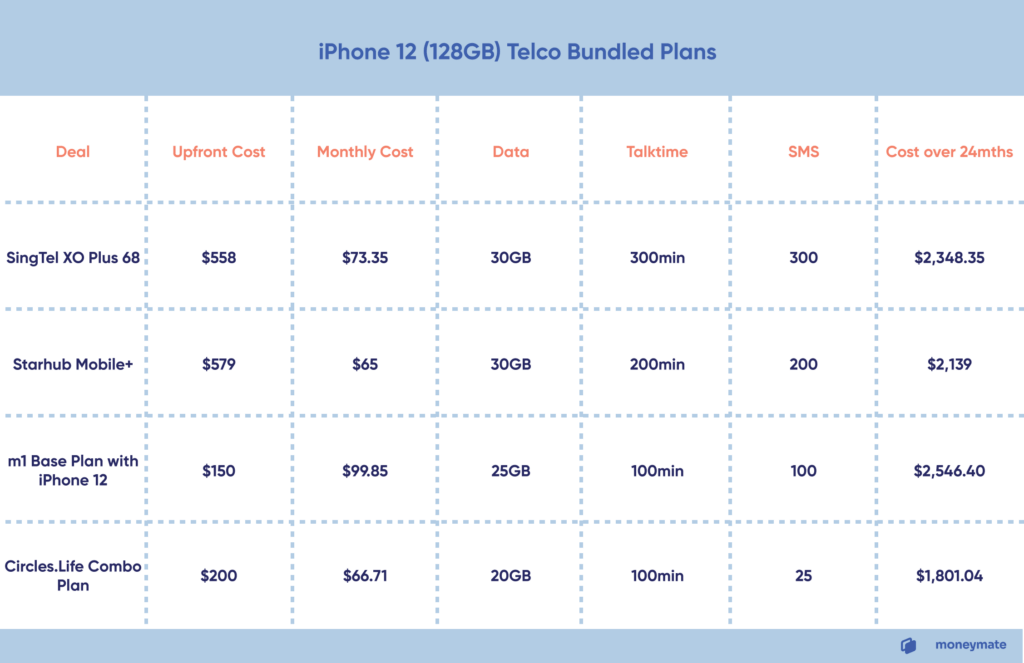 Of the bundled plans, Circles.Life has the most affordable deal. That's partly because of its focus on data plans: since many of us use WhatsApp and Telegram to text and call nowadays, we scarcely put a dent in our talktime and SMS allocations. You can get an extra 80GB of data from Circles.Life for another $20/mo.
What About SIM-Only Plans for the iPhone 12?
5G is still pretty new here, so you won't find the same inexpensive $18 SIM-only plans you can get for your old smartphone. Most SIM-only plans still run on the 4G network.
In other words, you'll have to pay a premium if you want your shiny new iPhone 12 to have access to Singapore's still-growing 5G network.
Our Verdict
With 5G still in the early stages, telcos are competing with each other to become the dominant 5G provider on the island. But that means pricing plans can differ dramatically at this point.
m1, for example, makes you buy a 5G booster pack on top of an existing phone plan to get that sweet 5G coverage. SingTel and Starhub both sell two-year 5G postpaid plans straight up, but throw in lots of (possibly unnecessary) add-ons while inflating their prices.
On the other hand, Circles.Life may seem like the best candidate if you want the lowest absolute cost, but their existence as a provider riding on another telco's bandwidth means it's unclear whether they really offer 5G access.
If you have your heart set on the iPhone 12 and early access to the 5G network, Starhub seems to be the best option for now. With a solid 30GB data, 200min in talktime, and 200 SMS, they offer the best middle ground for the lowest absolute cost.