Singapore is home to many well-known global street and luxury fashion brands.
But with global supply chain disruptions and a worldwide shift to more eco-friendly purchases, it's high time we switched things up and start supporting our local fashion brands.
We've seen some fantastic threads from our growing pool of Singapore-based labels, all with affordable price tags.
In this article, we're rounding up a long list of homegrown brands ranging from athleisure to accessories. If you're in the spirit of retail therapy with a local twist, then look no further!
Menswear
1. Arcade
Founded back in 2006, Arcade stocks a wide range of minimalist, timeless, and stylish apparel. You can find items ranging from t-shirts to double-breasted blazers. They often update their social media channels with lookbooks of their collections and run sales promotions periodically.
Find them here: https://www.aforarcade.com/men
Address: Assemble Lifestyle, 181 Orchard Rd, Orchard Central #04-05, Singapore 238896
2. Benjamin Barker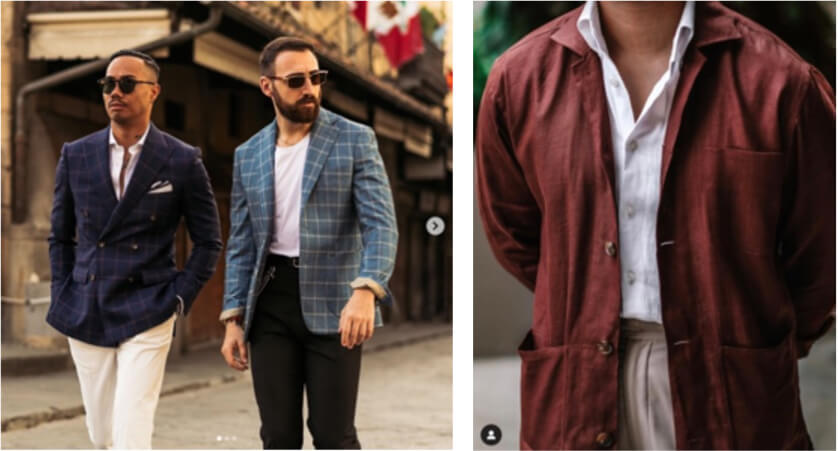 Founded by Nelson Yap in 2007, Benjamin Barker specializes in smart-casual and formal wear ranging from dress shirts to tailored suits. If you are looking for quality fitted suits with bespoke workmanship, you know where to go!
Find them here: https://www.benjaminbarker.co/
Address: Suntec City, 5 Temasek Boulevard, #02-240/241, Singapore 038985
Other outlets can be found here.
3. Biro
Largely inspired by Japanese aesthetics, Biro is home to clothes comprising timeless staples made from premium fabrics sourced globally. Coupled with workmanship by Japanese artisans, you can expect quality from Biro's garments.
Find them here: https://www.birocompany.com/
Address: Shouten, Mandarin Gallery, 333A Orchard Road, #03-23, Singapore 238897
4. Depression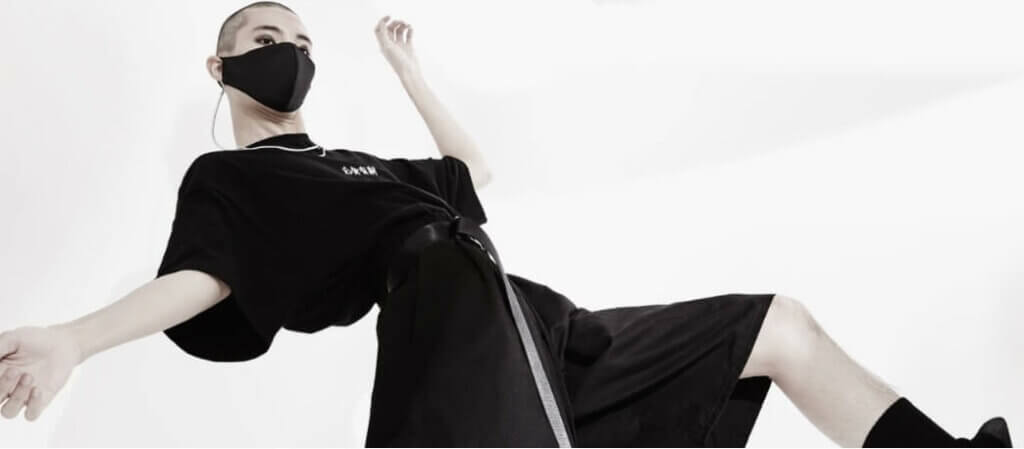 This local fashion brand has been around for more than a decade. They are famed for their punk and street goth infused elements and the dark palette used in their designs. This streetwear brand has garnered global attention with international stars such as Adam Lambert and The Black Eyed Peas as patrons! 
Find them here: https://shopdepression.com/
Address: Orchard Gateway, 277 Orchard Road, #04-14, Singapore 238858
5. Duxton
Summer vibes with a chic touch — especially fitting for Singapore's sunny, tropical climate. Signatures include their Henley tees, t-shirts, and Hawaiian printed shirts made from a unique breathable fabric ideal for our humid weather.
Find them here: https://duxton.com/
Address: Monument Lifestyle, 75 Duxton Rd, Singapore 089534
6. Fancies
Looking for ethical and sustainable underwear that's also luxurious, comfortable, and affordable? Fancies checks all these boxes! Designed in Singapore and made in Turkey, Fancies uses high quality materials and fabrics with entertaining messages visible only to the wearer as a finishing touch. 
Find them here: https://shopfancies.com/
Address:
TheAC Joo Chiat, 420 Joo Chiat Rd, Singapore, 427641
TheAC Raffles Hotel, 328 North Bridge Rd Entrance, Seah St, #02-36, Singapore 188719
7. Graye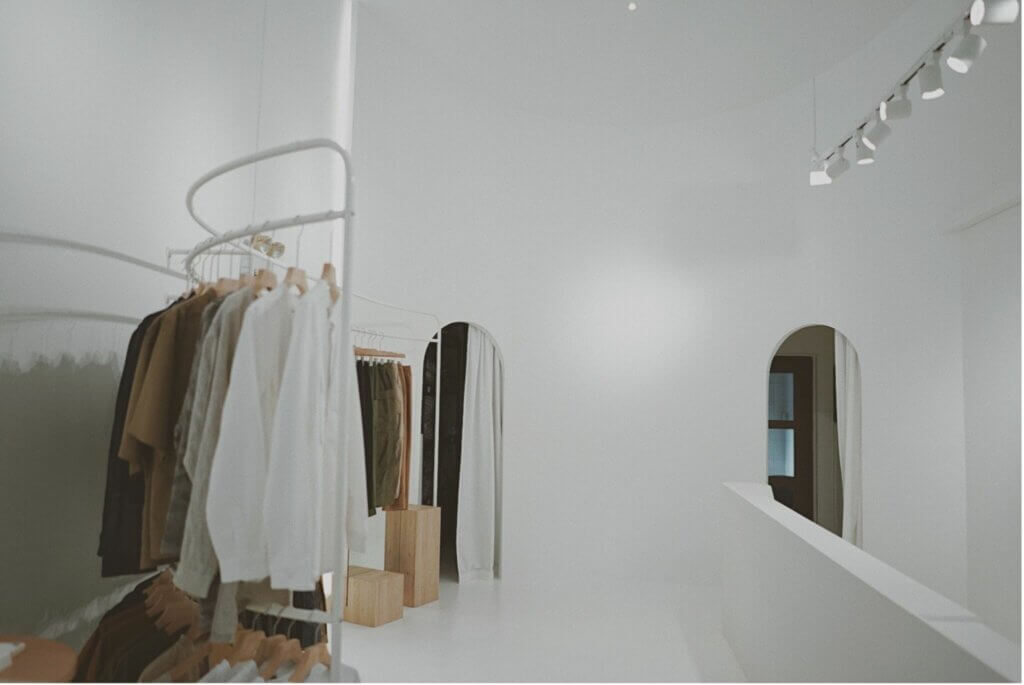 Started back in 2016, Graye is a ready-to-wear men's clothing label. It seeks to portray the founder's interpretation of balance and sustainable fashion concepts through their designs. This brand advocates a modern zen lifestyle with minimalist designs coupled with the convergence between Eastern and Western fashion elements.
Find them here: https://grayestudio.com/
Address: Graye Studio, 29A East Coast Road, Singapore 428750
8. In Good Company
This label used to focus solely on sophisticated and modern womenswear, but have long since expanded their range to include capsule collections for men. Expect classic, clean-cut staples such as jersey tees, utilitarian pants, jackets, and more from this trendy brand.
Find them here: https://ingoodcompany.asia/products/men
Address: Ion Orchard, 2 Orchard Turn, #B1-06, Singapore 238801
Other outlets can be found here.
9. The Authority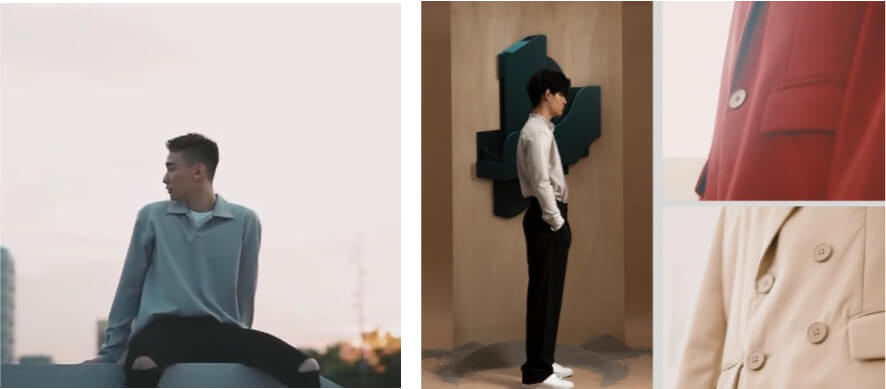 This young fashion label was established barely 5 years ago, but has been especially popular amongst the younger and more fashionable crowd with their "boy next door" concept. Their garments feature a tinge of Korean influence while being functional and minimalistic. If you're not a fan of loud designs and patterns, this is your go-to brand with a largely monochromatic palette.
Find them here: https://theauthority.co/
10. The Shirt Bar
A menswear specialist that has everything a guy needs to fill his wardrobe, ranging from casual wear to formal wear. No shirt is an ordinary shirt. The founders have accumulated experience from working under leading international brands and poured all their passion into starting The Shirt Bar, bringing top quality, comfortable garments to the customers.
Find them here: https://www.the-shirt-bar.com/
Address: Tang Plaza, 310 Orchard Rd, Level 3, Singapore 238864.
Other outlets can be found here.
Womenswear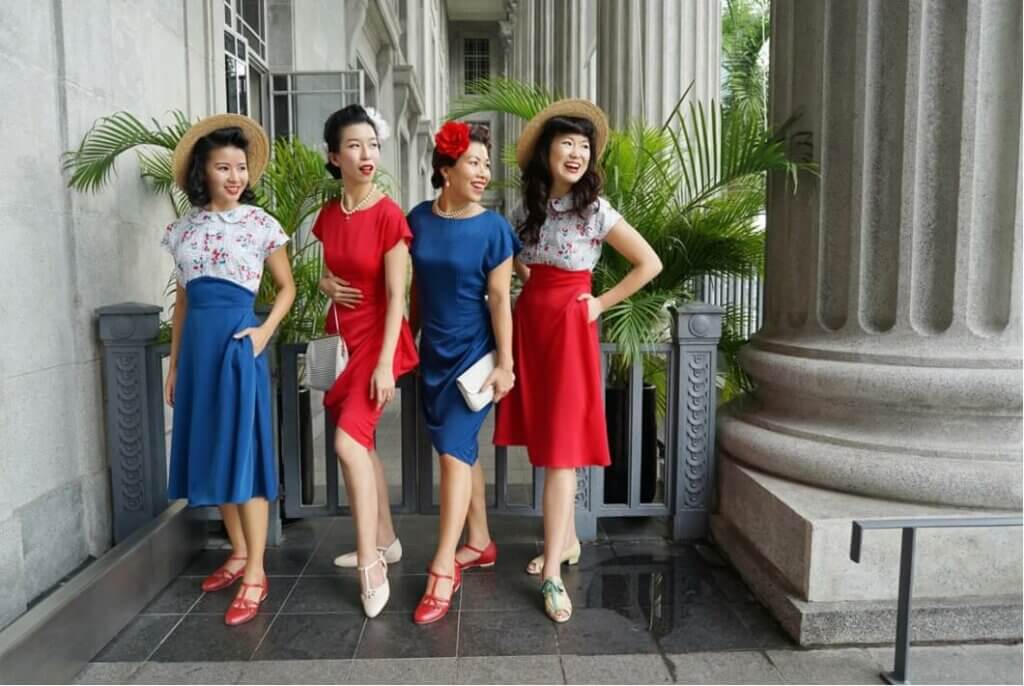 1. Dark Horse Vintage
Locally designed and produced, Dark Horse Vintage emphasises unique wearables while being green and sustainable. If you're looking for pieces with enticing colours and quirky styles for special occasions, this is a good bet.
Find them here: https://darkhorsevintage.com/
2. Elnadyah
This label was created by a fashion graduate who wanted to create unique Batik-influenced apparel. You'll find clothing with a modern twist on traditional themes, finished with a bold and colourful touch. There's a wide range of outfits from casual wear to apparel fit for special occasions.
Find them here: https://www.elnadyah.com/
3. Esse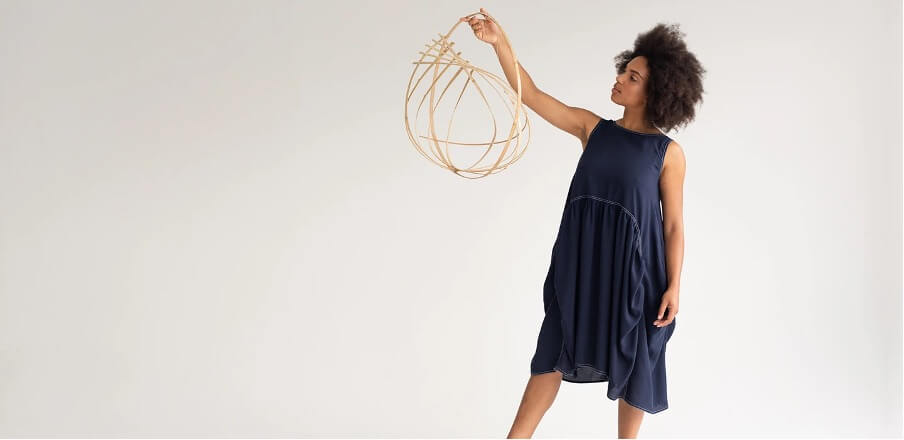 Esse is an eco-conscious fashion brand that merges timeless designs with a traceable supply chain. They champion environmental and social responsibility to create positive change in the fashion industry. The brand aims to create a two-way dialogue, fostering a community of people who care about every step of the production process. Their designs incorporate lightweight, flowy, and breathable fabrics such as lyocell and cupro, which are perfect for the Singaporean climate.
Visits to their physical studio at East Coast are by appointment only.
Find them here: https://www.essethelabel.com/
4. Klarra
KLARRA is a clothing label of filled with contemporary classics. Each collection is powered by a kaleidoscope of wearable silhouettes and quality fabrics. Each design is created with KLARRA's signature modern and sophisticated tailoring, forming the essentials of a woman's wardrobe.
Find them here: https://klarra.com/
Address: Raffles City Shopping Centre, 252 North Bridge Road, #03-33, Singapore 179103
5. Qlothe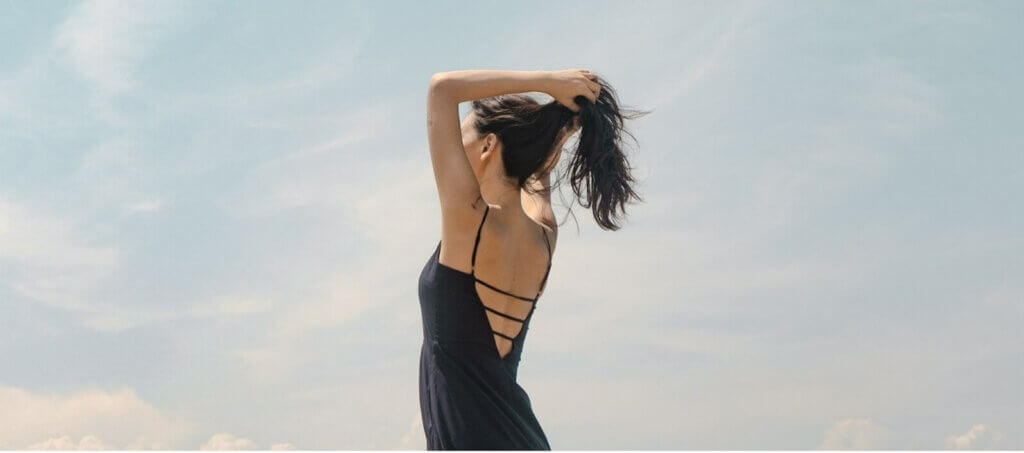 Simple, minimalist pieces for the modern woman. Their pieces are contemporary with an eclectic charm, ranging from casual wear to office wear. Their styles mainly comprise 90s fashion and chic finishes such as checkers and colour blocks.
Find them here: https://www.facebook.com/qlothe/ [MT1] 
Address: Kampung Ubi Industrial Estate, 3006 Ubi Rd 1, #03-364, Singapore 408700
5. Olive Ankara

A slow fashion brand that celebrates diversity, introducing various joyful, vibrant, and well-crafted designs inspired by traditional African fashion. This brand uses imported African fabrics to create their pieces and fuses the African and local culture through their cheongsams and baju rayas.
Find them here: https://oliveankara.com/
Address: 79 Chay Yan Street, #01-02, Singapore 160079
6. Rye
Slow down, nourish, and let it all begin here. Rye is a womenswear label offering transitional capsule collections of pared-down and timeless pieces. With the core philosophy of less-is-more, they aim to liberate and inspire. Rye was created to reflect living fully in the present moment. Most of their designs reflect comfort through the oversized fits.
Find them here: https://r-y-e.co/
Address: TANGS at Tang Plaza, 310 Orchard Road, Level 2, Singapore 238864
Other outlets can be found here.
7. Shirt Number White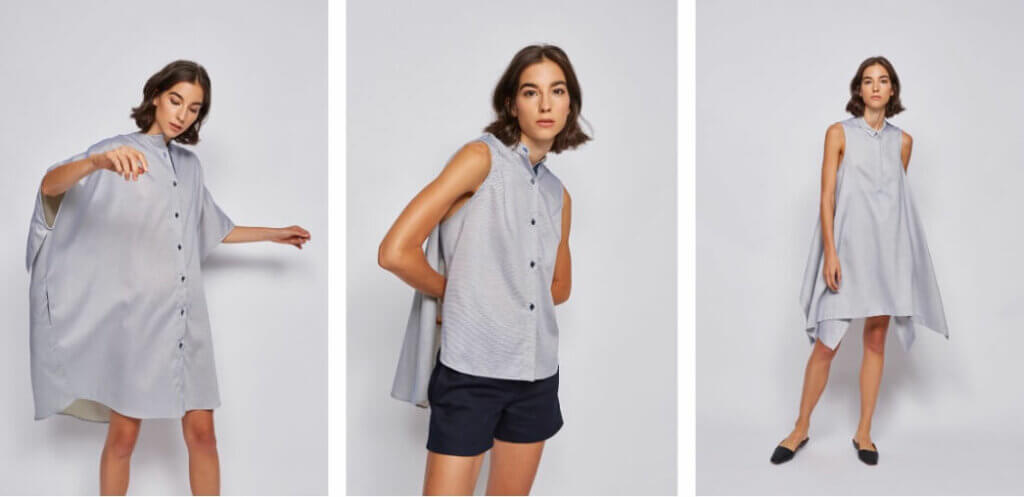 This label creates women's shirts for the everyday. Shirt Number White reimagines and re-interprets the classic white shirt with carefully crafted, artisanal pieces inspired by form and made for function with subtle panache. Their pieces are simple, minimalistic, functional, and comfortable to move around in throughout the day.
Find them here: https://shirtnumberwhite.com/
Address: Ngee Ann City, 391A Orchard Rd, #03-14A, Singapore 238873
Other outlets can be found here.
8. Stolen
Stolen is an ode to feminine allure in all its strength and fragility. Their designs are inspired by the founder's passion for architecture, so you'll find designs that are more structured than decorative. They are known for their unique, breath-taking backless pieces while also hosting a range of other staples such as jumpsuits and pants. They have an atelier located in the Straits Clan on a by-appointment-only basis.
Find them here: https://stolenstolen.com/
9. Weekend Sundries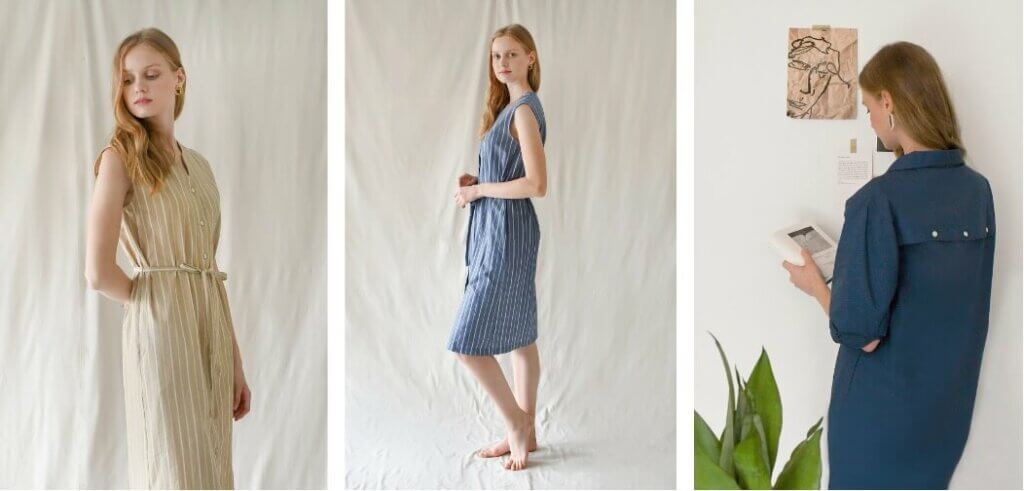 Founded in 2012, this brand offers garments that are apt for Singapore's humid climate. Their designs focus on quality, timelessness, and comfort in advocating conscious living. They incorporate low-impact materials and natural fabrics to play their part in ensuring sustainability in the fashion industry.
Find them here: https://weekendsundries.com/
Address: Great World City, 1 Kim Seng Promenade, #02-108, Singapore 237994
Other outlets can be found here.
10. Ying the Label
Inspired by the founder's love for painting, Ying the Label's designs are a form of self-expression with fabrics as the canvas. Each print is one-of-a-kind on high quality fabrics to ensure that the prints remain vibrant even after several washes. They also offer customisations with exclusive prints for customers.
Find them here: https://yingthelabel.com/
Sports and Swimwear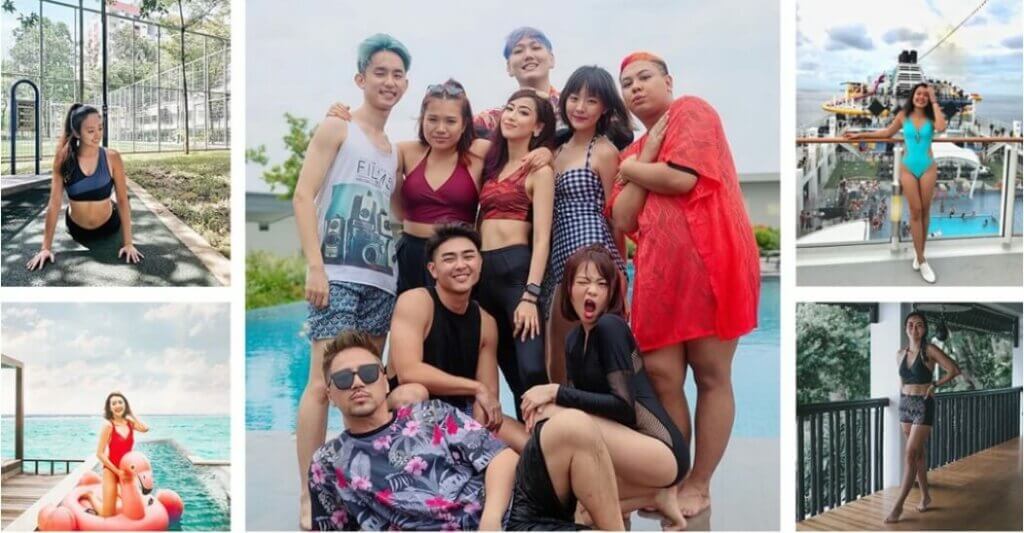 1. FunFit
This brand has been offering activewear and swimwear for over 20 years now. It supports customers through their fitness journeys and helps them have fun along the way. Conscious of varying body shapes and sizes, they offer a wide range of sizes for all their classic styles. Their new athleiswim series even allows you to take your sports tops and shorts from the gym straight to the pool.
Find them here: https://welovefunfit.com/
Address: NEX, 23 Serangoon Central, #02-42, Singapore 556083
Other outlets can be found here.
2. Gym Wear Movement
This label champions inclusivity for all body shapes and sizes. You'll find apparel categorised as Petite, Curvy and Modest with a wide selection of activewear in each collection. They also offer casual and leisure wear in a large variety of colours and styles, for different purposes such as light workouts or just lounging around.
Find them here: https://gymwearmovement.com/
3. K.Blu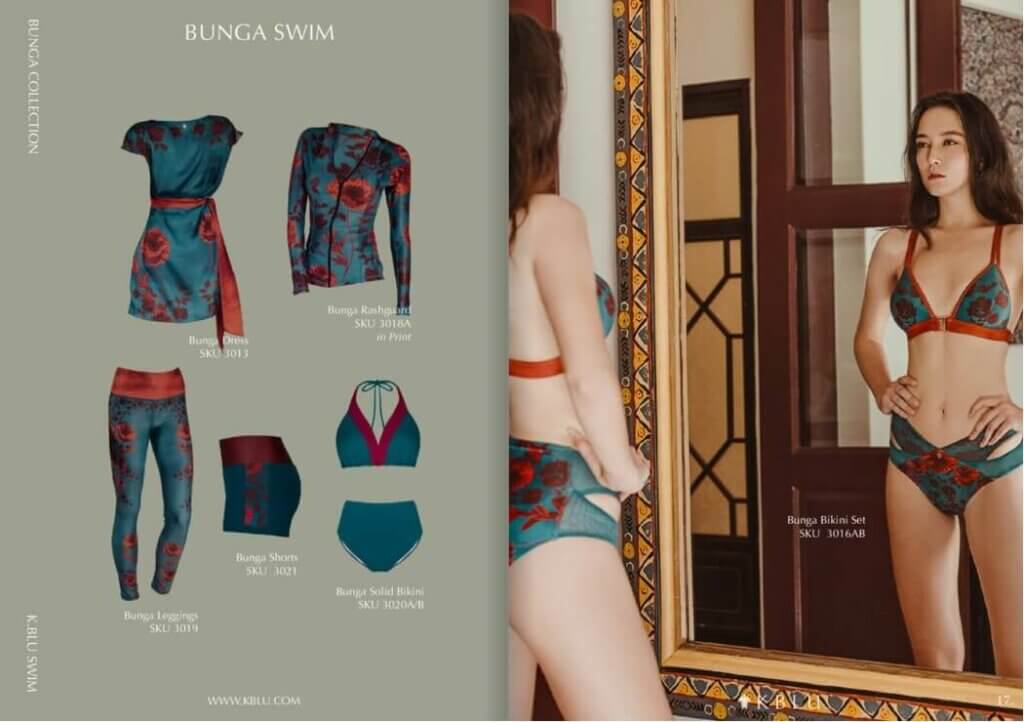 Founded back in 2014, this brand focuses on creating luxury swim, active and resort wear for women. Each design incorporates an air of elegance while remaining trendy and stylish to represent the modern woman. Their pieces feature quality fabrics, unique prints, and great fittings that are durable and made out of recycled or eco-friendly materials.
Find them here: https://www.kblu.com/
4. My Whey Stop
Not only does this brand sell workout apparel, but they also stock supplements such as protein powder, BCAAs, and protein bars. You'll even find accessories like resistance bands and blender bottles. Their products are very affordable, trendy, and versatile. With products going at prices as low as $20, it's perfect for students and thrifty adults!
Find them here: https://mywheystop.com/
5. Ninja by YeoMama Batik

This collection is distinct because it features Batik motifs not commonly seen on activewear. You can also find pole shorts that can double as swim shorts as the co-founder, Ms Yeo, wanted to bring in pole-appropriate attire with multiple functionalities. The patterns are printed on lycra fabrics and produced in Indonesia by a manufacturer specialising in gym wear.
Find them here: https://yeomamabatik.com/collections/activewear
Address: Oxley Bizhub, 65 Ubi Road 1, #01-87, Singapore 408729
6. Outfyt
Influenced by Scandinavian aesthetics, this luxury activewear brand places a huge emphasis on sustainable products. Their designs are both minimalist and functional with clean, simple lines. This brand promotes ethical living with less trend-driven and more timeless pieces. The bulk of their products are made from Econyl, which is derived from old fishing nets.
Find them here: https://shopoutfyt.com/
Address: 35 Haji Lane, Singapore 189228
7. Pink Salt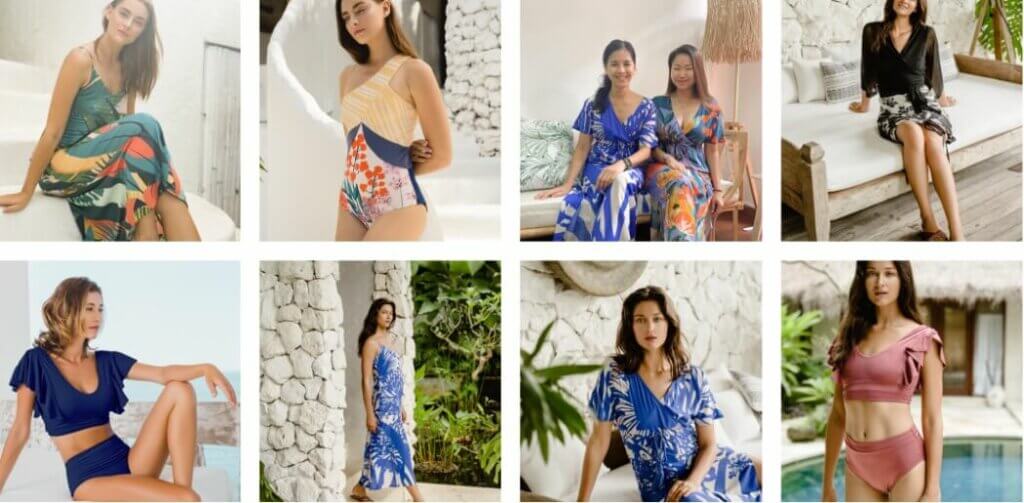 This modern swimwear and resort wear brand was founded back in 2017. If you think their swimwear is eye-catching and original, you've caught the gist of the founders' intent: their designs are guided by the belief that swimwear should be comfortable, flattering, and versatile.
Find them here: https://www.pinksaltswim.co/
Address: 16B Haji Lane, Level 2, Singapore 189209
8. Rangoon
Rangoon was founded by a yoga teacher and fitness enthusiast who wanted to create a line of activewear that's functional, lasting, and versatile. The label features unique, timeless pieces that can be worn on the mats, in the gym, or out on the streets. Apart from workout apparel, they also supply workout accessories and supplements.
Find them here: https://www.shoprangoon.com/
9. Revive & Co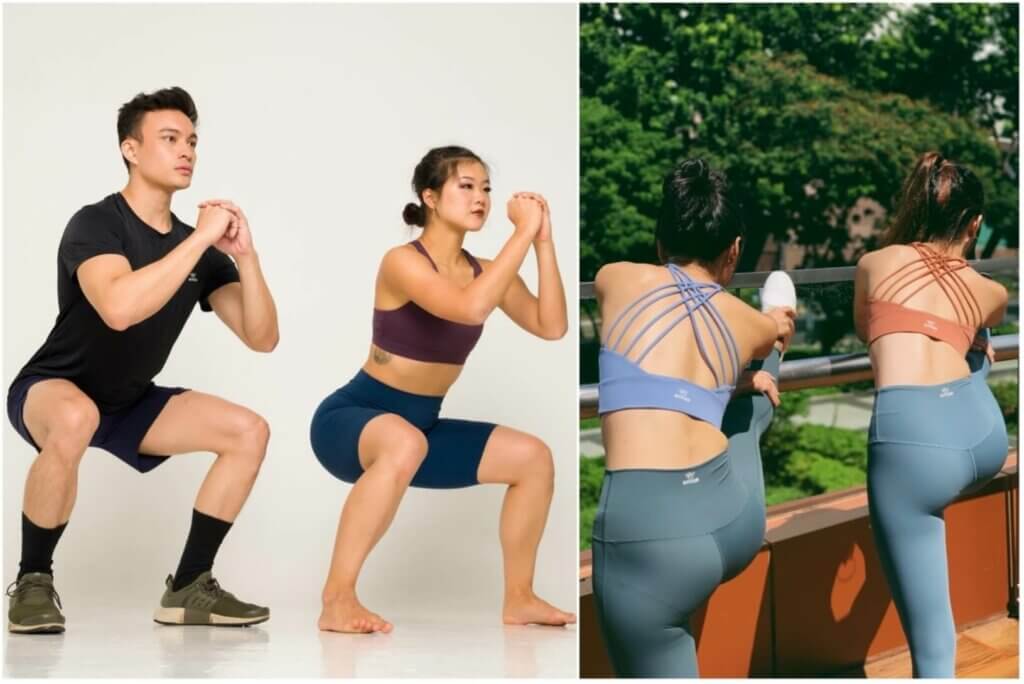 At Revive&Co, they believe that everybody has a story to tell. The label uses their platform to connect others and allow them to share about their fitness and wellness journeys. Their workout apparel has a good blend of functionality and quality so that regardless of the workout you're engaged in, you'll feel comfortable and can maximise your potential each time. 
Find them here: https://revivecolabel.com/
10. Tough Cookie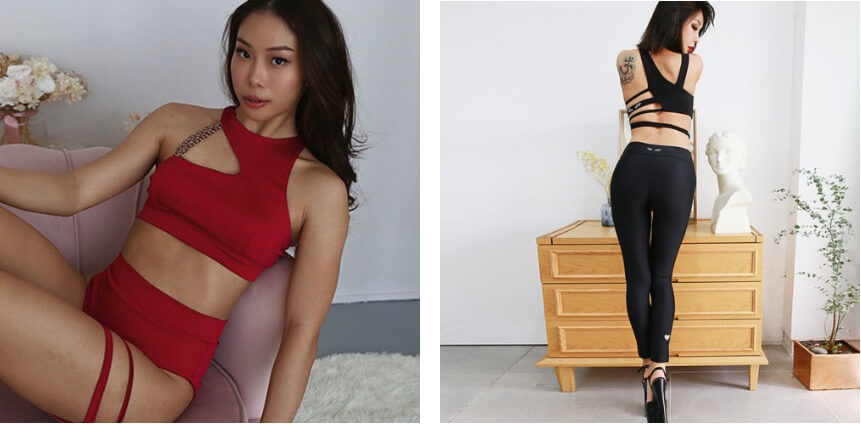 A label with apparel that makes you feel sassy and confident! Tough Cookie is dedicated to aerial arts, pole dancing, and yoga, so their activewear features lots of straps in all their designs. At Tough Cookie, they celebrate strength in women and champion an active lifestyle. From sourcing the right material to braiding straps individually by hand, Tough Cookie prides itself on quality products to make you feel good and look good. Each piece has been specially designed so you can work out in both comfort and style.
Find them here: https://www.toughcookieapparel.com/
Accessories
1. 3125
This label has its humble beginnings as a fashion school project in 2014. Coupled with her passion for jewellery making since young, this hobby bloomed into a business with a social cause — 10% of the sales will be donated to marginalised communities. There are designs for casual and workwear and even dramatic pieces suitable for special occasions.
Find them here: https://threeonetwofive.com/
Address: 420 North Bridge Road, #03-12 Singapore 188727 (By appointment only)
2. By Invite Only

This brand believes that jewellery is more than just pretty, shiny trinkets. It's about building your identity and strengthening your confidence, allowing you to look and feel your best on every occasion. All their jewellery is clean and safe for sensitive skin. With a commitment to sustainability, this homegrown brand ensures that all their carbon offset funds are invested in sustainability initiatives to counteract the environmental impacts of shipping!
Find them here: https://www.byinviteonly.shop/
Address: VivoCity, 1 Harbourfront Walk, #01-K19/20, Singapore 098585
Other outlets can be found here.
3. CCRXYST
This young founder and designer's side hustle specialises in unique, handmade gemstone jewellery set with crystals and semi-precious stones. Her jewellery is all sold at affordable prices, with most of them under $30. Her passion was spurred on her trip to Australia, where she found that crystals were prevalent in their markets. This piqued her interest and she decided to try her hand at it — and so out came CCRXYST.
Find them here: https://ccrxyst.com/
4. Forbidden Hill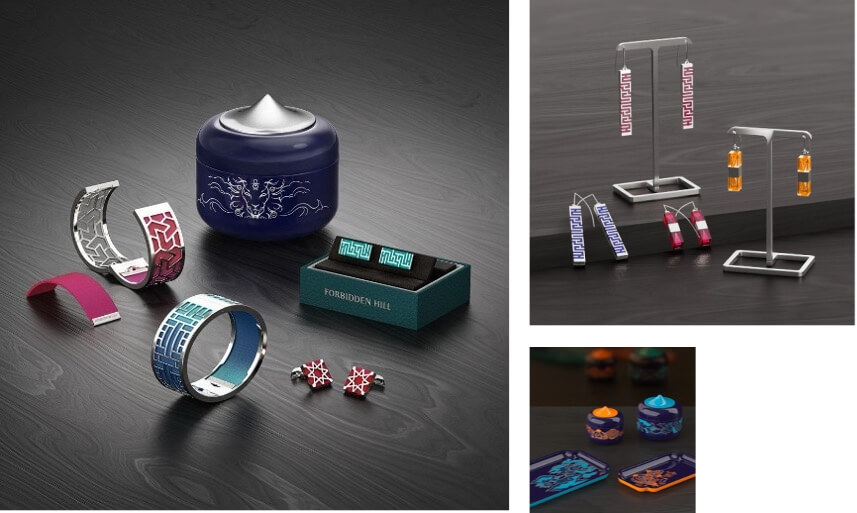 Forbidden Hill creations draw from the rich visual tapestries of Southeast Asia. They derive inspiration from motifs spanning iconography, architecture, and textiles, then fuse these with modern aesthetics to arrive at distinctive collections of contemporary jewellery and homeware. Combining traditional craftsmanship with innovative techniques and materials, Forbidden Hill has a collection of alluring pieces with modern sophistication and sublime shapes and patterns.
Find them here: https://www.forbiddenhill.com/
Address: 46 Kim Yam Road, Singapore 239351 (By appointment only)
5. Klay
Accessories that remind you of the little things that we interact with in our daily lives. Fancy a pair of Kopi or Teh O Bing earrings? How about Roti Prata or Fried Bee Hoon brooches? This label features quirky designs stemming from our local heritage and culture. The local favourites and familiar food items are personally hand sculpted and painted, and can be proudly adorned at affordable prices.  
Find them here: https://www.klay.sg/
6. Miniature Asian Chef

With product offerings similar to Klay, this brand is managed by a couple with a passion in making local food-themed accessories and collectibles to celebrate and preserve Singapore's food heritage. All products are also proudly crafted and individually handmade in Singapore. They also conduct workshops where participants get hands-on experience in crafting realistic food miniatures using polymer clay. Interested in learning how to craft realistic-looking miniature food accessories? Get in touch with them to save your spot!
Find them here: https://miniatureasianchef.com/
Address: Holland Village Shopping Centre, 211 Holland Avenue, #03-01, Singapore 278967
Other outlets can be found here.
7. Paperdaise
This label started out as a hobby: the founder was exploring and experimenting with creating different accessories to suit her ever-changing wardrobe. On her search for versatile accessories fit for any occasion, she stumbled upon personalised handcrafted wood accessories. They offer a wide variety of products from hijab pins to earrings, necklaces, and brooches.
Find them here: https://paperdaise.com/
8. Rina Lee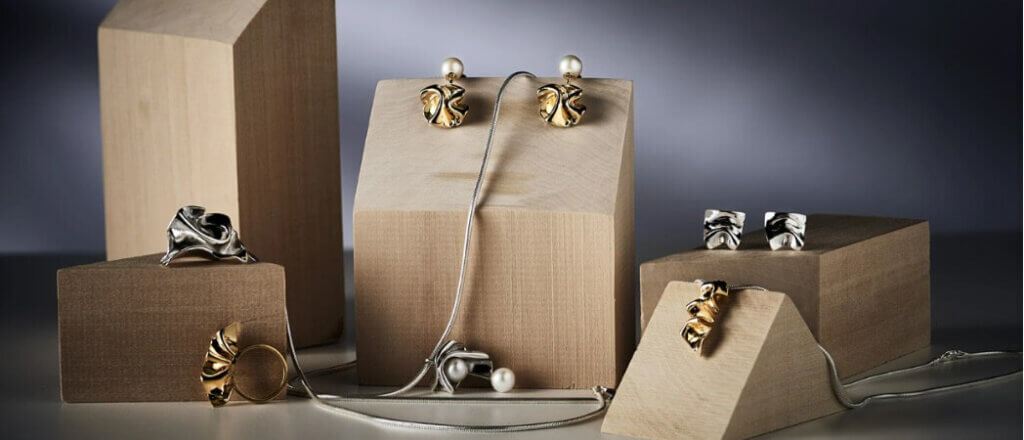 Rina Lee Jewellery is about community, healing, and empowering women to be their true authentic selves. By incorporating healing gemstones with mindful designs, their jewellery are soul reminders and encouragements that journey with you through life's ups and downs. Their designs are minimalistic and elegant, with a wide selection of modern, unique pieces for individuals who prefer uncommon designs.
Find them here: https://rinaleejewellery.com/
9. Stones that Rock
Supported by rich cultural experiences abroad, the founder dreamed of developing a company committed to producing beautiful, easy-to-wear, and cost-effective jewellery. She brings her own sense of fun and confidence to the design process by augmenting her designs with silver, silk, or leather. Through her pieces, she encourages a modern twist on timeless themes. This business is also committed to providing assistance and support for women and has been partnering with various charitable initiatives throughout Southeast Asia.
Find them here: https://stonesthatrock.com/
10. Thrifty Thieves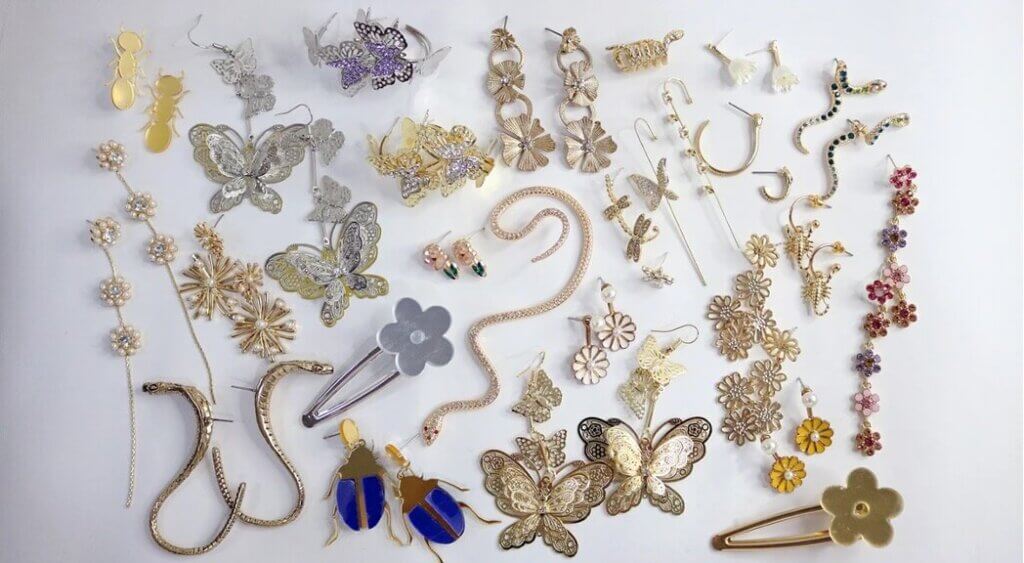 This label is known for their unique and artsy designs with interesting colour combinations. They stock and trend-spot a wide range of stylish ready-to-wear jewellery, apparel, and accessories. They'll often draw on inspiration and visual cues from natural landscapes, plants, and fruit with an eccentric twist.
Find them here: https://www.thriftythieves.com/