Instarem is best suited for individuals who are looking to transfer funds to Australia, Europe, or within Asia. With an user-centric app interface and a loyalty program in place, it's great for businesses or individuals who frequently transfer funds abroad.
Pros
Low processing fees and no transfer fees
Zero margins on exchange rates
Transparency: you'll always be shown the fees for each transaction upfront
Recipients do not need an Instarem account to receive money
Cons
Limited coverage
Percentage-based fees can add up to a sizable amount for large transfers
Transfers can be slow at times
No cash pick-up option; recipients need to have an existing bank account to receive your funds
Instarem launched in 2014 with the goal to make cross-border transfers more cost-effective and convenient for everyone around the world.
But Instarem isn't the only money transfer app in town. To remain competitive in the fast-paced fintech landscape, Instarem adopts a loyalty point system, allowing users to earn and exchange points for discounts on their already-low fees.
Just how competitive are Instarem's rates though? Which countries can you transfer funds to? Can you transfer even without a bank account?
We'll cover these questions and more in our review of Instarem:
TL;DR: Here's how Instarem compares with a few other money transfer services
| | Instarem | Wise | Revolut | DBS Remit |
| --- | --- | --- | --- | --- |
| Transfer Speed | Same day to 2+ business days | Same day to 3 business days | Same day to 5 business days | Same working day |
| Transaction Fees | 0.25% – 1%  | 0.35% to 1% | 0.3% (minimum $0.30, maximum $9) | None |
| Exchange Rates | Mid-market rate | Mid-market rate | Mid-market rate | Average 0.5% markup from mid-market rates |
| No. of Countries You Can Transfer To | 58  | 80 | 45+ | 50+ |
| Currencies Available | 27 | 56 | 30+ | 13 |
| Standout Feature | Earn points to offset future transfers | Supports highest number of currencies | 1% cashback at metal tier | Secure, same-day transfers |
What Is Instarem? 
Instarem enables users to make cross-border transfers quickly and cheaply. Singaporean users can even send and receive funds internationally via PayNow, making the service even more convenient.
If you're worried about how safe it is to use Instarem, you might be relieved to hear that they've gotten quite a bit of recognition in the fintech space. The awards they've won include:
Outstanding Digital Cross-Border Money Transfer Service – ET Net FinTech Awards, 2017, Hong Kong
Best Value International Money Transfer Provider Award – Mozo Experts Choice, Australia 2020
Singapore Fintech Award – Singapore Fintech Festival, 2017, Singapore
They're also regulated and licensed by MAS to operate as a major payment institution, so no shady money activities can be carried out here!
How Does Instarem Work? 
Instarem acts as a quick, low-cost remittance service for individuals as well as a payment solution for businesses worldwide. Think of this app as a fuss-free cross-border money transfer service: you no longer have to visit a bank or go to an ATM to transfer money internationally.
Sending and Receiving Money
Need to send money to a relative living abroad? Instarem allows you to do so with just a few taps.
Forget to send a payment to an international supplier? As long as you have a smartphone, you can make payments through their app anytime, anywhere.
The app is also intuitive and user-friendly. You can send money via any of these three ways: 
PayNow
Bank transfer
Debit/credit Card
The abovementioned methods require you and your recipient to have bank accounts. However, recipients can receive money even without an Instarem account.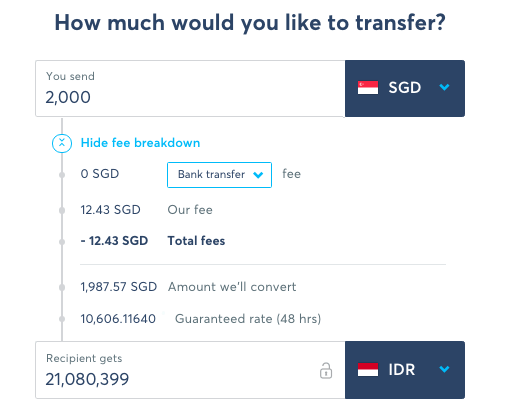 As is quickly becoming the norm in the money transfer space, you'll see all the costs and exchange rates upfront. This makes it easy for you to compare their FX rates with the mid-market rates you'll find on Google or XE.com.
Opening an Account
You'll need to sign up for an Instarem account before you can use their services.
For Singaporeans and PRs, Instarem makes it easy for you by integrating their platform with Singpass MyInfo. Simply log into your SingPass and approve the information transfer. Alternatively, you may fill in your personal particulars manually.
Afterwards, you'll need to go through a verification process. The whole process could take a few seconds up to a day depending on your location.
Why is Instarem So Cheap? 
Instarem uses real-time interbank rates when you make any fund transfers. This means that unlike with traditional bank remittance services, you're not paying marked up margins to convert your money.
Transaction fees depend on the amount you're transferring and the country of origin. For instance, when transferring from Singapore, the transaction fees are about 0.3% to 0.4%.
Apart from transaction fees, Instarem doesn't charge any other fees.
Here's a quick snapshot of how much you'll get if you're looking to convert S$10,000 on Instarem vs other apps or banks for your next big adventure:
| | Instarem | Wise | Revolut | DBS Remit |
| --- | --- | --- | --- | --- |
| USA | 7,395.03 USD | 7,429.97 USD | 7,428.76 USD | 7376.81 USD |
| South Korea | 8,833,681.98 KRW | 8,900,290 KRW | 8,898,410 KRW | 8,771,929.82 KRW |
| Thailand | 239,014.10 THB | 240,471 THB | 240,340.57 THB | 236,333.99 THB |
* Rates taken on 15 Feb 2022
Rates fluctuate all the time, but it seems from this snapshot that Wise still has the best exchange rates even after deducting the transaction fees.
Instarem Features and Benefits
With Instarem's app, you can:
Transfer funds to 58 different countries
Send and receive money via PayNow
Earn reward points in exchange for lower fees and discounts
Perform Fund Transfers to 58 Different Countries
With money transfer apps like Instarem, gone are the days of having to visit multiple money changers and compare them all to find the best rates. 
Now, all you have to do is download the app — you can easily compare rates and make fund transfers in just a few minutes.
Just note that Instarem only allows you to initiate fund transfers from these countries: Australia, Singapore, Hong Kong, Malaysia, Euro Zone Countries, UK, India, Canada and the United States.
Also, Instarem only supports fund transfers in the following currencies:

Convenient Transfers Between PayNow And Instarem
Granted, this only works for Singapore users. But funding your Instarem account with PayNow is faster than using a bank transfer.
Earn Reward Points When You Transact On Instarem
Instarem rewards users with points upon registration and for every successful referral and transaction. This incentivises users to keep using their service, since you'll get more discounts on their already-inexpensive transfers.
All InstaPoints have a validity of 6 months. There are certain rules under the InstaPoints system, such as: 
Minimum transaction value to earn 1 Point = S$100
Minimum transaction value to redeem Points = S$500
InstaPoints that can be redeemed per transaction: 100-400
Caveats To Watch Out For When Using Instarem
Complaints About Slow Transfers (Especially to India!)
There have been many complaints about transfers to India, with reviewers citing that it took a week or more for the funds to arrive. In addition, these customers mentioned that Instarem's customer service was slow in returning their queries.
If you're using Instarem to make transfers to countries such as India, it's advisable to do so in advance and provide a buffer if you need the funds to arrive by a certain date. 
Limited Coverage
Countries such as New Zealand and the Middle Eastern region are out of Instarem's scope and network. You will not be able to make transfers to these countries. If you have businesses or close contacts in these regions, Instarem is not the best app for you. 
Instarem vs Wise and Revolut
Rate Differences
Our example conversion table above showed that when converting S$10,000 with Instarem, Wise, and Revolut, Wise offered the best rates. This is followed by Revolut and then Instarem.
But it's important to note that compared with Revolut, Instarem does not mark up their rates on the weekends. Your rates are locked in once you submit your transaction on the Instarem portal.
Flexibility
Wise and Revolut allow you to withdraw funds from ATMs overseas — Instarem does not.  You can only pay for transactions via contactless or card payment overseas with the Instarem Amaze card. 
Also, Instarem Amaze only works with Google Pay whereas Wise and Revolut work with both Google and Apple Pay.
Instarem vs Multi-Currency Accounts From Local Banks
Ability to track cash flows
Similar to most bank apps, Instarem's app allows users to track their cash inflows and outflows. This (in theory) helps you monitor spending, withdrawals, and transfers.
This is a great addition especially when using an electronic multi-currency account as it is not tied to just 1 bank, and it will be difficult to keep track of cash flows from so many different places.
Greater cost savings
Instarem's Amaze card doesn't charge users the usual fees that come with a credit card (e.g. annual fees and service charges). In addition, Instarem uses mid-market rates compared to the marked-up FX rates you'll get from a bank. 
Flexibility
Instarem accounts are not tied to a savings account. There's no need to maintain a minimum balance — you can spend or convert whatever and whenever you want. This gives more flexibility to those who frequently transfer money overseas.