COVID-19 has changed consumer behaviour — possibly for good.
Now that we're over a year into the pandemic, we revisit the top food trends from 2020 and look at new ones coming up in 2021.
What will pass, and what's likely to stay?
Let's look at the top 16 pandemic food trends in Singapore:
1. More of us began cooking at home
More of us are trying our hands at the culinary arts — many for the first time.
Just scroll through TikTok and you'll find a plethora of recipes that look both enticing and easy.
So it's no surprise that restaurants began selling meal kits and take-and-bake kits in lieu of serving hot meals to diners. From easily reheatable braised lamb shank to DIY pizza kits, eateries of all sorts have been forced to pivot their business models for the at-home consumer.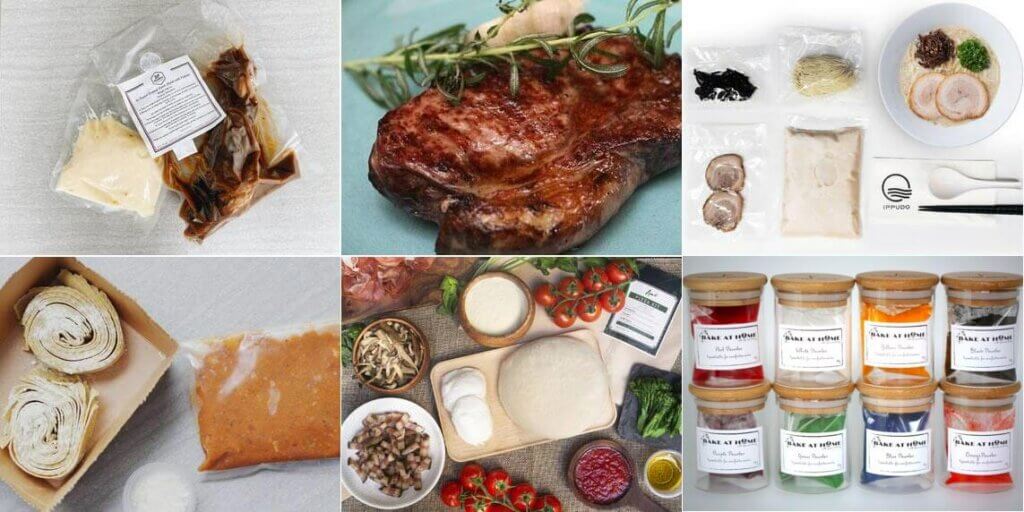 Clockwise from top left: Braised Lamb Shank from So France, DIY Steak Set from BoCHINche, Ramen Meal Kit from Ippudo, baking kits from Janice Wong, pizza kit from Amò, and Fresh Pasta Kit from Bar Chicheti
Even purists like Ippudo Ramen have come up with their own meal kits, promising fans that they can "whip up their own Hakata-style ramen in under 20 mins!"
And with folks getting a few successes under their belts, they've moved on to experimentation in the kitchen. There's been a greater emphasis on heritage cooking as of late — check out the jackfruit curry that CNA Lifestyle recently featured.
2. We also started selling food and baked goods from home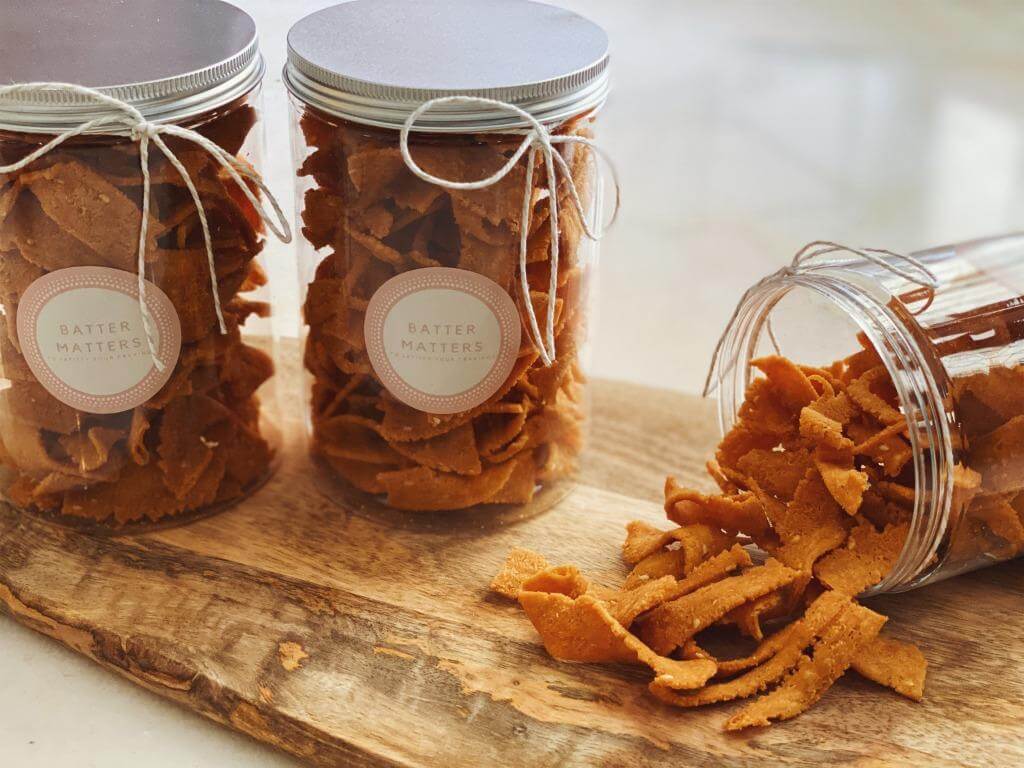 Faced with an uncertain job landscape and the possibility of being laid off, people searched for ways to supplement their income. Those of us gifted in the kitchen turned to selling food.
And so a flood of home-based food businesses swept the nation, selling everything from parmesan murukku to crispy sio bak and Mao Shan Wang caneles.
Unsurprisingly, we as a foodie nation snapped it up. Bored, hungry, and trapped at home, people would wait at their laptops for order portals to open. Popular food products had long waitlists, and the "Sold Out" sign was just more fuel for the FOMO fire.
3. More chefs go private label
Gone are the days when eateries could open up in the morning and be assured of a long queue of hungry customers. Now, restaurants and chefs are starting to bottle their secret sauces and put them up for sale on supermarket shelves.
This trend is likely to continue with restaurant revenues still down from pre-covid levels, but it also presents itself as a good way for restaurants to diversify their income streams.
4. We gravitated toward comfort food
In Singapore, the five most-searched recipes were for banana cake, dalgona coffee, brownie, muah chee, and burnt cheesecake (Google Trends).
The need for comfort was true worldwide as well: in the early stages of the pandemic, pancake cereal, cloud bread, and hot chocolate bomb recipes went practically viral back then (no pun intended).
The professionals joined the fray soon after. Michelin-starred restaurant Alma shared their recipe for the Basque Burnt Cheesecake, while Hilton DoubleTree revealed their recipe for the famous chocolate chip cookies served to every traveler upon their arrival at their hotel.
But we didn't just crave freshly-baked goods: we also turned to Asian comfort foods. Deliveroo reported that a few of the most popular restaurants consumers ordered from include Boon Tong Kee, Wok Hey, Soup Restaurant, and Crystal Jade.
And let's not forget Singapore's love affair with bubble tea. Shops around the island sold out just before the circuit breaker began. Many tried to make their own bubble tea at home. The term itself even ranked #2 for trending deliveries on Google as customers searched far and wide for the few remaining bubble tea places still open.
5. We're more aware of what we put into our bodies
There's nothing like a public health crisis to get people to pay more attention to their diets.
An AIA survey found that 65% of Singaporeans realised they were taking their health for granted. 48% recorded an improvement in eating habits.
And after the glut of dessert recipes and comfort food, many made course-corrections to shed those pandemic pounds.
Recognising this, restaurants gave people the option to modify "indulgent menu items" and substitute certain ingredients (e.g. cauliflower rice).
6. We preferred the familiar over the novel
At the beginning of the pandemic, classic recipes were back in fashion as people gravitated to the known for comfort. People ordered delivery from restaurants they already knew rather than trying out new ones. Delivery drivers would buy in bulk from well-known hawkers and resell to people working from home.
But as time went on, customers appreciated when their familiar haunts changed things up and offered novel menu items. Since being cooped up at home doesn't offer much in the way of new experiences, those who could afford it expected more from the restaurants they frequented. 
7. F&B establishments turned to digitisation as an enabler
COVID-19 accelerated our shift into a digital world. To survive during and after the pandemic, having a digital presence is no longer optional for F&B establishments.
Those that weren't already on food delivery platforms had to ask themselves how to partner with them. Eateries with takeaway and in-person dining options turned to digital payments to minimise contact.
8. We placed more importance on eating for health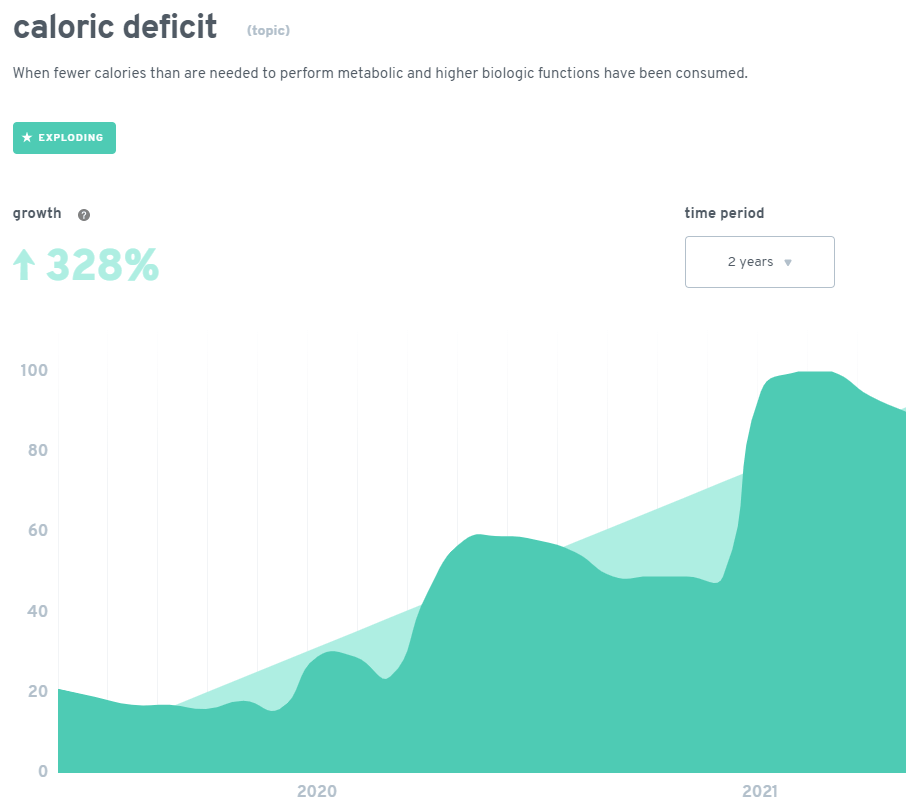 Google searches for the term "caloric deficit" have increased by 328% since pre-covid levels, indicating a more widespread concern about weight gain.
Around the world, there's been more focus on "eating clean" and opting for sustainable, organic produce.
There's also been more demand for niche health products such as vitamin supplements and ACV gummies, given the widely-touted health benefits of apple cider vinegar.
9. The pandemic created greater awareness for gut health
With the slew of reports indicating that poor gut health is linked to more severe cases of COVID-19, the public has been more receptive to products that boost our intestinal microflora.
Homebound consumers will likely turn to the pickling and fermentation processes in their kitchens. There's also surging interest in food products from countries with diets that are rich in fermented vegetables.
10. But we also valued convenience
Searches for "fast food delivery" was the 3rd highest trending search in 2020 — trailing just behind "bubble tea delivery," of course.
Other than that, slow cooker, one-pot meals, and instant pot recipes also saw traffic spikes.
11. We stocked our pantries as though expecting food shortages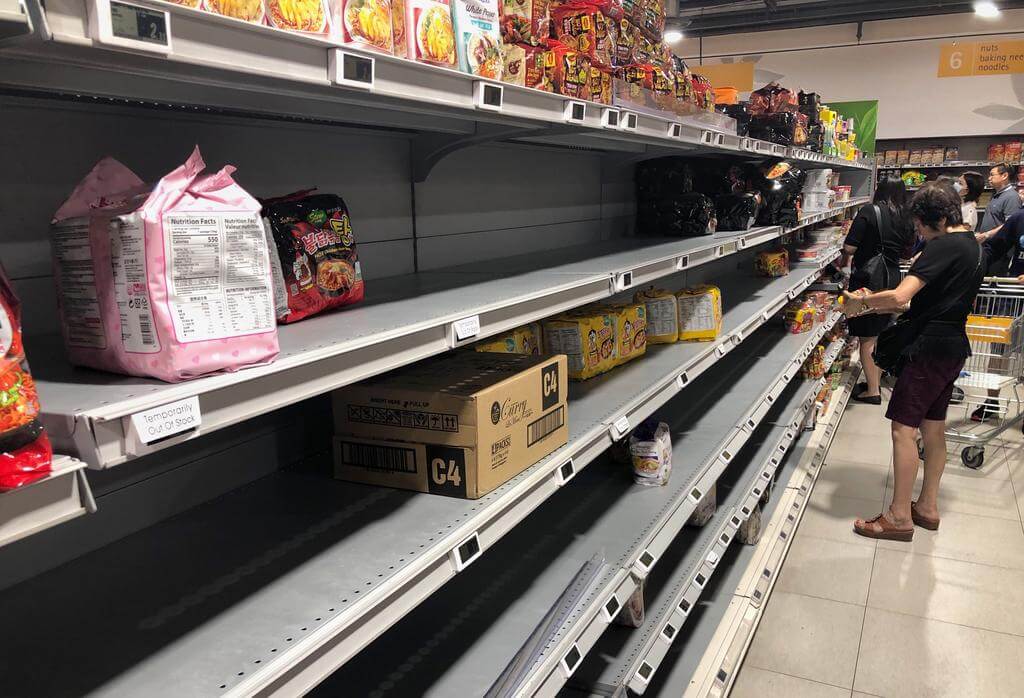 The global supply chain shock had everyone worried, but especially so for import-dependent Singapore. Supermarket shelves were cleared out overnight in waves of panic buying.
But even after the government repeatedly assured us that our supply of food was adequate, the nation still prepared for the worst.
There's still increased demand for shelf-stable foods, for example. And more people are exploring canning, drying, and curing their own foods at home.
12. We became more interested in urban farming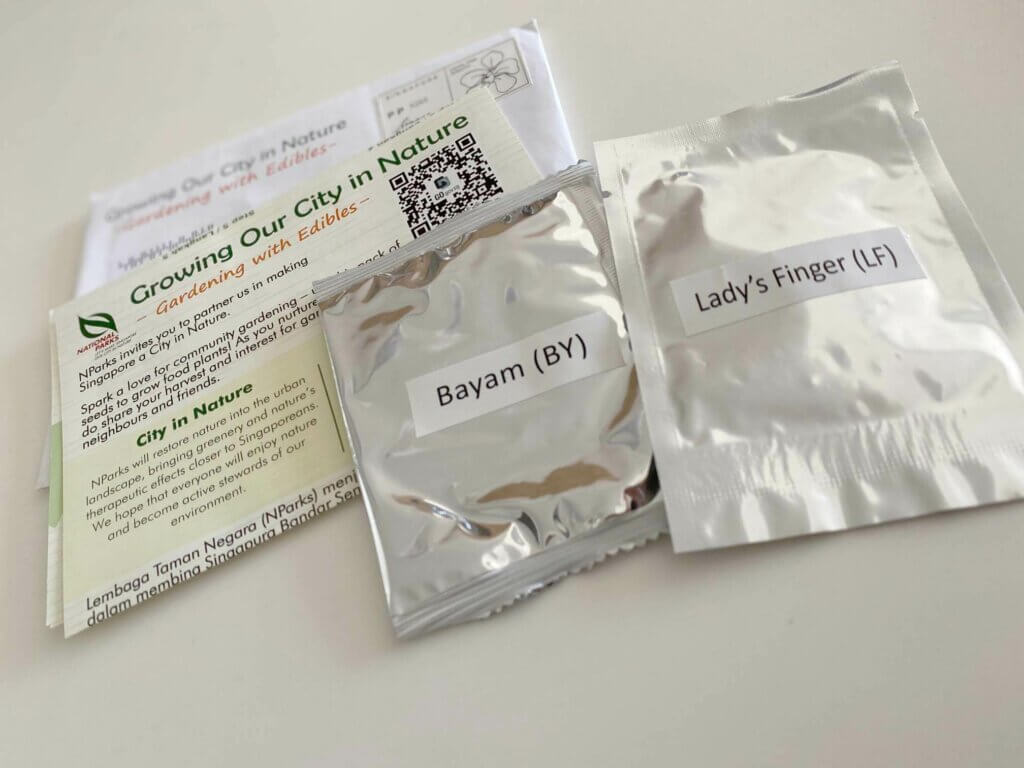 In the same vein, we've had to consider possible solutions to further disruptions to our food supply.
Singapore is encouraging its residents to turn to urban farming where possible. The Singapore Food Agency (SFA) began a campaign called "30 by 30," wherein the country aims to produce 30% of its food locally by 2030. NParks even mailed out packets of vegetable seeds to households to get people started.
13. The pandemic shone a spotlight on sustainability
In 2020, the food waste generated in Singapore fell by 11%. The recycling rate of food waste also grew to 19% compared to 18% in 2019.
This doesn't seem to have crept into other aspects though — our overall recycling rate decreased from 59% to 52% in 2020.
It remains to be seen how much of this is because of F&B store closures and the greater number of people eating at home.
14. More are opting for plant-based dairy and meat analogues
This belief is particularly prevalent amongst younger consumers, but attitudes toward sustainable produce are changing worldwide.
One survey found that 60% of respondents globally were willing to change their grocery and food shopping habits to reduce environmental impact.
And almost eight in 10 said that sustainability is important to them. Those who indicate that sustainability is important to them say they'd be willing to pay up to 35% more on brands that are environmentally responsible.
15. We're trying our hand at making homemade pasta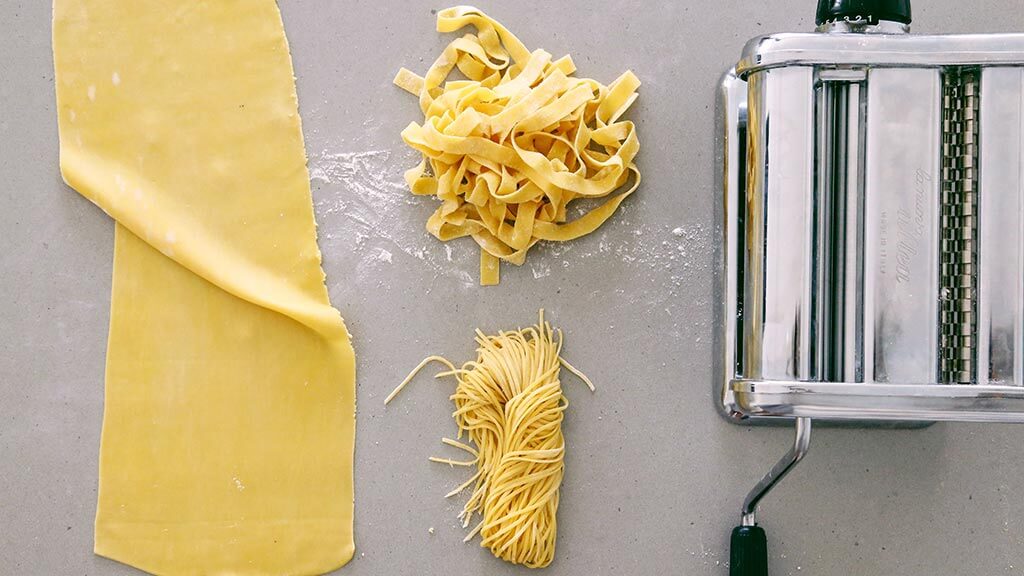 A Censuswide-Deliveroo survey found that 32% of respondents tried making fresh pasta at home this past year, and 53% of those are planning to continue doing so this year.
16. Ghost and cloud kitchens have become mainstream
Ghost kitchens were an up-and-coming business model in 2019, with former Uber CEO Travis Kalanick investing in startup CloudKitchens. But when the pandemic hit, almost every F&B establishment became a ghost kitchen overnight.
Even with more restaurants beginning to open up again, the model is likely to stay with the waves of mutant virus strains throughout the world.