The story of boy-meets-girl can lead to a dream wedding. But before that, the boy will have to scout high and low for a wedding ring to impress his bride-to-be.
That's not an easy task.
It isn't just about getting a ring that fits your budget; you'll also have to consider aspects like the design, authenticity, and quality of the gem. 
Read on because we've lined up tips that can help you decide on the right diamond ring for your partner:
What to Look For When Purchasing Diamonds
Before we talk about the price, there are six factors to consider when picking out a good diamond: Cut, Clarity, Carat, Colour, Shape, and Certificate.
1. Cut: How Much Light Does the Diamond Reflect?
A good cut will increase the gem's beauty (and value). You'll usually see gradings like Excellent (EX), Very Good (VG), Good (G), or Fair (F). At times you'll also find jewellers using simpler grading like Good, Very Good, Ideal, and Aster Ideal. 
2. Clarity: Fewer Blemishes and Inclusions = More Valuable
Blemishes refer to external flaws, while inclusions refer to internal flaws:

3. Carat: The Physical Weight of Diamonds
Naturally, the bigger and heavier they are, the higher the price. One carat is equivalent to 0.2 grams.
4. Colour: Less Tainted = More Valuable
Most diamonds come with varying shades of yellow and brown, so look for one with minimal shades of yellow. The best colour grade starts with D and goes all the way to Z.
5. Shape: Rounder is More Common (And Often More Expensive)
Diamonds come in all shapes and sizes. Round diamonds tend to be the crowd favourite because they're the most brilliant. Fancy cuts like Emerald, Radiant, and Asscher tend to be priced 10 to 43% lower than round ones.
6. Certificate: Quality Assurance
Always look for a diamond that's been certified by a reputable gem laboratory like GIA, Hoge Raad voor Diamant (HRD), or the International Gemmological Institute (IGI). Such certification authenticates the legitimacy of the diamond.
Average Cost of a Diamond in Singapore
To show how the carat, cut, clarity, and colour impact the cost of the diamond, here's a list based on a 0.5-carat diamond (without the ring) to help you understand:
Shape
Carat
Cut
Colour
Clarity
Price

(S$)

Round
0.5
Good
K
SI2
S$835 to S$1,151
Round
0.5
Very Good
K
SI2
S$858 to S$1,417
Round
0.5
Ideal
K
SI2
S$884 to S$1,660
Round
0.5
Very Good
J
SI2
S$959 to S$1,709
Round
0.5
Very Good
I
SI2
S$1,118 to S$2,295
Round
0.5
Very Good
H
SI2
S$1,229 to S$2,086
Round
0.5
Very Good
G
SI2
S$1,266 to S$1,889
Round
0.5
Very Good
G
VVS2
S$1,911 to S$3,076
Round
0.5
Very Good
G
IF
S$2,226 to S$2,790
Source: Blue Nile
As you can see, the difference in colour, clarity, and cut can jack up the price of a diamond of the same shape and carat. That's why similar round diamonds can have vastly different price tags ranging from S$835 to S$2,790.
How to Decide Between Diamonds
If you're shopping for a wedding ring, think about your priorities before picking up a ring. For example:
If the size matters but you have a limited budget, compromising the colour and clarity may be the solution for you
If quality counts, perhaps you can downsize the carat of the diamond
There is no right or wrong; just a matter of preference and priority. 
Don't fret if your budget isn't in the tens of thousands. There are wedding rings in the market going at a few hundred dollars. But if you're looking for a quality 0.5 to 1-carat diamond ring, get ready to spend at least S$2,000.
Diamond Prices in Singapore, Sorted By Cut, Colour, and Clarity
Here are the prices you can expect to pay for a solitaire ring with the most sought-after round diamonds and less pricey Emerald-cut diamonds:
| Carat | Shape | Cut | Colour | Clarity | Price |
| --- | --- | --- | --- | --- | --- |
| 0.5 | Round | Good | K to H | SI1 to SI2 | S$754 to S$1,755 |
| 0.5 | Round | Very Good | G to F | VS2 to VS1 | S$1,625 to S$3,788 |
| 0.5 | Round | Excellent | E to D | VVS2 to IF | S$2,072 to S$5,282 |
| 0.5 | Emerald | Good | K to H | SI1 to SI2 | S$627 to S$1,755 |
| 0.5 | Emerald | Very Good | G to F | VS2 to VS1 | S$1,092 to S$3,788 |
| 0.5 | Emerald | Very Good | E to D | VVS2 to FL | S$1,217 to S$4,822 |
Source: Blue Nile
For 0.5 carat rings, the Emerald-cut diamond rings are about 33% cheaper than round diamond rings while 1-carat ones are as low as half the price even with similar colour, cut, and clarity.
So if you want a ring to impress but lack the budget, consider an atypical shape of diamond. You can still get decent clarity, colour, and cut but at a much lower price than one with round diamonds.
Alternatively, look around for rings with diamonds in other shapes like Radiant, Cushion, and Asscher. These are classic shapes with broad surfaces great for showing the brilliance of the diamond – but priced lower.
Here's a chart to compare the value (in USD) of fancy-cut diamonds with round ones.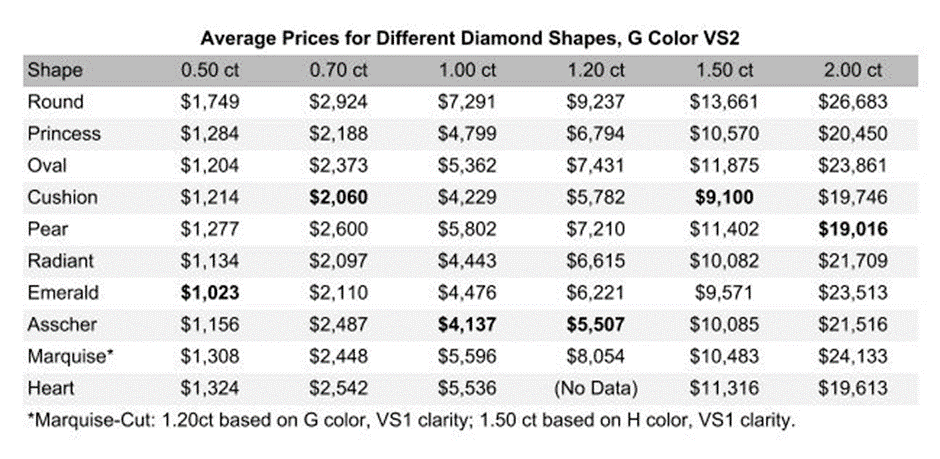 Where To Find a Wedding Ring in Singapore
You are spoilt for choice when it comes to jewellers. Many of them have even gone online, with tools to help you design an ideal ring from the comfort of your own home.
Ready to shop? Here are six jewellers with a wide range of wedding rings. We've listed the starting price of their solitaire rings for reference:
| Retailer | Solitaire Diamond Ring Starting Prices |
| --- | --- |
| Lee Hwa Jewellery | S$1,788 |
| Love & Co. | S$2,798 |
| Goldheart Jewellery | S$824 |
| Blue Nile | S$330 |
| Harry Winston | Not available |
| Tiffany & Co. | S$2,250 |
1. Lee Hwa Jewellery
A household name in Singapore. You can browse their jewellery at multiple boutiques across the island or buy online via their website, Shopee, or Lazada.
Website: https://www.leehwajewellery.com/
2. Love & Co.
Love & Co. has a wide assortment of engagement rings, wedding bands, and diamond bridal jewellery for couples. You can choose to buy from them through Shopee or Lazada, or go to any of their five boutiques in Singapore.
Website: love-and-co.com
3. Goldheart Jewellery
With 16 outlets, Goldheart Jewellery is one of the largest chains of jewellers in Singapore. You can look through the collection on their website, Shopee, or Lazada.
Website: shop.goldheart.com 
4.  Blue Nile
This is a US-based online jeweller that promises to ship Singapore orders for free via courier. Since they don't have to maintain brick-and-mortar shops, the company can keep prices competitive. There's even a lifetime manufacturer warranty for their products.
Website: https://www.bluenile.com/sg/
5. Harry Winston
This is a diamond jewellry specialist with a high-end collection of engagement rings, necklaces, and timepieces. Visit their store at Ion Orchard if you're ready to be enchanted by exquisite gems and masterful craftsmanship.
Website: https://www.harrywinston.com
6. Tiffany & Co.
Tiffany's iconic design features a round brilliant-cut diamond in a six-prong setting that lifts the diamond above the band and into the light, maximising the stone's brilliance. Visit the stores at Ion Orchard, Takashimaya, or Marina Bay Sands to explore their exclusive range.
Website: https://www.tiffany.com/