Keeping enough in reserves for your loved ones is important to help sustain them should things take an unexpected turn for you. Fortunately, you're not in this alone because Singapore offers a Dependants' Protection Scheme (DPS) to serve as a financial cushion for citizens and PRs.
Not sure what the DPS is about? Here are answers to all the questions you may have:
1. What is the Dependants' Protection Scheme (DPS)?
The DPS is a term life insurance policy that, as of 2022, offers $70,000 sum assured* to your dependants in the event of death, terminal illness, or total permanent disability. It was first issued by CPF in 1989, then later privatised in 2005.
* Only for those 59 and below. If you're 60 – 64 years old this year, your sum assured is $55,000.
2. Who is Eligible?
All Singapore Citizens and PRs get automatic DPS coverage upon their first CPF working contribution. If you didn't get the automatic coverage, you can apply to join the DPS via Great Eastern Life.
3. Is the Dependants' Protection Scheme Compulsory?
No, you can opt out via a form from Great Eastern Life. However, consider the termination wisely because the DPS is inexpensive (S$18 annually for those 34 and below) and paid automatically via your CPF. This amount won't make a dent in your retirement savings and is best put into insurance when you're young and in good health.
4. Who Administers the DPS?
Previously administered by NTUC Income, the DPS is now solely administered by Great Eastern Life with effect from 1 April 2021. This also means Great Eastern Life has taken over all obligations of DPS covers issued under NTUC Income.
5. Dependants' Protection Scheme: Premiums and Coverage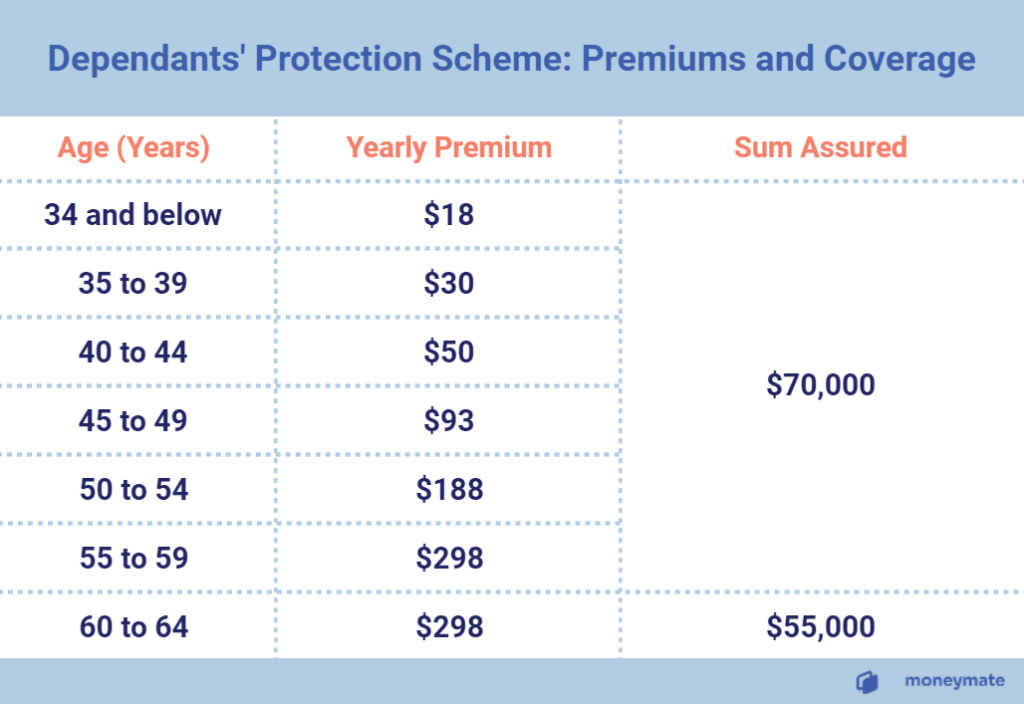 You'll pay premiums using CPF (deducted automatically every year) based on your age, for the maximum sum assured of S$70,000 up to 59 years old. Afterwards, the maximum sum assured is S$55,000 up to the end of the policy when you turn 65.
6. Who Benefits From the DPS?
DPS is valuable for those who have a family and/or ageing parents who depend on them for financial support. If there's an unexpected death or disability and the insured is no longer able to provide monetary support, DPS payouts will help to sustain the family for a while.
How To Claim & Who Is Eligible To Claim?
Your next of kin can make a claim when they provide proof of your death, terminal illness, or total permanent disability. They'll get a lump sum of S$70,000 or S$55,000 depending on your age.
If you've made a DPS nomination, only the beneficiary(s) you've nominated will receive the payout. If you haven't nominated anyone, the benefits will go to the eligible claimant(s) such as your spouse, parent, child, or sibling. 
Make a Nomination with Great Eastern Nomination Form
To nominate someone as a beneficiary, you can download the Great Eastern Nomination Form and then mail the completed form to:
The Great Eastern Life Assurance Company Limited
1 Pickering Street #01-01
Great Eastern Centre
Singapore 048659
7. Can You Supplement the Policy?
In certain cases, $70,000 or $55,000 may not be enough to tide your family over – especially if your dependants don't have an alternative source of income. You can supplement the DPS with enhanced coverage through the GoGreat Term Life plan, which increases your sum assured up to $500,000 until you're 65. 
Is It Worthwhile?
It depends on your current liabilities and the cash you have to spare. The GoGreat is payable via AXS, bank transfer, PayNow, or credit card. You can't use your CPF for it, so be prepared to pay up to $357.15 in premiums per year for the maximum sum assured.
That's one of the lowest premiums on the market, so it could be worthwhile if your family is heavily reliant on your income.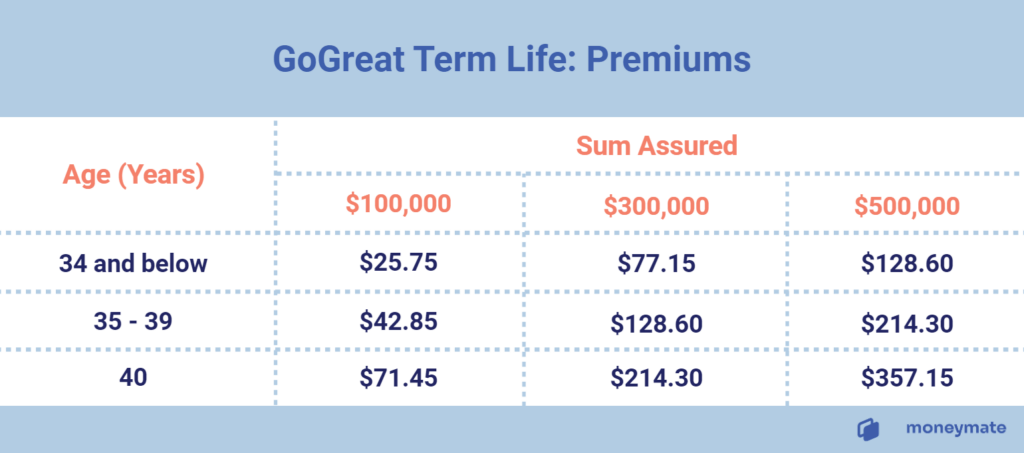 That said, you still have to consider that the GoGreat is a term life insurance plan – meaning you can't cash it out or surrender the policy early to recoup some of your costs. You'll have to get a whole life insurance plan if you want that option, but those typically cost more as they also function as a savings and investment plan.
Here are a few factors to consider as you decide whether to supplement the DPS: 
The living expenses your family will need to sustain themselves over the next few years
Any large expenses they'll need help with, such as academic expenses for the kids, outstanding loans, and credit card debt
The maximum in premiums you can feasibly put in every year, after accounting for your own savings and living expenses
8. What Most People Don't Know About the DPS
DPS Nomination and CPF Nomination Are Not the Same
DPS payouts are not distributed according to your CPF nomination. Even if you want to appoint the same beneficiaries, you'll still have to make separate nominations for DPS and CPF.
Increased DPS Coverage With Effect From April 2021
Since April 2021, the DPS coverage has increased from S$46,000 to S$70,000 for those up to 59 years old. Those between 60 and 64 will also get an increased coverage of S$55,000.
What if There Is Not Enough CPF To Pay for DPS Premiums
DPS premiums are automatically deducted from your CPF Ordinary Account. If there are insufficient funds, the premiums will come out of the Special Account instead. If CPF savings are not an option at all, you can also make a cash top-up directly to the DPS insurer, Great Eastern Life.
What Are the Claim Exclusions for DPS?
Beneficiaries won't get DPS payouts if the claim is caused by suicide, a criminal offence punishable by death, or an intentional criminal act. DPS claims also won't be approved if the insured was already in poor health before the start of the coverage, provided false information, or the claim arose from wars or any warlike operations or participation in a riot.