Singapore is one of Asia's most desirable destinations for expats, and with good reason. The country is known for its strong economy, low crime rate, excellent education, and quality healthcare.
Before packing your bags though, consider the cost of living in one of the most expensive countries in the world. It's crucial to plan for your day-to-day expenses and find out how to save while working or studying in Singapore.
Read also: High Paying Jobs for Students in Singapore
The cost of living in Singapore can be as expensive as it is affordable. For example:
You can fork out hundreds at a fancy restaurant or spend less than $10 for all three meals and still have some spare cash for local desserts
You can pay a premium for a fancy condo or immerse yourself in the friendly, inexpensive culture of local HDB communities
You can shell out thousands for a private driver or make use of Singapore's cheap and efficient public transport system
We'll break down the various costs to expect and how you can save along the way.
Monthly Cost of Living in Singapore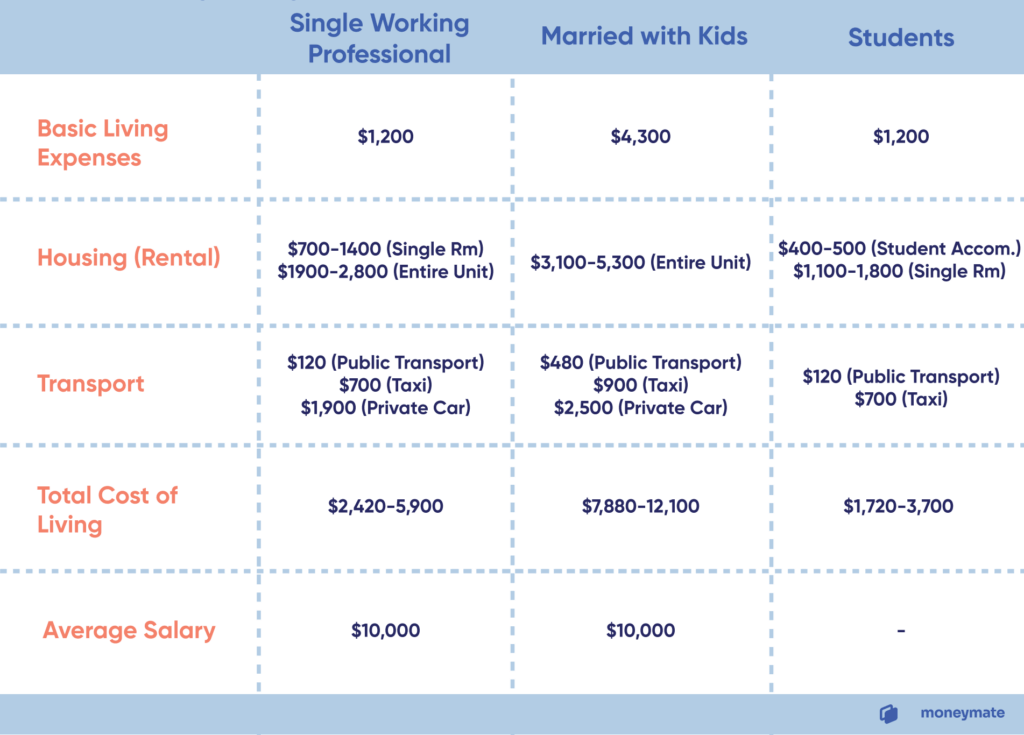 According to ECA International, the average expat salary for a middle manager working in Singapore was SG$119,927 last year. This works out to a little under $10,000 per month. 
Some companies provide housing, transport, and various other benefits on top of the salary. All in, the average pay package for a mid-level expatriate here last year was S$305,400.
With this in mind, we'll take you through how to save by being careful with your everyday expenses. In Singapore, your accommodation can quickly eat up over 30% of your monthly salary if you're looking to live under a swanky roof in the middle of town. But renting away from the city can save you quite a bit.
Housing
Singapore might be tiny, but where you live can greatly impact your lifestyle, wallet, and sanity as you commute to work and school each morning.
Single Expats
If you're single and looking to rent just a room, expect to pay anywhere from $700 to $1,400 each month.
At the lower end, you're looking at HDB flats (public housing). These are what 80% of Singaporeans live in and can be an inexpensive yet excellent choice for expats. Look for a place that's well-kept, furnished with an air-conditioner, and allows light cooking at minimum.
At the higher end, you're looking at a single bedroom in a condo. Condos generally afford you access to amenities such as a swimming pool and gym, which may save you some money if you're planning on getting a gym membership.
If you don't like to share, be prepared to pay about $1,900 to $2,800 for a studio apartment or one-bedroom HDB or condo.
Married with Kids
Those housing their entire families in Singapore will need a bigger apartment with at least 2-3 bedrooms. This will cost between $3,100 – $5,300 depending on the location.
If you're looking to cut costs, opt for a 4 to 5-room HDB flat that's farther away from the city. (Despite the name, both 4 and 5-room flats usually have 3 bedrooms.)
Students
Most tertiary institutions have student accommodations, which are affordably priced from $400 per month for a fully furnished co-sharing room. Your best bet to save money would be to live in your school accommodation as a student.
But if you'd prefer a bigger space, you can always find a roommate and share a place off campus. A shared room in an apartment outside campus can set you back $1,100 to $1,800. If you rent an entire 1-bedroom unit to yourself, you'll have to fork out at least $1,900.
If you're renting, keep the furniture, floors, and appliances in good shape. The last thing you want is to lose your deposit paying for broken items.
Basic Living Expenditure
Your basic living expenses include groceries, toiletries, mobile data, gym, restaurants and other essential day-to-day spending. Again, this varies depending on your lifestyle.
Single Expats
Singles can expect to spend $1,200 a month on necessities.
You can keep your costs down by being flexible about your dining options. On one end of the scale, a simple meal at a local hawker centre can cost as little as $3 to $4 — compared to eating at a casual restaurant for about $20 per meal.
Unless you're cooking in bulk, hawker food can also be cheaper and more time-saving than cooking for one! Swap your afternoon $7 Starbucks coffee for the local kopi at $1.
Alcohol in Singapore is expensive. A pint of beer at a bar in the city centre goes for about $10 to $15, so now would be a good time to taper out your habits or keep indulgences for the weekends.
Basic gym facilities cost $100 onwards. If you don't like to exercise outdoors, this is one expenditure you may want to invest in.
Married with Kids
Singapore imports most of its food products, so be prepared to pay more for milk, non-tropical fruits, and European products like cheese.
Expats with families can budget $4,300 for living expenses. When grocery shopping, go where the locals shop — like NTUC FairPrice or Cold Storage supermarkets.
If you're brave enough, explore the neighbourhood wet markets for the freshest food! Try to avoid gourmet expat supermarkets like The Marketplace, which tend to inflate the prices of everyday goods. Save the expat supermarkets for your once-in-awhile indulgences, like when you truly miss a certain special export ingredient from your home country.
Students
Students can expect to spend about $700 monthly on daily living. The good news about living on campus (if you do) is that there are plenty of affordable food stalls, supermarkets, and even free Wi-Fi. Every campus also has its own gym and pool. You can budget $10-20 a month for a basic SIM-only plan.
When shopping, buy your staples in bulk for a bigger discount and share them with your roommates. If you are a movie buff, head to the cinema on weeknights when tickets are $9 instead of the $13 on weekends.
As a student in Singapore, there are plenty of ways to have fun on a budget. You can enjoy cheaper activities like picnics, cycling, hiking, or Netflix. Hang out at your friends' places and BYOB.
Transport
Single Expats
Singapore has one of the best transport and most affordable infrastructures in the world. For $120, you can get monthly access to buses and trains for your daily commute to work.
You're more likely to rely on a combination of public transport and taxi or private-hire (Gojek and Grab) rides. Public transport does not run long past midnight. If you occasionally take a $15 Grab ride twice a week, you'll need to factor in an additional $120.
While one or two taxi rides a week is affordable, a taxi-reliant daily lifestyle can easily cost $700 or more.
Married with Kids
Public transport will only set you back $480 a month for the whole family.
Unless you have a ton of disposable income, buying a car in Singapore will put a dent in your budget. Apart from the COE price tag (easily more than $30,000), cars will set you back an extra $2,500 a month. If you rely on driving around, try asking for a bigger transport allowance from work.
Renting an apartment in the heartlands but near public transportation will also save you a lot in the long run.
Read also: Cost of Car Ownership [Singapore vs The Rest of the World]
Students
Living at student accommodations means that you'll save on the daily commute to campus. Buses and trains are also affordable at $120 per month. If you want to take the occasional GoJek or Grab, consider ride-sharing with friends to the nearest train station and hop on the public transport from thereon.
Other Ways to Save
1. Shop online
Double-check an item online before you buy something. The chances are that it's cheaper online, especially for high-end brands and touristy areas like Orchard Road. You may be able to get your brands cheaper back home or even from an online store.
2. Open two bank accounts
It's better to choose two banks when you arrive: one international and one local. Don't just choose a bank that you have in your home country. Terms, fees, and conditions may vary depending on the country of origin.
One account should be with an international bank where you can send and receive money from home. This is cheaper than a non-bank remittance service and the exchange rate may work in your favour.
Read also: Wise Singapore Multi-Currency Account: An In-depth Review
The second account you open should be with a local bank. This is where you would deposit your salary and have access to withdrawals and deposits at the local branch and ATMs.
3. Buy health insurance with a rider
If your company doesn't provide health insurance, you only need to buy insurance for what you can't afford to pay out of pocket in the event of an emergency. 
Fortunately, healthcare costs for acute illnesses are affordable. A visit to the doctor typically runs about $40 for consultations and another $30 for medication. That means you'll likely only need hospital and surgery insurance in case of an emergency.
Even though living in one of the most expensive cities sounds intimidating, it is possible to budget and save. There's a lot to be gained — not just in terms of savings — when you immerse yourself in Singapore culture and live like a local.