Regardless of whether you're in secondary school, polytechnic, university, or a parent picking out a laptop for your child, a good student laptop can really make a difference. With the huge range of laptops nowadays, picking the most suitable one can be a daunting task.
Where should you start looking? Today we've put together a list of laptops currently in the market that are perfect for student life.
We'll consider aspects like:
Performance
Battery life
Display / graphics card
Weight
Price (and price-to-performance ratio)
Here are our top 10 'best of' laptop recommendations.
1. Best Value for Money: Acer Swift 3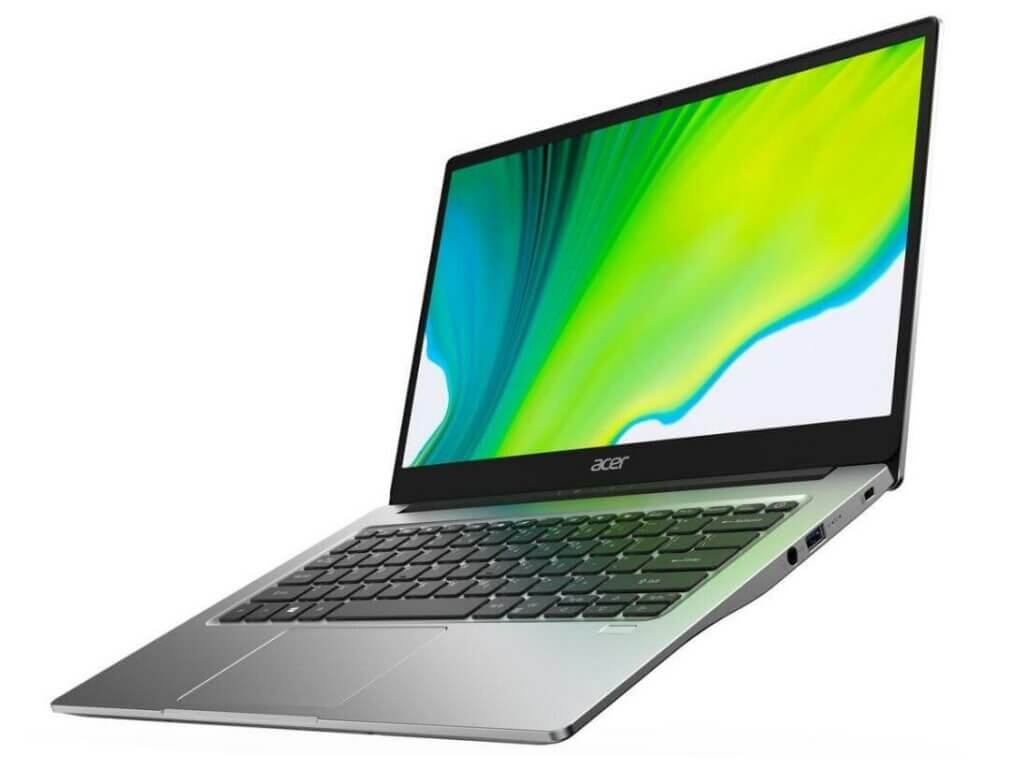 Specifications
CPU: AMD Ryzen 7 4700U/11th-generation Intel Core i5 – i7
GPU: AMD Radeon Graphics/Intel Iris Plus Graphics
RAM: up to 16GB LPDDR4X
Storage: 128GB – 512GB SSD NVMe
Display Size: 14-inch, Full HD (1920 x 1080)
Dimensions: 32 x 21.59 x 1.5cm
Weight: 1.2 Kg
Price Range
S$1,200 – S$1,400
Pros
Lightweight and portable
Excellent price-to-performance ratio
Built-in mic and webcam suitable for Zoom teleconferencing
Even has a fingerprint scanner
Great for multitasking with long battery life
Cons
Not recommended for gaming
Speaker sound quality is thin and downward-facing
Display is slightly dim and dull
Introducing to you the Acer Swift 3, a popular choice of an Ultrabook among students of all ages. This laptop checks off many boxes in terms of features, performance, and what it can offer an average user.
It's affordable without too many compromises, is light enough to be carried around on campus all day, and is sleek and thin without feeling flimsy. Coupled with its 17-hour battery life and great multitasking abilities, this laptop is the best bang for your buck for the budget-conscious.
It has a springy keyboard that is comfortable to type on and a built-in fingerprint reader for quick login. Of course, at its price, it's not the most powerful laptop in the world and may not be able to handle games. However, if you're looking for an affordable and dependable student laptop, this one is hard to beat.
2. Best All-Rounder: LG Gram 14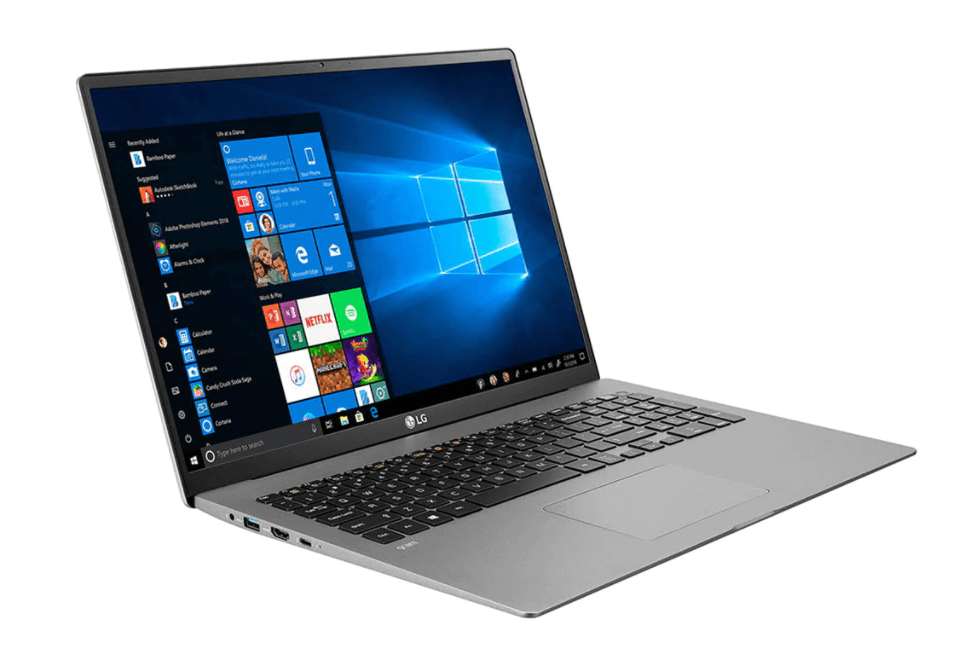 Specifications
CPU: Intel Core i7-1065G7
GPU: Intel Iris Plus Graphics
RAM: 16GB DDR4
Storage: 512GB SSD NVMe
Display Size: 14-inch, Full HD (1920 x 1080)
Dimensions: 32.3 x 20.9 x 1.68 cm
Weight: 0.99 Kg
Price Range
S$1,500 – S$1,900
Pros
Long battery life
Lots of expansion ports, lightweight and portable
Removable memory and SSD
Has IP68 rating
Cons
Average performance
Strongly reflective display (glossy)
On the pricier spectrum of laptops
The LG Gram laptop is known for providing a large variety of hardware while maintaining a low overall weight. There is only one memory slot within the laptop: this is taken up by 8GB of memory that is soldered and not upgradable.
Its glossy reflective screen is not ideal in brightly lit environments, but this factor is overshadowed by other components of the laptop. It has a backlit keyboard to facilitate a good typing experience on top of its touch-typing feature.
Despite its slim body, you get excellent connectivity with this laptop — convenient for students especially when conducting presentations where schools usually require VGA or HDMI connection to projectors.
3. Best for Design/Media Students: MacBook Pro 13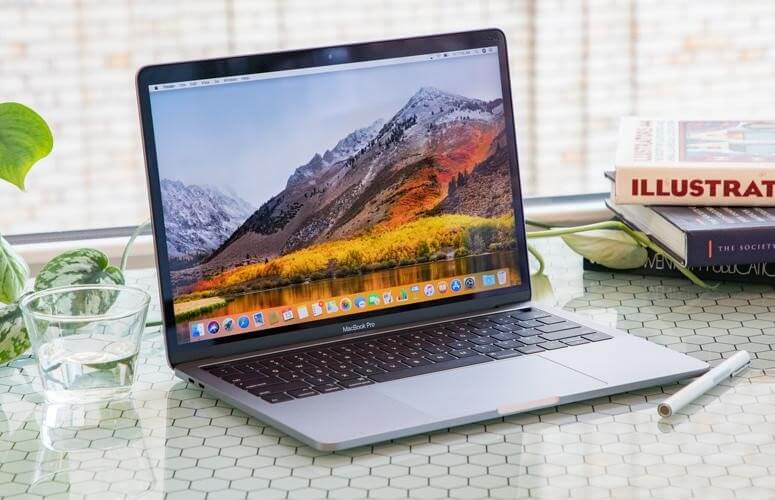 Specifications
CPU: Apple M1 chip with 8-core CPU
GPU: Integrated 8-core GPU
RAM: 8GB – 16GB unified memory
Storage: 256GB – 2TB SSD
Display Size: 13.3-inch LED-backlit Retina display (2560 x 1600)
Dimensions: 30.41 x 21.24 x 1.56 cm
Weight: 1.4 Kg
Price Range
S$1,850 – S$2,000
Pros
Great overall performance and responsiveness
Long battery life
Fast SSD
High quality webcam
Cons
Lack of connectivity ports (only 2x USB-C)
Relies on integrated graphics, so it's not as great for super intensive graphical tasks
A great upgrade from the MacBook Air, the MacBook Pro 13 comes with a newly improved M1 chip that makes this laptop even more powerful. This makes it the perfect option for those doing lots of video editing, 3D rendering, or other graphic design functions. Additionally, this version of the MacBook has the best battery life throughout the series while retaining its thin and lightweight design.
A plus point is that users can now run their favourite iOS games and apps on this MacBook. Surely not the cheapest option for students in the market, but for those who have a slightly bigger budget or going into the design field, this is a student laptop that we will recommend. It can keep up with all your graphic design requirements while maintaining high performance, productivity, and quality output.
4. Best Chromebook: Lenovo ThinkPad C13 Yoga Chromebook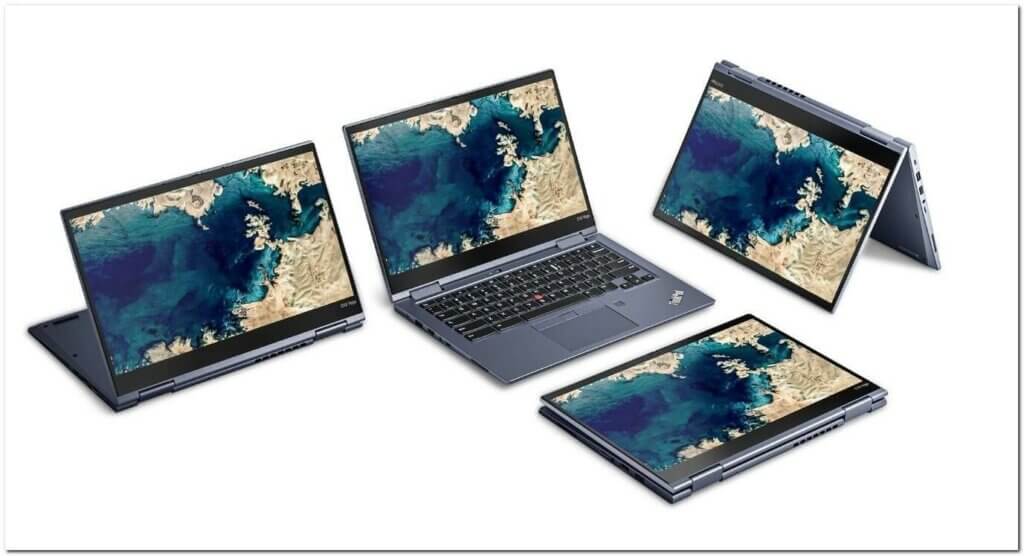 Specifications
CPU: AMD Athlon Gold 3150C/AMD Ryzen 7 3700C
GPU: Integrated AMD Radeon Graphics
RAM: 4GB – 8GB
Storage: 32GB eMMC – 256GB SSD
Display Size: 13.3-inch FHD IPS (1920 x 1080)
Dimensions: 30.76 x 21.21 x 1.55cm
Weight: 1.50 Kg
Price Range
S$1,200 – S$1,500
Pros
Multiple connectivity ports
Above average screen and keyboard
Comes with a stylus
Powerful processor
Cons
Stylus lags a little
Not the best sound quality
Less than 10 hours of battery life
This is one of the most powerful Chromebooks that you can find on the market this year. With its strong processor and sturdy build, you're looking at a Chromebook that will last you through the next four years at least. This Chromebook also serves as a 2-in-1 device, which gives users the flexibility that many other Chromebooks lack. It even has an HDMI video output so students won't have to worry about carrying around a dongle to plug into an external monitor.
The Chromebook comes with an external Lenovo pen. If you're using it to perform sketches or rapid scribbles, you may experience a slight delay as the pen tries to keep up. Overall though, this is still one of the best student Chromebooks in the market this year.
5. Best for Gaming: Lenovo Legion 5 15-inch AMD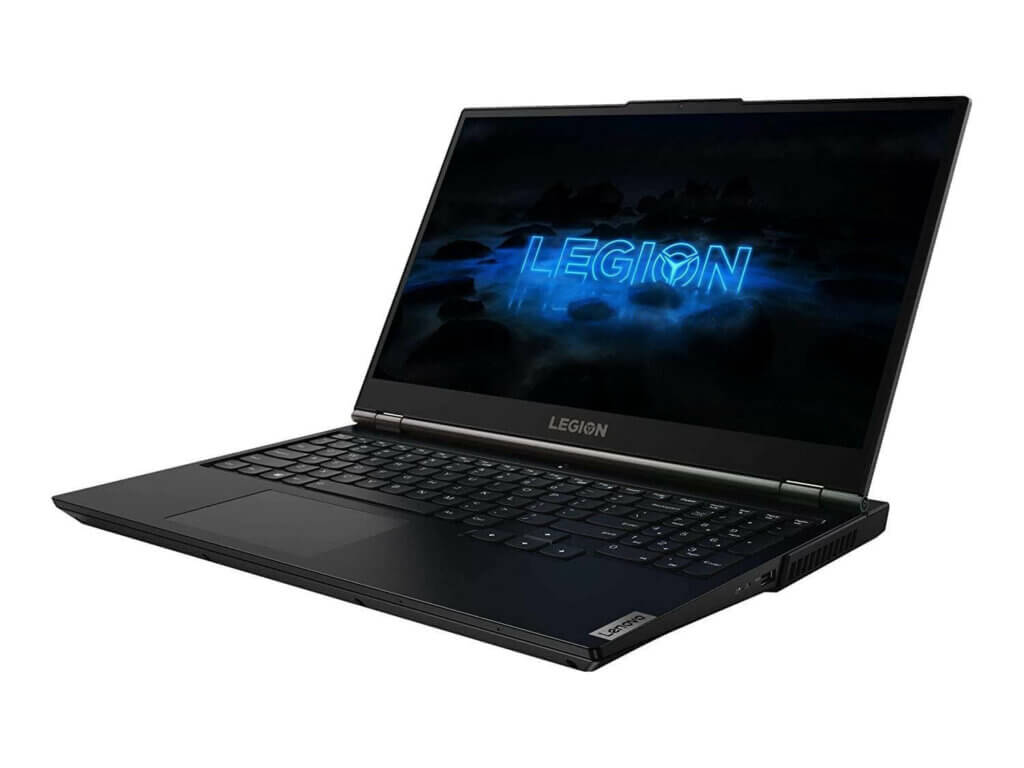 Specifications
CPU: AMD Ryzen 7 4800H, 8C/16T
GPU: Radeon Vega + Nvidia GeForce GTX 1650Ti 4 GB GDDR6
RAM: 16 GB DDR4 3200 MHz (2x DIMMs)
Storage: Up to 1TB PCIe SSD, or up to 1TB 2.5" 7200RPM HDD
Display Size: 15.6-inch FHD (1920 x 1080)
Dimensions: 36.3 x 26 x 2.61cm
Weight: 2.5 Kg
Price Range
S$1,079 – S$2,400
Pros
Powerful and quiet cooling fans
Long battery life and great speakers
Great performance and the CPU can withstand heavy loads
Provides users with various configuration and upgrade options
Cons
No card reader or USB-C charging
Slightly on the heavier and thicker side
Upgrade options make the overall cost much more expensive
Lenovo offers a large number of upgrades for this laptop's internal hardware. Still, this promising laptop is one of the more affordable gaming laptop options for students while not sacrificing the productivity factor. A downside is that it stands on the thicker and heavier side of most laptops and may not be the most portable option around campus.
Its cover boasts an understated, business-ready look without the flashy lights common to most gaming laptops. With the added bonus of a comfortable keyboard and excellent sound quality, this laptop can meet all of a student's needs from watching movies and creating spreadsheets to video editing.  In short, this is the epitome of a cheap gaming laptop and is difficult to beat!
6. Best Mac for Students: MacBook Air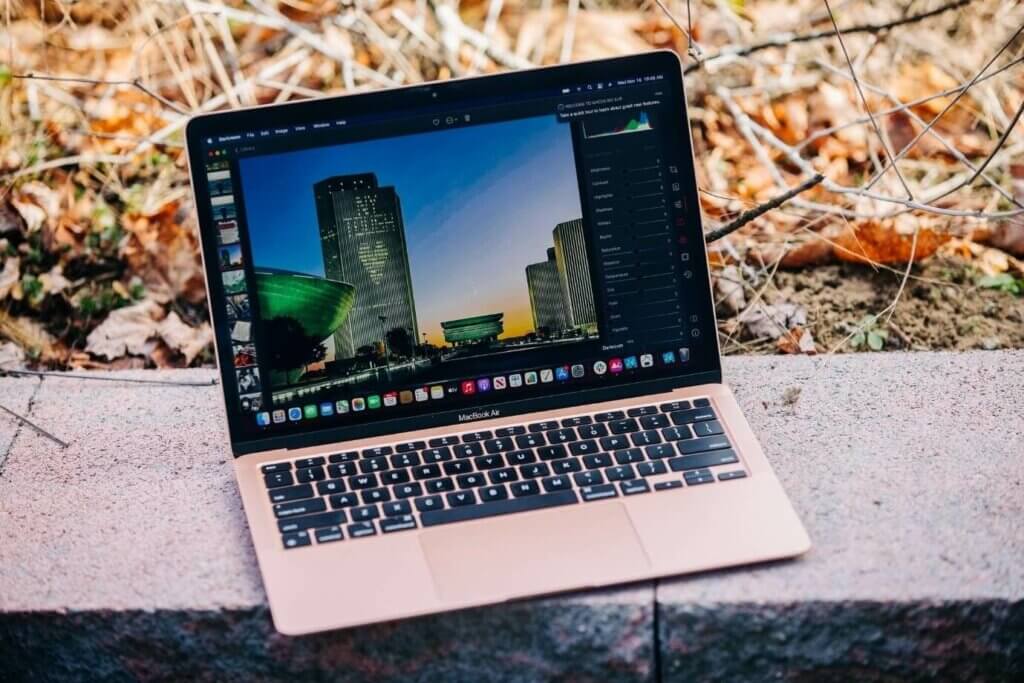 Specifications
CPU: Apple M1 chip with 8-core CPU
GPU: Integrated 7-core – 8-core GPU
RAM: 8GB – 16GB unified memory
Storage: 256GB – 2TB SSD
Display Size: 13.3-inch Retina display (2560 x 1600)
Dimensions: 30.41 x 21.24 x 1.61cm
Weight: 1.29 Kg
Price Range
S$1,449 – S$1,799
Pros
Fast and responsive
Long-lasting battery life
Silent when using
Great speakers
Cons
No cooling fans, which can impact performance for intensive tasks
Few connectivity ports
If you're not a fan of the Windows OS or prefer the minimalist design of the macOS, then the Apple MacBook Air is a great option. It delivers brilliant performance and an excellent 14 hours of battery life, making it one of the fastest ultrathin laptops in the market.
Compared to the MacBook Pro, the Air version is cheaper in general. If you do not require the graphic components that designers need in their work, then the MacBook Air is the best choice for you. This version of the MacBook can also run iOS apps so users can now access a larger library of apps compared to previous versions. It also supports basic photo or video editing, making it the most cost-effective choice for students on a budget.
7. Best Surface Pro Alternative: Lenovo ThinkPad X12 Detachable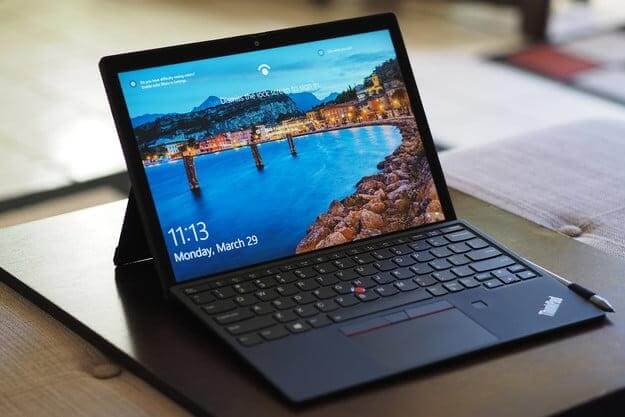 Specifications
CPU: Intel Core i5-1130G7
GPU: Intel Iris Xe
RAM: 16GB
Storage: 512GB – 1TB NVMe SSD
Display Size: 12.3-inch (1920 x 1280)
Dimensions: 28.3 x 20.35 x 1.45cm with keyboard
Weight: 1.1 Kg
Price Range
S$1,700 – S$2,400
Pros
Comes with a detachable keyboard and stylus
Great processor and battery life for its size
Lightweight and portable
Cons
Limited upgradability
Limited connectivity ports given its size (No USB Type-A)
Speaker quality can be greatly improved
Looking for an enhanced version of the Surface Pro? With the Lenovo ThinkPad X12 Detachable, you have it! You've still got the highly portable detachable screen and kickstand but with better performance and business functionalities. This hybrid laptop is fairly affordable — just note that without a GPU, it can't support major graphic work or gaming needs.
On the brighter side, its detachable keyboard also has a backlight and offers a comfortable typing experience. The keys aren't too cramped or flat compared with most folio keyboards. The screen is also plenty bright at 400 nits and is coated with Corning Gorilla Glass to help thwart scratches and smudges when using the stylus.
8. Best 2-in-1 Laptop: HP Envy x360 13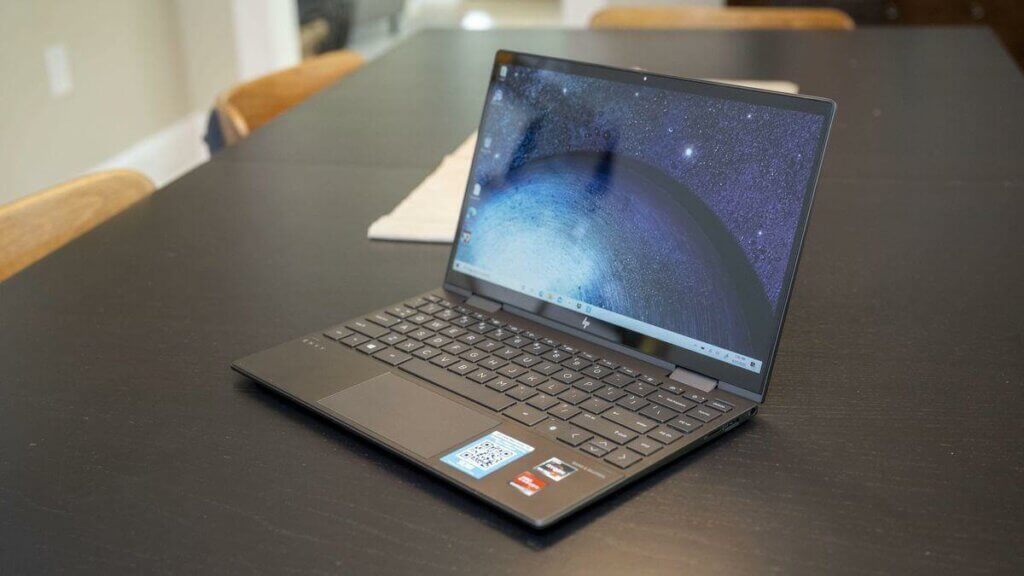 Specifications
CPU: Intel Core i5 or AMD Ryzen 5 4500U
GPU: AMD Radeon Graphics
RAM: 8GB – 16GB DDR4-3200 SDRAM
Storage: 256GB – 1TB PCIe NVMe SSD
Display Size: 13.3-inch, 1080p
Dimensions: 30.67 x 21.46 x 1.49cm
Weight: 1.3 Kg
Price Range
S$1,500 – S$2,000
Pros
Long battery life
Compact and durable build
Allows for strong gaming performance with the integrated graphics
Cons
No infrared camera
No Thunderbolt 3 or HDMI ports
Existence of some bloatware
This laptop has an 88% screen-to-body ratio with slim display bezels, giving the laptop a sleek design. Its aluminum chassis also gives it a premium look and feel. Although there is no infrared camera built into this laptop, it has a quick and reliable fingerprint sensor on the bottom row of the keyboard to compensate. While it lacks Thunderbolt 3 and HDMI ports, this laptop has a decent assortment of ports.
The HP Envy x360 also has a glossy screen that catches reflections when working under bright conditions, so keep that in mind if you like to work outside. This laptop's GPU can also handle some gaming for students who want to enjoy the best of both worlds. However, it's not as well-optimised for video editing on Adobe Premier Pro.
9. Best 13-inch All-Rounder: Microsoft Surface Laptop Go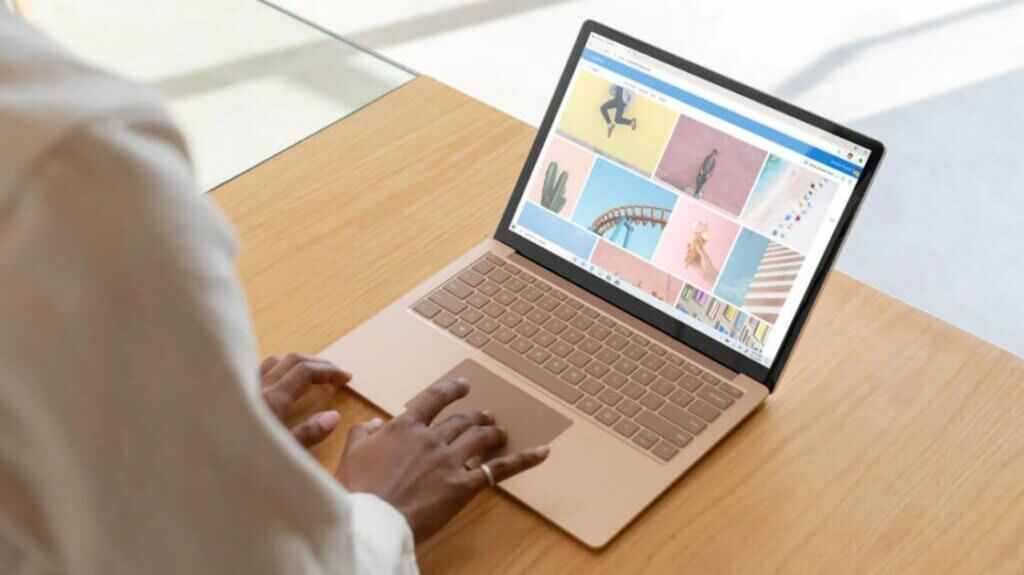 Specifications
CPU: 1GHz quad-core Intel Core i5 (3.6GHz Turbo)
GPU:  Intel UHD Graphics
RAM: 4GB – 8GB
Storage: 64 eMMC – 256GB SSD 
Display Size: 12.4-inch diagonally (1536 x 1024), 3:2 PixelSense™ Display, 10-point multi-touch 
Dimensions: 27.8 x 20.6 x 1.57cm
Weight: 1.11 Kg
Price Range
S$1,200 – S$1,700
Pros
Slim, light, and portable
Signature surface design and quality
Great performance
Long battery life
Cons
No keyboard backlighting
Expensive compared with other student-friendly budget laptops
Base is made of plastic
Microsoft has a huge range of Surface laptops and tablet combo devices that makes it difficult to distinguish which is the best choice for you. With the Surface Laptop Go being its cheapest Surface Laptop available, it is one of the most popular go-to choices for student laptops. Its 13-hour battery life coupled with a high-performance processor allows the user to enjoy high-speed web surfing and productivity when performing basic functions.
Despite the solid performance and great features, the Surface Laptop Go runs hot at times and does not have backlit keys, making it unsuitable for working in darker environments. Moreover, at its price point, it does not have the full 1080p HD screen. You'll also need to get the higher-specced option for it to be halfway usable — 64GB storage is hardly sufficient for a student, for example — which can make it pricier relative to the laptop market for students. 
10. Best 15-inch All-Rounder: ASUS VivoBook S15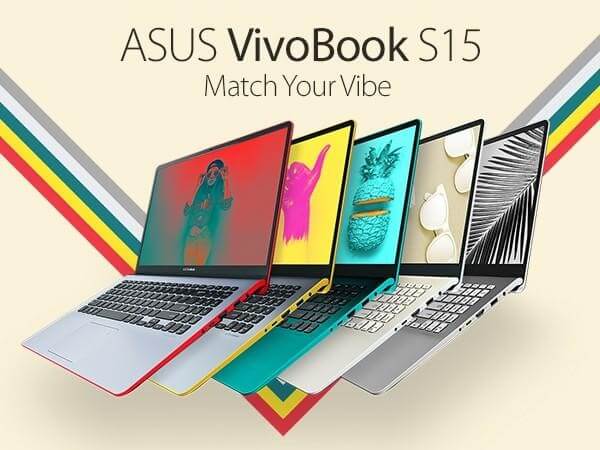 Specifications
CPU: Intel Core Intel Core i5-8250U (4 cores, 1.6GHz base frequency)
GPU: NVIDIA GeForce MX150 (2GB GDDR5)
RAM: 8GB – 16GB DDR4
Storage: 256GB – 512GB NVMe PCIe SSD
Display Size: 15.6-inch FHD IPS LCD (1920 x 1080)
Dimensions: 36 x 23.4 x 1.61cm
Weight: 1.8 Kg
Price Range
S$1,000 – S$1,500
Pros
Powerful processor
Good connectivity (WiFi 6) with adequate number of ports
Lightweight compared with other 15-inch laptop models
Has high contrast and allows for comfortable viewing angles
Cons
Average battery life compared with the 13-inch models listed above
Can only handle casual gaming
Configured for everyday productivity and entertainment, the VivoBook S15 is a fine choice for students and casual users alike. With its thin bezels, multiple colour options, and unique hinge design that keeps it running cool and quiet, this laptop is great for work-from-home arrangements and school stuff like word processing and simple graphics tasks.
While many other laptops sacrifice sound quality for additional features, the VivoBook S15 does not. Its bottom-mounted speakers are loud enough to fill a small room and does not deviate much from the norm. Plus, students won't need to break the bank to afford this quality portable machine.
The downside is the average battery life of about 6-7 hours. However, this is outweighed by all of the other plus points that this laptop hosts, such as its ergonomic design optimised for typing, its sturdy casing, backlit keyboard, decent sound quality, and much more. Overall, this is a good buy for students looking for an all-encompassing 15-inch laptop.
What's the Best Student Laptop for You? 
When purchasing a laptop, here are the factors you should consider:
Course/Degree needs – For high school students, average specifications that can handle basic Microsoft programs and web browsing are good enough. Students in more specialised courses such as engineering, design, media, and IT may need a better processor, graphics card, RAM, and storage.
Convenience and portability – This comes down to personal preference. Do you prefer to have a smaller 13-inch laptop that is lighter and can easily fit inside your bag? Or do you prefer a larger 15-inch laptop that is heavier but has a bigger screen? The latter may be difficult to carry around, so there's also the option of detachable laptops.
Storage – 256GB SSD is generally adequate for students unless your course is very media-intensive. Even so, cloud storage is becoming the norm and files can be stored online.
Operating system – Most laptops are built with Windows, where software programs are highly accessible. Otherwise, there is macOS and Chrome OS, but these may limit your software options.
Battery life – As a student, you want your laptop to last at least 6-8 hours a day on a full charge. This way, you won't have to worry about forgetting your charger or having to look for a place to charge throughout your day in school.
Comfort – Most of your time will be spent on the keyboard and trackpad, so you'll want to ensure that they are comfortable to use while taking notes, creating presentations, or performing other tasks. It would be great to test them out and see if you like them before confirming your purchase.
Price – Your laptop is an investment that you'll be using throughout your student years, so it would be best to find a middle ground where you can satisfy your needs while keeping within your budget. The cheapest may not last you till graduation and the most expensive does not guarantee quality.
There are tons of affordable laptop options in the market nowadays, so take the time to look through and do some research to find one that best suits your needs. Do not sacrifice specs over your budget as you won't want to suffer from poor performance throughout your time in school!