"There's no place like home."
Still, if your home is beset with deeply embedded societal problems, it may be time to consider shifting your base of operations.
Maybe you want to escape the long working hours and high cost of living at home. Or maybe you simply want to broaden your experiences and get a change of pace.
Southeast Asia has traditionally been an exotic destination for tourists, but it's also an exciting, fast-growing region with plenty of career-making opportunities.
We'll focus on the best cities in Southeast Asia that give you access to creature comforts at a lower cost of living. These are recommendations for those looking to live somewhere long-term, if not permanently.
This article will do a deep dive into:
What the working culture is like, along with up-and-coming industries in the country
The city's openness to foreigners/expatriates
Its suitability for raising a family (education, level of crime, etc.)
Cost of living
Other aspects like traffic, how good the public transport is, level of service, affordability of cars, weather, and level of English
Without further ado…
5 Best Southeast Asian Cities to Live and Work In
1. Hanoi, Vietnam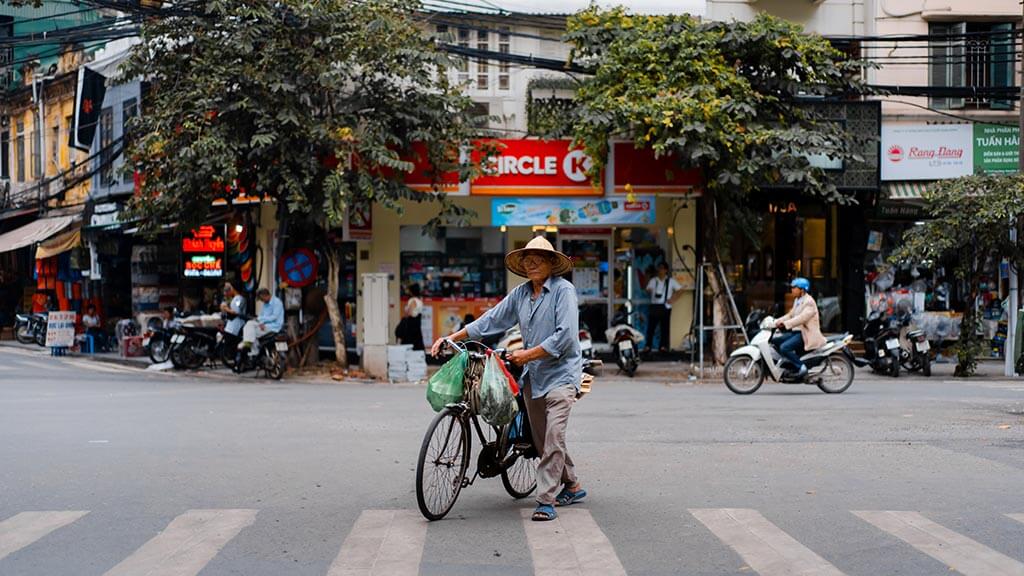 With its historically rich cultural scene, the capital city of Hanoi carries a certain colonial charm. It's primarily an industrial and agricultural centre, so it's a refreshing change from the mall-heavy urban environments of Bangkok or Singapore.
Hanoi has been undergoing a radical transformation in the past few years and it (and Vietnam in general) is poised for hyper-growth in the region. It aspires to be a green modern city while retaining its historical heritage and plans to adopt 5G by 2022.
Working Culture and Career Opportunities
Compared to the driven working culture of Singapore or Hong Kong, Vietnamese working culture is more laidback and conservative. Seniority and status are big things here. With the culture's emphasis on face, public confrontations are uncommon and even discouraged.
Expect most of your co-workers to be local. Most employers are required to prioritise Vietnamese job applicants, and companies have to submit a formal written request to the state if they want to hire expats.
Still, the capital city is receptive to hiring foreigners, and they'll often do so to fast-track growth or entry into a specific market. In fact, many top-level jobs are reserved exclusively for foreigners, who are paid considerably more than locals.
Most jobs are in the mineral and metallurgy, textile, pharmacy, and banking industries. You'll find global banks, investment firms, foreign retailers, and international brands all based in the capital city of Hanoi. There are also lots of startup incubators and accelerators here for those interested in a more dynamic work environment.
Openness to Foreigners
Hanoi has a large expat community with several enclaves where they tend to live and hang out, such as the Tay Ho district. You'll find expats living all throughout the city, however.
There are more people who speak English well in the touristy areas, but many in Hanoi speak at least a little English.
Weather
Hanoi has a subtropical climate. That means while you'll have warm temperatures for most of the year, it gets cold and rainy in the winter. Expect cold-weather temperatures around 15 degrees Celsius, with the occasional dip below 10 degrees.
Family-Friendliness and Cost of Living
Hanoi is a generally safe place, and serious crimes against tourists and foreigners are rare. Still, it's best to exercise some caution and avoid darker lanes after around 10pm.
As a single, it'll cost you a mere USD550-650 a month for a no-frills lifestyle covering rent and food. A little over US$3,000 will buy you high-end luxury — a fancy home with a view, 5-star restaurants, cruises, and sightseeing.
If you're thinking about having kids, plan to send them to private or international schools. This will cost another $3,000 to $15,000 per year. Hanoi public schools are decent, but expatriate parents typically prefer international schools so their children can be taught in their home language and in their country's curriculum.
USD220,000 to 310,000 will buy you a decent condo in a good location in the city centre.
Transportation
Most people in Hanoi have motorbikes. Cars are heavily taxed: the taxes and additional fees can inflate the original price of a car by two or three times. (A Toyota sedan can cost around USD60,500.)
Expect to take a motorcycle or car everywhere as it's dangerous to be a pedestrian in Hanoi. The Vietnamese often don't obey traffic lights or signs, although ironically children learn about traffic laws from a young age.
Traffic jams are common, and you'll have to get used to the street dust and loud whistles when the city is awake.
You can also take public transport. Buses are the main mode of transportation for locals.
2. Kaohsiung, Taiwan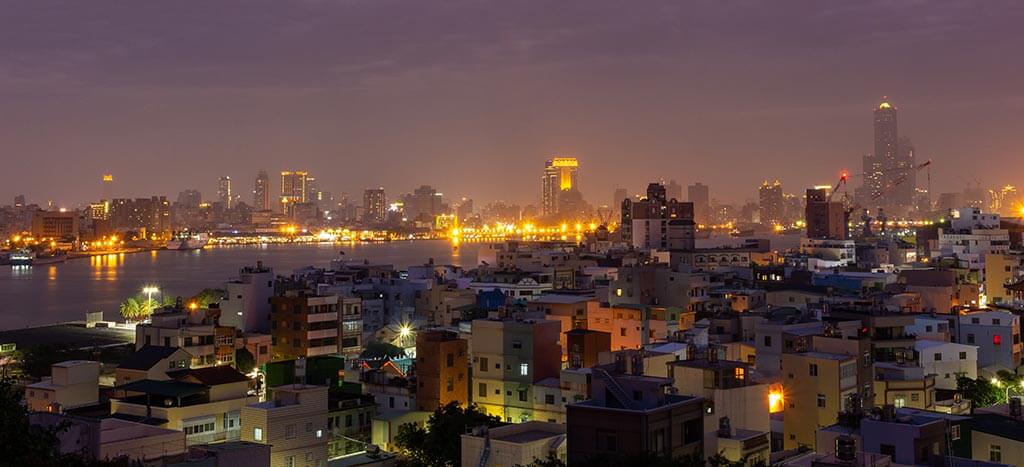 As the third-largest city in Taiwan, Kaohsiung enjoys a combination of urban life and easy access to large parks, rivers, and oceans. Its status as an international port has made it the political and economic centre of southern Taiwan, and you'll find many key industries here.
We like Kaohsiung because it has much cheaper prices and fresher air than Hong Kong, better infrastructure than the likes of Hanoi, and is only a short hop from Okinawa or the Philippines for weekends away.
Working Culture and Career Opportunities
The Taiwanese have a hospitable and laidback working culture. There's not really a sense of urgency here, and they're never in a rush. They'll hold a conversation with you for a lot longer than is necessary at times.
In fact, they might be a bit too easygoing: service can be slow and employees sometimes make a lot of mistakes. If you're used to a high level of service, be prepared to readjust your expectations here.
Wages for locals are 30% lower than those in Taipei, so the people of Kaohsiung tend to be more frugal. That said, Taiwan has a progressive tax system with generally favourable tax rates. Combined with the low cost of living, professionals can afford a pretty good quality of life here.
This city is a powerhouse and incubator for cutting-edge tech — biotechnology, alternative energy, and semiconductors are all up-and-coming industries here.
Openness to Foreigners
The Taiwanese are friendly, easygoing people who will have a conversation with you no matter what they're up to. It's nothing like Singapore or Hong Kong, where people often can't be bothered to give you the time of day.
The local level of English in Kaohsiung is a bit of a hit or miss. English is more prevalent in Taipei than in Kaohsiung, so there may be a language barrier if you don't speak any Chinese.
Weather
Kaohsiung has a Miami-style climate: hot and humid for most of the year with a long cool and rainy season. December, January, and February are typically the best months weather-wise. 
Family-Friendliness and Cost of Living
Kaohsiung is a very affordable place to live. Local food is cheap and sometimes half the price of what you'll find in Taipei City. Along with its low levels of crime and great healthcare, many find Kaohsiung to be a fantastic place to live long-term. (Just look at how effective their response to COVID-19 was!)
Singles can live on about US$1,200 a month, while a family of four might need $3,800 a month. Rent here is half of what you'll pay in Taipei: it costs around $900/month to get a 3-bedroom apartment in the city centre.
You only need $230,000 – $310,000 to buy a mid-sized apartment, but note that most expats here don't buy homes unless they're living here long-term. The government has restrictions on foreigners buying and selling property for profit, as the rising cost of housing has already made it difficult for their young adults to purchase a home on local wages.
In terms of schools: Taiwanese parents prioritise education, and you'll find that Taiwan's public school system is excellent. Mandarin is the language of instruction in public schools. 
Some parents prefer to send their kids to international schools, where the language of instruction is English. This will set you back another $7,500 to $15,000 per year.
Transportation
Kaohsiung's infrastructure was designed for cars, so they've got well-planned streets that are wide and expansive. This means parking is easy, like in the United States or Australia.
You can purchase a sedan for around $28,000. Alternatively, you can get around using the city's well-designed public transportation system, get a bicycle, or take taxis.
One thing though: because the residents of Kaohsiung tend to be more frugal, there are a lot more old scooters on the street. Expect some air pollution from all the old scooters, along with a fast-forming layer of black soot when you're out.
3. Bangkok, Thailand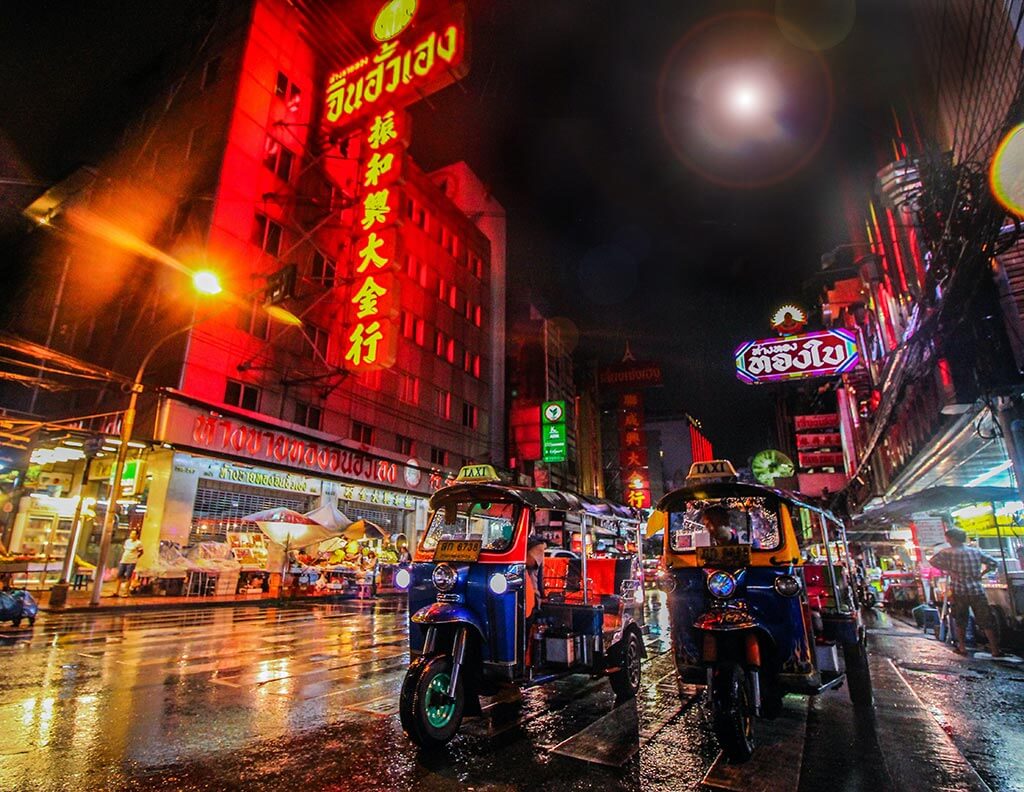 Bangkok is an eclectic mix of the exotic and bustling city lifestyle. A $1.50 meal off a street vendor can often be better than its counterparts in other countries, but it's also got classy dining destinations for those looking to live it up.
As an international hub, it's easy to fly in and out of Bangkok (pre-COVID). You'll find big multinational corporations along with lots of startups, incubators, and accelerators in this city.
Working Culture and Career Opportunities
Bangkok has a warm and hospitable culture, but it's also laidback and sometimes inefficient. Thai culture emphasizes positive rather than negative reinforcement: you can't scold your employees or co-workers if they mess up, and they typically avoid things that would make someone lose face.
Lots of MNCs have offices here, but you'll find job opportunities in industries and companies both big and small.
Fair warning though: most commerce is done domestically, so you won't find a lot of mid or senior-level executives who are fluent in English. Generally, the ones that are fluent have spent time living abroad. Expect a bit of a language barrier (or be open to picking up Thai) if you're here for the long haul.
Openness to Foreigners
Bangkok draws in a lot of foreigners and has a strong long-term expat community. Many from poorer Southeast Asian countries also flock here for medical tourism.
Given the number of tourists coming in and out of Bangkok, you'll find a lot of locals who speak at least basic English. It's common for taxis and street vendors to try to charge you extra once they find out you're a foreigner. 
Weather
Like many places in Southeast Asia, Thailand has a tropical monsoon climate. You'll encounter three main seasons here: hot, rainy, and cool. Daytime temperatures are over 30 degrees Celsius for most of the year.
If you thought the haze was bad, wait 'til you live in Bangkok for the long term. Thailand is infamous for its air pollution, in part due to the self-produced fumes and the haze drifting over from neighbouring countries (Cambodia, Laos, Myanmar). That said, Chiang Mai's air pollution is worse, especially during the hot, smoky season in the first half of the year.
Family-Friendliness and Cost of Living
Bangkok is unique in that it can accommodate a wide range of budgets, from the uber frugal to high-end luxury. You'll find lots of good and cheap street food here along with upscale gourmet restaurants. If you're really concerned about money, it's possible to stretch your budget quite a bit here.
Don't believe the exaggerated rumours of fancy living on $750 a month, though! Singles can get by with a budget of around $1,000 a month (including rent). A family of four might need $3,000 – $4,000.
Growth in the region is insane and only just beginning. That means you'll have to watch out for inflation: the usual 2% inflation rate won't hold water in Bangkok. That may work to your advantage if you buy property or have a business here though.
Singles can rent a high-end condo for around $900 a month, though that isn't too affordable with the low local wages. Cheaper ones away from the city centre will cost about $530 a month.
Most expats in Thailand choose to send their children to international schools since the quality of education can vary a lot at public schools. This costs anywhere from $2,200 to $30,000 annually.
Bangkok is relatively safe, but there's a lot of petty crime. Don't leave your drink unattended (unless you want it spiked) and be alert as a pedestrian.
Transportation
Compared to the orderly, mostly rule-abiding traffic in Western countries, Bangkok traffic can seem mad. Expect motorcycles cutting in beside you all the time, and be careful about walking around as a pedestrian.
Traffic during peak hours moves at a snail's pace. It's not uncommon for Bangkok residents to spend a third of their time stuck in traffic.
That said, Bangkok does have a public transportation system with the BTS Skytrain, MRT, and buses. This isn't as accessible or as efficient as Singapore's or Taiwan's — you still have to take a taxi or walk quite a bit after getting off the Skytrain. You can also take motorbike taxis, tuk-tuks, and songthaews.
4. Ho Chi Minh City, Vietnam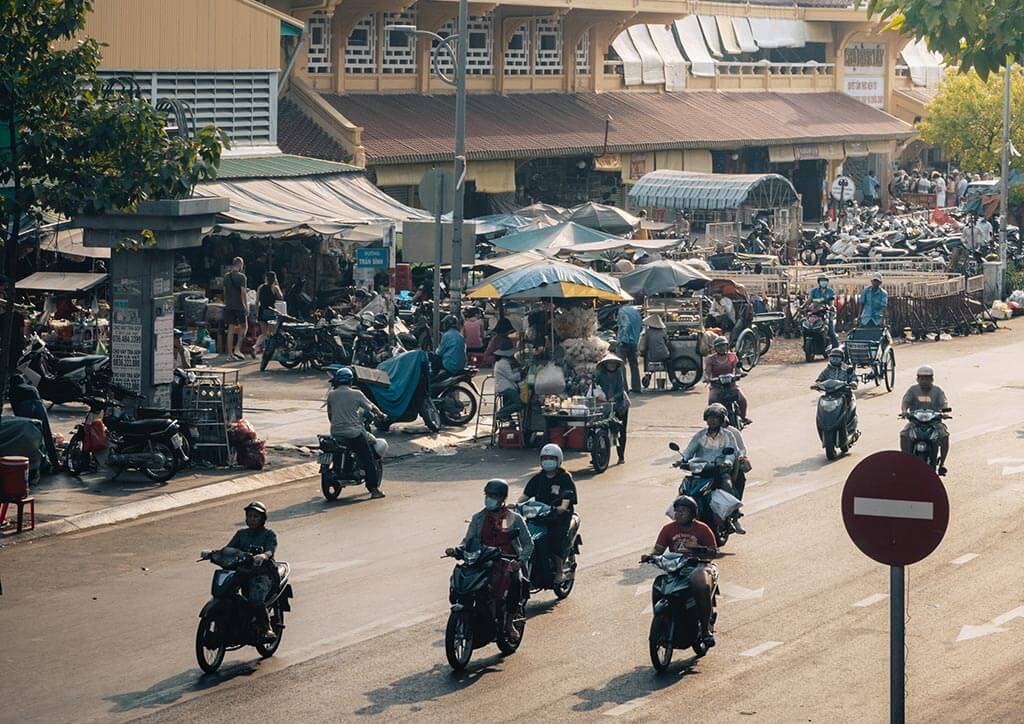 Your dollars will go a long way here given the weakness of the Vietnamese dong. With its low cost of living, developed shopping, good food, and beautiful apartment buildings, it's no wonder that Ho Chi Minh City has a growing population of expats.
Working Culture and Career Opportunities
The city is a hotspot for international startups given its favourable ecosystem. But you'll also find large organisations hiring for jobs such as engineering, IT, mining, construction, and of course teaching.
Like in Hanoi, the working culture here is more laidback and hierarchical. This might cause go-getters to be frustrated — a friend running a startup incubator in HCMC reported that the intern he hired from Singapore was more efficient and diligent than his local employees.
Openness to Foreigners
There's a strong expat community in Ho Chi Minh City given its attractiveness to international companies. You'll find many locals here who can speak English. The downside is that if locals find out you're a foreigner, they may try to take advantage of you as a walking wallet by giving you less change or charging extra.
Weather
Ho Chi Minh has a tropical monsoon climate, cycling between warm and wet seasons. There's very little temperature variance in between.
Family-Friendliness and Cost of Living
While Ho Chi Minh City is largely safe, there's lots of petty crime. You can get robbed on the street by drive-by thieves. If you've got a sleek new iPhone, it's best not to use or take it out while walking by the roads.
Compared to Hanoi, Ho Chi Minh City is better suited to those used to an urban landscape. That also means it's more expensive to live here, but not by much. Singles can expect to incur monthly expenses of around $570 to $1,000 including rent, while a family of four will need at least $3,000 to live comfortably.
Foreigners can buy property but not land. A luxury 3-bedder condo near the CBD will run you over $600,000. Property is a good investment here, which may explain why foreigners have been flocking to the city in recent years.
Vietnam actually has a good standard of public education, especially in big cities like Ho Chi Minh. Many expats choose to enrol their kids in good public schools to save on the hefty costs of international schools, which can cost $7,500 to $15,000 annually.
Transportation
The traffic here is wild, especially during peak hours. Most locals ride old motorbikes, so expect poor air quality and a layer of soot to form on your possessions.
The public transportation system isn't very well-developed, but there are buses if you can figure out the routes. Alternatively, you can get around using taxis, GrabCars, and Grab Bikes.
5. Kuala Lumpur, Malaysia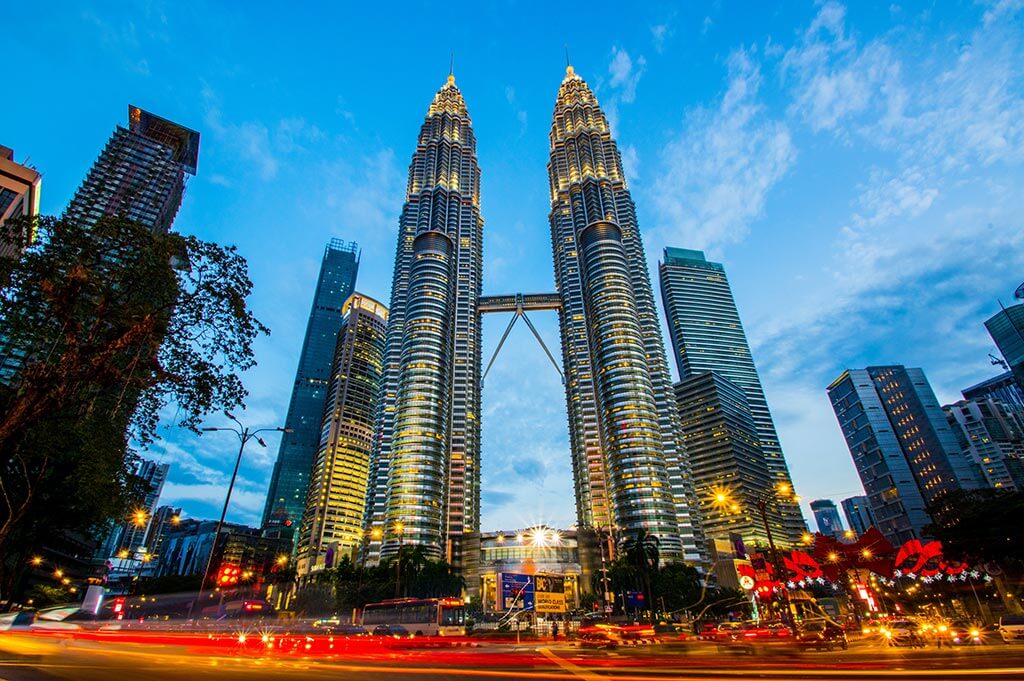 It's hard to deny that Kuala Lumpur is one of the best places to live in Southeast Asia. You've got good food, vibrant city life, affordable housing, and beaches and mountain retreats just a short distance away.
Working Culture and Career Opportunities
Kuala Lumpur's working environment is multicultural and hospitable. This may explain the combination of Malay, Tamil, Chinese, and English words you'll hear in every conversation — sometimes even in a single sentence.
Kuala Lumpur has an easygoing and productive work culture. Though they're not always efficient, they'll typically work longer hours to compensate for this.
Many international companies have offices in KL, and the startup scene is thriving (just look at Grab as one of the many examples). Other hot sectors include IT and tech, marketing and sales, banking and finance, e-commerce, supply chain, and shared service centres.
Openness to Foreigners
Kuala Lumpur is no stranger to expats staying for the long term. Because of its colonial past, foreigners are welcome. The level of English is high and the city is more Westernised than other parts of Malaysia, so there won't be much of a language barrier here.
It's also a popular place for foreign investment because it has no inheritance tax — or taxes on income repatriated from overseas. The latter means that you're only taxed on income you earn in Malaysia: that's good news for those with income streams from other countries.
Weather
Kuala Lumpur's weather is usually hot and humid. Its proximity to Indonesia also means it's susceptible to the annual haze blowing over.
You'll also notice the smog over urban areas from all the vehicular and industrial emissions. On rare occasions, it can get so bad that the government will declare a state of emergency and order non-essential services to be closed.
Family-Friendliness and Cost of Living
As a city, Kuala Lumpur is a bit more expensive than other parts of Malaysia. It's still inexpensive though: singles can get by on about $1,000 a month including rent, and a family of four would probably need at least $3,000 if sending their kids to public schools.
The good news: foreigners can buy property here (even freehold!) but there's a certain minimum they must meet. As of Oct 2019, that minimum sum is RM600,000. USD760,000 will get you a 5-bedder terrace house, while $460,000 will get you a 2000+ sqft freehold condominium.
There's lots of petty crime here, but overall the city is pretty safe. You might get pickpockets or drive-by purse-snatchers. It's best to exercise common sense and avoid dark alleys or areas with lots of bars and clubs in the evenings.
Expats and locals can send their children to public schools free of charge. The quality of education varies but is generally decent, with the language of instruction either Malay, Tamil, or Chinese.
If you'd rather have your children taught in English instead, an international school will cost anywhere from $1,700 to $10,000 per year.
Kuala Lumpur also offers some of the best medical care in the country at inexpensive rates.
Transportation
Overall, KL has great roads and infrastructure. You can also take public transport, which is pretty efficient.
As with most major cities, traffic in KL can be bad. Be prepared for hour-long commutes, not to mention the road rage!
Ending Thoughts
There's a certain type of personality that will thrive in Southeast Asia: an open mind, a willingness to learn, and a genuine interest in other cultures. Before putting any roots down, we'd recommend trying it out first. Pick up a short-term rental and see how well you adapt to the new culture within a few months. It's also important to build a community here; if you have no relationships besides with your immediate family, the isolation can get to you in the long run.
If it takes — great! You can think about living there for a longer stretch of time. But even if not, you'll have gained valuable experience interacting with a different culture.